When we approached the headquarters of 45R, I was a little nervous. I'd been given an introduction by a friend, but had no idea what the management team knew about me or Permanent Style, or how much they cared. 
It was late afternoon and already getting dark as Alex and I crossed the highway, shadowed by a rumbling overpass, and looked for the right buzzer on the fairly anonymous building. 
Luckily the names were in English as well as Japanese. Unluckily, it wasn't clear which one was the reception, or otherwise the correct floor. We picked the first one, and hoped. 
No reply, but a loud buzz. We pushed the glass-fronted door and entered. A small marble lobby with an elevator: we pushed the same floor  and began to rise.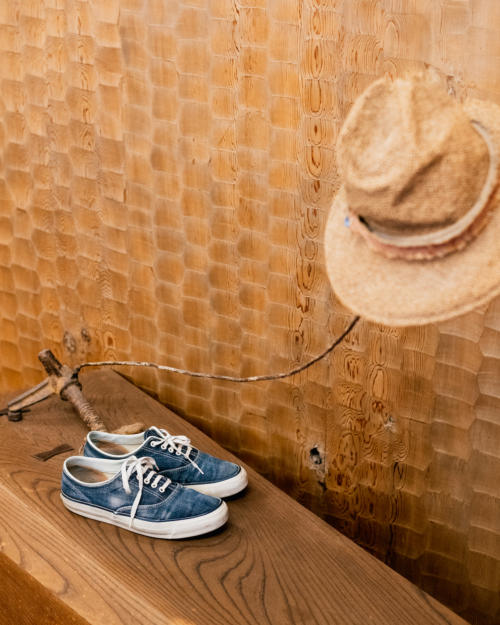 I shouldn't have worried really, but I always do. Things usually turn out well but I'm a worrier, I can't help it. Maybe a psychologist would say it's healthy: stops you getting too full of yourself. 
When we exited the lift, there was Kokoro Alonso. Smiling, stylish, holding out her hand in greeting. In fact, very stylish – there's something about brands like 45R which means the women are often particularly inspiring. Perhaps it's because the clothes – casual materials, loose fits – are quite unisex, and the women simply have more style. 
I should have said, by the way, that the lobby in which Alonso greeted us was also beautiful – much more 45R than the building, the elevator or the overpass. A huge wooden slab of a table sat in the middle – something that looked like it had been hewn in one long sweep of an axe, and then frozen in French polish; delicate vases were artfully positioned. 
We were ushered through into a meeting room, and it became clearer we were expected, even with pleasure. Into the room came Norio Sugahara, the men's designer; Masaki Nakashima, the president and our contact in setting up the meeting; and finally Junko Takashio, who oversees some of the production. 
That's them left to right, with Alonso first. Her loose popover is very 45R, as is the necklace; the loafers are a nice elegant touch of contrast I think.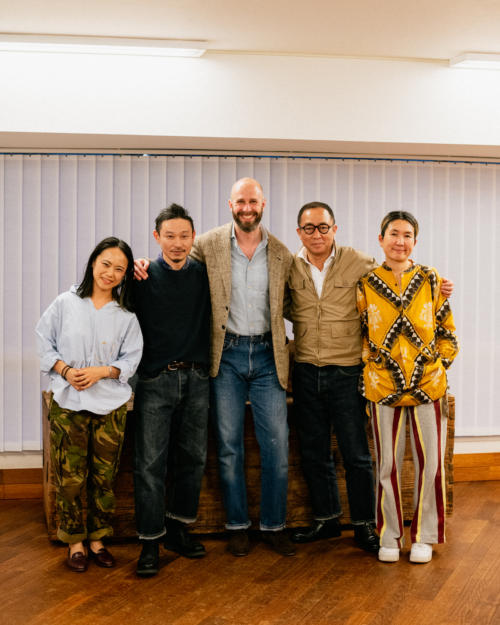 And that was what we started by talking about. Sugahara first explained how much of the company's philosophy comes from Inoue Yasumi and Shinji Takahashi, the head designer and director, and then talked about the menswear design – with a particular focus on contrast. 
"The roots of everything we do is traditional clothing," he said, "but I like to mix them up. Naval clothing, for example, I love – the hard materials, the weather-worn fading. But I also like that attitude in hiking and mountaineering gear. So perhaps one season we'll mix them up and do hiking clothes in naval materials and colours, particularly indigo as it's so core to the brand."
Indigo is absolutely central to 45R. They were the first company to introduce high-end denim into international markets like the US in the 1980s, when jeans were reaching their peak of being cheap, mass-market clothing. 
They're especially known for organic indigo (Ai-indigo), and the varieties of indigo they've introduced over the years. The flagship store in Tokyo is known among some English-speaking locals as Indigo House. 
"The jeans I'm wearing today are a new indigo colour we're working on – Kageiro Nando or Shadow Nando," said Sugahara. "It's a greyish shade, with a lot of charcoal in the mix. Everyone is seeing how it fades and behaves."
Apparently the management team, the shop staff and all of the craftspeople in the factory are wearing pieces in this new indigo, both to see how it fades so they can talk about it, and to show those fades to customers. 
"After they've all been worn in, we will sell the clothes off for charity," says Takashio, who has the best English of the group, and chips in now and again to clarify things. "I'm not sure it was a good idea – it's making us all very sad!"
45R have a reputation for taking things to the nth degree, with yarns often handspun, fabrics handwoven and – certainly with the denim – hand dyed. That's why it appeals to so many fans of craft, even if the designs can be a little quirky. But I didn't realise before how involved the design side was.
"What's interesting is when we combine these worn garments with genuine vintage at the beginning of a season," Sugahara said. "We always have a vintage room full of all our inspiration pieces for that season, which the staff come in and browse. But then the worn-in current pieces get added too, and compared."
Another project they've been working on recently is Natural Indigo Artisans. This involved searching Japan for remaining indigo artisans, and picking 11 to take their own approaches to dying certain 45R garments. They even combined the dyes on some pieces, to replicate the feeling of patched 'Boro' cloth (below). 
"We'll have people dyeing indigo in some stores, certainly Aoyama and New York," says Alonso. "Natural indigo dyeing is such an organic process – it's alive, it changes before your eyes. But that can be hard to get across to people who just see the finished product."
At this point I brought up the – hopefully constructive – point that it can be hard to get this information as a consumer too. There's so much in every 45R piece, but not much of it lives online. 
This, to an extent, is a Japanese issue – the country as a whole has been surprisingly slow on e-commerce. But it's also a particular issue for someone like 45R, with high prices but no advertising (on principle) and so less general awareness. 
Fortunately, in the three months since I was in Japan the international 45R site has been revamped, and there is now more information online. Indeed, it's a little hard to see where to actually shop now. But if anyone's interested, the Journal is here, and a little piece on the new indigo is here. 
Another place it's good to get information is the brand's Instagram page, particularly the videos. Inoue Yasumi often goes meticulously through new products, or has staff show how things have worn in, such as here on denim for example. 
It was one such video on linen deck shoes that convinced me to get a pair, which I've featured previously here. When I mentioned this to Sugahara, he immediately went behind the screen into the office and brought out his own pair, shown above.
Mine don't look anything like this – they've probably been worn 10 times less – but they do have lovely fade marks from the natural indigo. I should also mention that they are superbly made – the best I've tried. Lovely anatomic shape like Wakouwa, but better made and with a really subtle wave-like grip that any fan of the Sperry origin story will appreciate.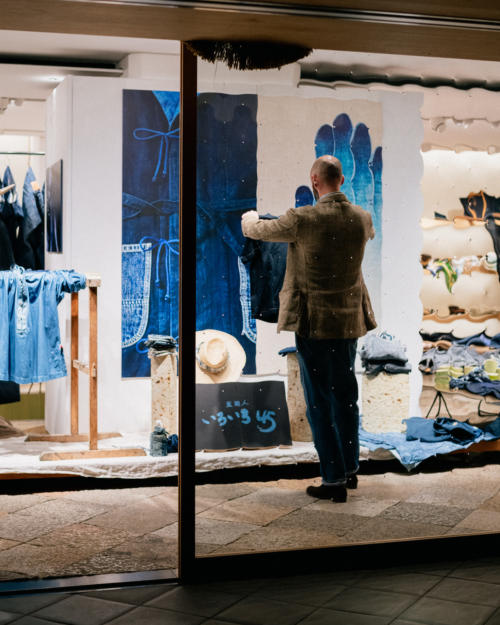 We touched on a few other subjects, but I feel they should have their own follow-up post if anything. 
Today I just wanted to give a feel of what it was like to meet the 45R team, to talk about how genuine they were and use it as a way to help communicate the philosophy behind the brand. 
I feel that's important because I also have to remind myself sometimes – when I visited Indigo House, for example, and was looking at some expensive polos and a gauze-like shirt that came down to my knees. And because the company does so little of it themselves – no marketing, no advertising.
45R is a design brand, but one rooted in traditional clothing and techniques, which is quite rare. They create clothes that are the best-made possible, that look pre-loved as soon as they're made. They are the embodiment of the 'how great things age' side of PS.