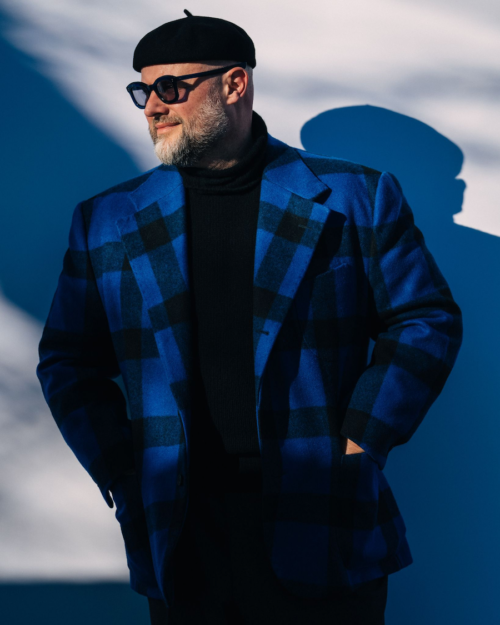 By Tony Sylvester
It's been three long years since I last shuffled along the cobbled streets of Florence, winding my way to the Fortezza Da Basso, the medieval castle that hosts Pitti Uomo, the international menswear trade fair.
Without stating the obvious, much has happened in the intervening time, that was far more important than the business of menswear. And, of exponentially greater consequence than the secondary aspect of Pitti, the activity that brings the fair to the world's attention – the peacockery and general 'sausaging about', as my friend Aleks refers to it.
I missed out on what some would consider the glory days of Pitti, first landing in the Tuscan capital about a decade ago, slap bang in the middle of the peacock era. This period was a gross exaggeration of the quite honest phenomenon that street-style photographers like Scott Schuman and Tommy Ton had started capturing a few years prior. Their shots of visiting industry personalities and some of Florence's local chaps milling around or seated upon the infamous curved wall made for genuinely inspiring viewing.
By the time I had enough status and responsibility in the world of menswear to attend myself, this had led to a comical explosion of wannabes and sartorial tourists, seemingly only there to get photographed and with a negligible connection to the day-to-day business of the fair.
By the mid 2010s, the outfits they wore had become louder and more attention grabbing, yet somehow more homogenised – a new orthodoxy had taken hold. The fits were tighter, the checks louder, the colour palette brighter. It was a contradictory mashing of two directions of the time: a newfound appreciation for the heritage of 'classic' menswear and the slimmed-down silhouette of the Hedi Slimane suit.
Unfortunately for all concerned, this hybrid ended up as the de facto look for the era. It was not uncommon to see two hats perched on heads, pocket squares festooned from multiple pockets (on the same outfit) and foot-long feathers protruding from hat bands.
This coquetry also obscured the fact that for industry professionals, part of the fun of going to Pitti is still the pomp and spectacle. It's what separates it from other trade shows. Even if you consider your own style to be a little more elevated or natural than the parading popinjays, choosing your best outfits on the off chance of being snapped and papped has always had its charms.
And for a lot of attendees, there is a vital practical element too. For a small brand that relies on self-generated marketing, it presents an opportunity for recognition and a showcase to the fashion press, which can then be reposted and recirculated on your own channels.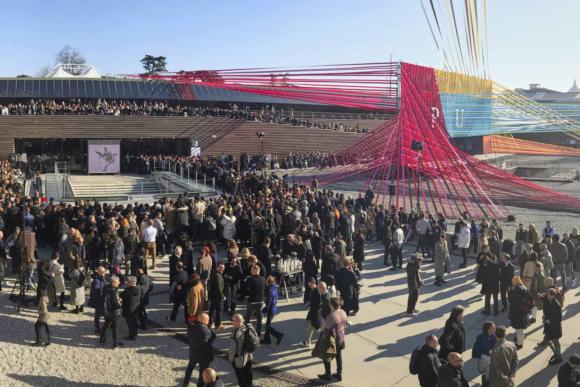 Armchair pundits are often unaware of the actual work being conducted at the fair. At its pre-Covid height, there were something like 1,200 brands and 21,000 buyers in attendance from around the world.
I made the decision to skip the last few installments. With a downturn in brands showing and worldwide travel severely depleted, it didn't seem worth it. Those who did make the effort reported back on a half empty fair and closed halls, with very little in the way of actual business getting done. In this void, the socialising aspects appeared to be ramped up to new heights and the fair looked in serious danger of losing its focus and purpose, becoming just another stop off for wealthy folks on the European holiday circuit.
I went this time with some very specific goals in mind. Firstly to help Bryceland's with their AW23 buys from suppliers, and with the secondary function of looking for new makers for future AWMS products.
The first task was straightforward – Ethan and Kenji have a very clear idea of what they need, who makes it, and what colours and styles work for their brand. The second proved much more elusive alas. While most of the big players were back in force, fresher, newer brands were thin on the ground. Unfortunately for me, I found there to be particularly few manufacturers of interest.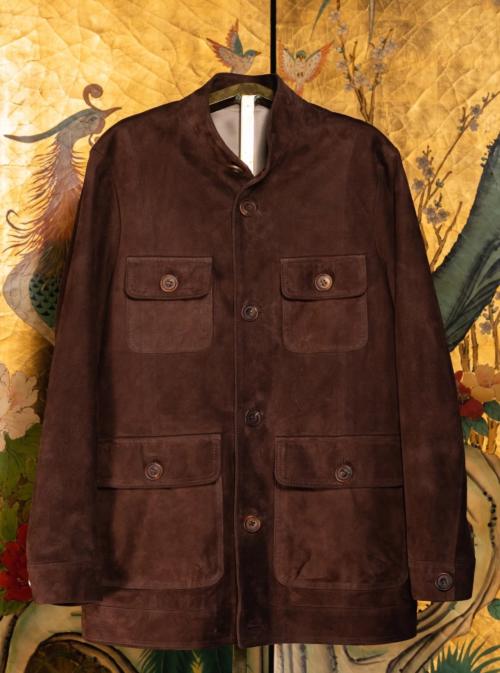 Amongst the malaise and disappointment, a couple of bright lights did shine forth from newer, younger labels.
One that was brand new to me was Nashville and Los Angeles-based Savas. Historically focusing on bespoke and made-to-order leather jackets, founder Savannah Yarborough was launching a new ready-to-wear range. Resolutely rock 'n' roll in origin, the models had pleasingly warm tones of suede and calfskin, taking clear inspiration from cowboy shirt and trucker-jacket silhouettes.
Of particular resonance to me was the Trapp; a longer, Mao-collared style with half-belted back that appeared to marry a safari jacket and Bavarian Janker (above). On the footwear side, I could also absolutely see myself in the asymmetrically cut Letta mule in black hair-on-hide. A nice alternative to the Grecians and Opera Pumps I favour in the summer.
The other highlight was catching up with my old friends at P. Le Moult (below). Based in Vienna, Praline and Harry have been at the forefront of the 'loungewear as outerwear' concept since way before lockdown threw it into vogue. Their Orient Express collection of robes, nightshirts and pyjamas affixes Hussar frogging to stout jewel-toned and dark-cotton twills and silks, and I put in an order for a navy work jacket with gold knots.
Finally, the other half of Pitti: the daily looks.
The first day, I was excited to show off my latest commission from Fred Nieddu and Zoe Yates at Taillour, made in a deadstock buffalo plaid that I bought off Pendleton's old eBay store almost 15 years ago. I believe it was made for Filson, for a Japanese collection.
An unorthodox choice for a sports coat, in both colour and weight, it is a heavy beast – heavier than most English overcoat cloths. But remembering the bitterness of Pittis past, I thought it would do away for the need of a coat. The unseasonal warmth had other ideas though, and made it almost too wieldy for the occasion.
The idea for the jacket came from a couple of sources. When Engineered Garments' Daiki Suzuki was at the helm of Woolrich Woolen Mills, he presented what many consider to be the greatest collection of the Tumblr / #Fuckyeahmenswear era in AW10's Hunting Noir, which relied heavily on a similar palette of black with bright blue. Around the same time, J Press, under Mark McNairy's guiding hand, sold a sack jacket in red buffalo plaid complete with hand warmer pockets.
With a jacket carrying this much information, I felt it best to pare down the rest of the outfit with a simpatico, quieter palette. Alongside my AWMS black beret, I wore Taillour bespoke charcoal flannels, the Brycelands RAF rollneck in black, blue sunglasses based on Max Pittion's Politician shape made by General Eyewear, and some vintage black RM Williams Craftsman boots on Dainite soles. While not for everyone, I was extremely happy with the overall look.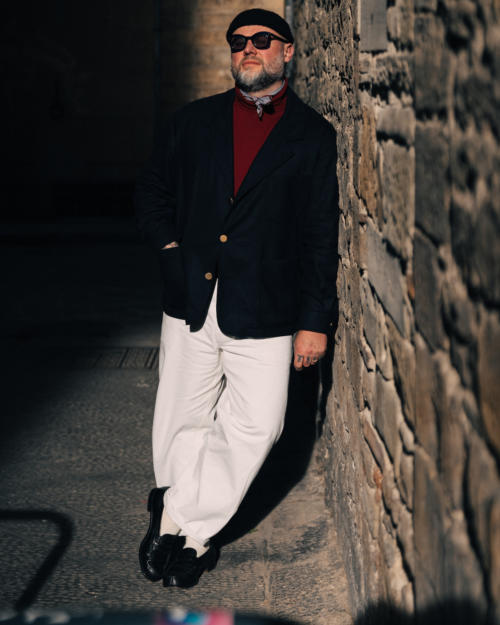 Day two saw another Taillour-related choice in the shape of Bryceland's brand new Easy Jacket, developed with Nieddu for the launch of the new Bryceland's London store.
An unlined and unvented jacket with shirt cuffs and patch pockets, it is designed to take the same place in your wardrobe as a Teba, or a French work jacket, but with a little touch of 50s West Coast Americana. I went for the navy wool twill from Abraham Moon with brass buttons, and wore it with a midweight burgundy rollneck from Smedley, white HBT deck pants and hand-knitted watch cap (both from Brycelands) and JM Weston 180 loafers in black lizard.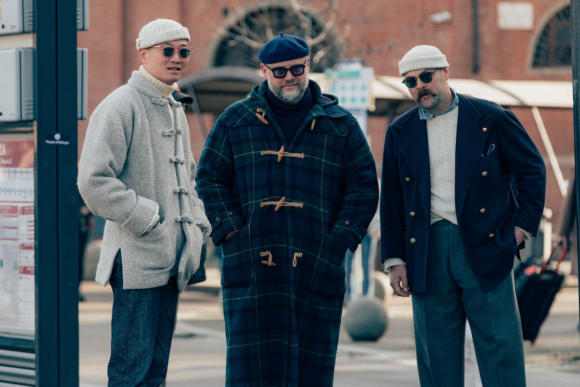 The last day was also a travel day, so comfort was the overriding theme; nothing that new or fancy was employed.
I took the opportunity to wear the new AWMS beret sample in a nice inky blue; a vintage Ralph Lauren duffle coat in a blue and green plaid with a pleasing ankle length, a navy fisherman's jumper from Labour & Wait and my trusty spruce green 'Andrew' pleated cords- more vintage Ralph. This was the closest to my day-to-day clobber out of the three days, though the Easy Jacket is also becoming a firm fave.
And like that, the whirlwind was over for another season. Being back in Florence really brought home what I missed about the place, as well as that sense of what the fair is lacking in makers.
With apologies to Dickens (and you the reader), we can call it the Tale Of Two Pittis – the work and the social. It would be hypocritical of me to bemoan the endless stream of Negronis, but hopefully next time, they'll feel more like the reward of a day's work well done.