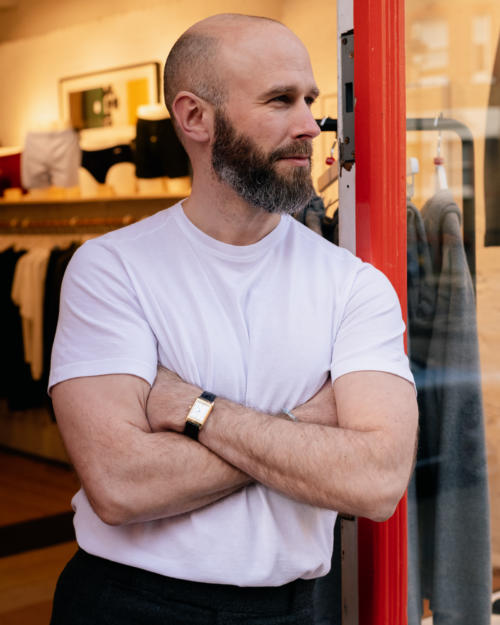 For the past five years or so, I've been wearing Hamilton & Hare's tubular T-shirts under things. 
They're what I wear underneath knitwear, what I wear under a shirt, even what I sleep in. They're the best fine-cotton tee I've ever worn, partly due to the raw material, but also the seamless construction with its sportswear-like panels. 
I have a couple that have been worn over a hundred times, and they've aged well: not lost their shape, not lost softness or handle. 
However, there were a couple of things I always wanted to improve. The first was that to get the right fit in the body, I had to take a size Small, which was a rather close fit around the shoulders. 
The second was the neckline, which is a little low, particularly at the back. I couldn't get that nice line of white showing above knitwear, and I didn't find the profile at the back flattering. 
It didn't occur to me to try and change these things, however, until I saw how popular the PS Tapered T-shirts were last year. They've sold through again and again – so I thought it would be nice to try and produce a perfect version of the other model of tee I wear.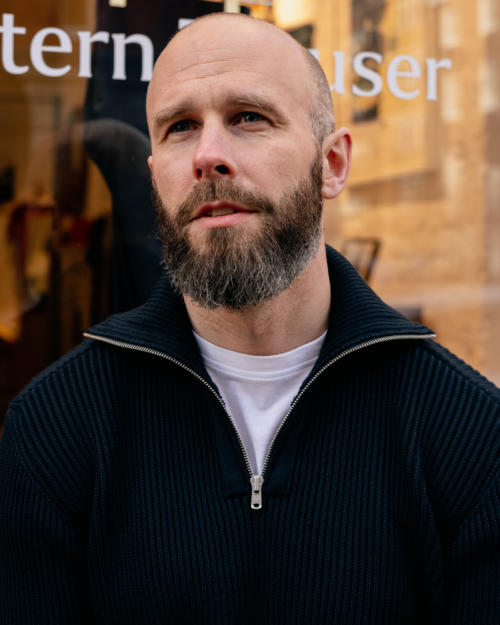 This is the new collaboration that was flagged up in our round-up of of Spring/Summer products a few weeks ago: the PS Undershirt. 
I'm pleased with how well it fits in with everything else. The T-shirt is something I've worn and mentioned on PS for years, and it's what I'd wear under the Cashmere Rugby or Dartmoor (if I wanted the neckline to show) plus the only thing fine enough to wear under the upcoming Finest Crewneck. 
However, I should make it clear that this T-shirt can be worn on its own as well, if you want to. It doesn't look strange or transparent – simply like a lightweight tee. I tend to prefer heavier, Japanese-style T-shirts when I'm wearing one on its own, but I know some readers (particularly in hot countries) will be different.
This also means, importantly, that if you're wearing it under a sweater, there's nothing preventing you taking that sweater off (unlike a vest or Henley-style undershirt).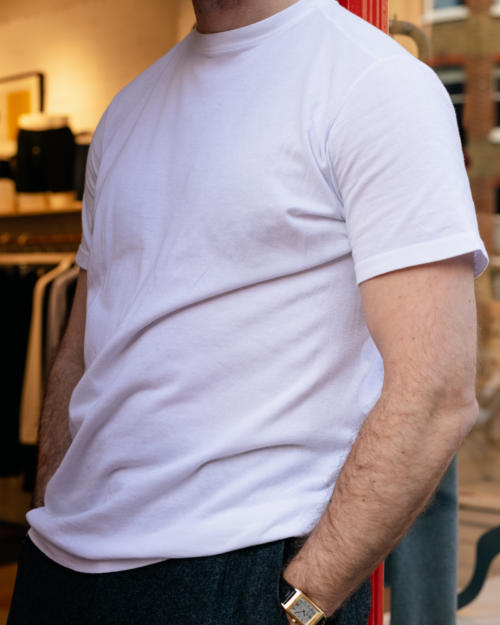 So what makes this such a good undershirt? 
First is the fine, open-weave cotton of the body. This is highly breathable, and its lightness is a big part of the reason I can wear it and completely forget I have it on. 
The material fits closely to start with, but then grows, adapting to your body. This type of stretch is something you find in a lot of good undershirts – such as the Lee Kung Man undershirts from Bryceland's for example, the only one I've found as comfortable.
That stretch was part of the reason I wanted to change the sizing compared to the H&H version. I found a Medium became too big in the body for me, so I had to size down to a Small, but with a 39-inch chest and 34-inch waist, I'm not really a small. 
So on our version, I took the body fit of the Small and paired it with the shoulders of the Medium. This feels more like a regular fit to me now – certainly, the kind of fit readers will be used to from PS shirts and knitwear.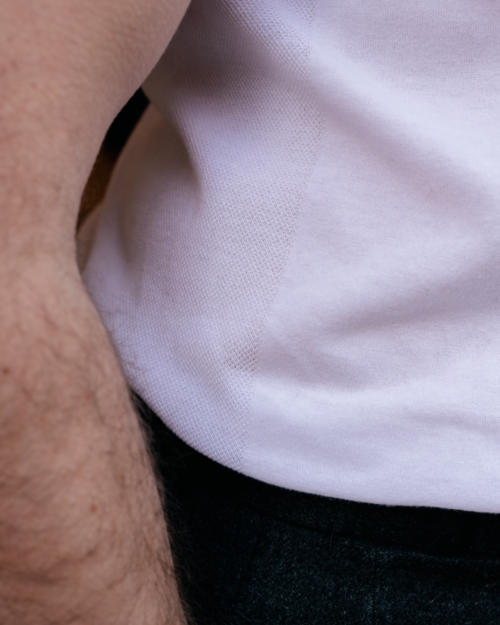 The Undershirt then has panels of a pique mesh cotton running up the side body, which add breathability and remove the side seams. It's an interesting addition, as this construction technique is really only used elsewhere on sportswear – with football tops for example. 
The panels are very subtle – as you can see in the image above. You'd barely notice them if they weren't pointed out, which again is why it doesn't look odd if you wear it on its own. 
The bottom of the T-shirt is finished with a ribbed hem. This gives it some grip, but there's no gathering or elasticity – it sits flush with the body. I've had tees in the past that had this, from Iron Heart for example, but the ribbing was tighter and it kind of crimped the hem, which didn't look great. 
Hamilton & Hare also put the care instructions on the inside of that hem, reducing the number of labels needed inside.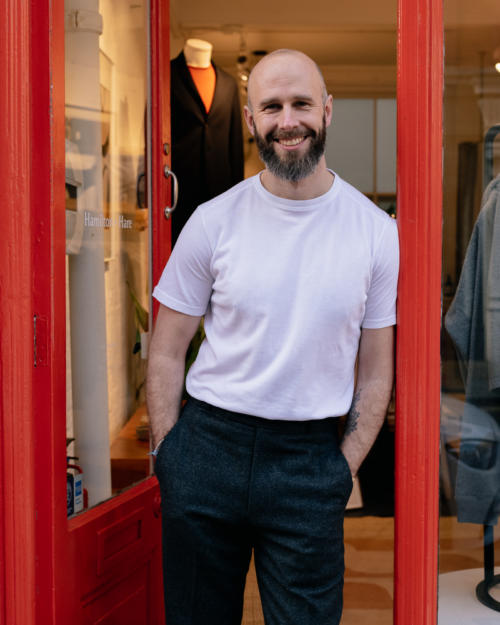 The neckline has been changed to be closer to that of our Tapered Tee. 
I know a lot of readers will be familiar with that fit now, but if anyone isn't you can see it on the original article here, as well of course in the images today. It's relatively high, in the back and front, but without being tight. I have a pretty big head (60cm) and it goes over easily.
In terms of sleepwear, I've never really liked pyjamas – I find they pull as soon as move or turn, and ride up. I have some nice ones from Anderson & Sheppard, but I put them on in the morning, for the hour and a half between getting up and my first opportunity to have a shower. 
I sleep in underwear, with perhaps a merino T-shirt (old Private White ones) in the Winter but Hamilton & Hare ones the rest of the time. Everyone is different of course, but if anyone wears a T-shirt at night, they might find this the most comfortable version. And in fact if they wear nothing on top they might even like it too, as they're unlikely to even notice it.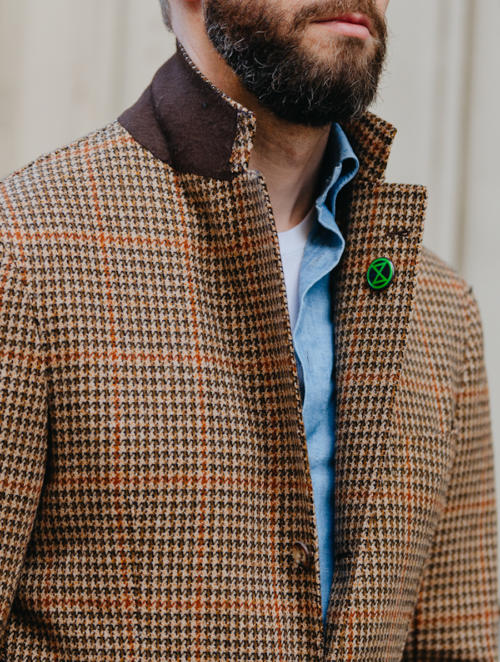 I really hope you like the shirt, and it becomes as much a go-to for you as it is for me. 
I do like the look of a T-shirt under a shirt these days (above, as discussed previously) and this is the only one that I find works well. It's almost as long as the shirt itself, fits snug to the body but grows where it needs it, and doesn't ride up out of the trousers as a result.
And when I put on a sweater the rest of the time – any sweater, but particularly something slimmer like a Colhay's or finer like a Smedley – this is always what I wear.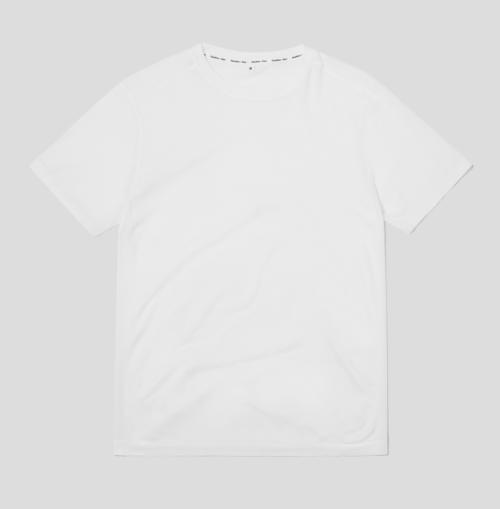 The Undershirt is available on the PS Shop now, price £55 (including VAT).
Product details:
100% fine cotton

Tubular knit, with no body seams

Flat, forward seams on the shoulders 

Mesh pique panels in the side body

Ribbed hem
Fit details:
Body fits slightly slim, but grows as you wear it, adapting to size
As a result, can fit up to two inches larger in width than shown in the chart below; will feel snug when first worn
Simon wears a Medium and has a 39-inch chest, a 34-inch waist
In the images, it has been worn it all day and loosened to size
Long in the body, designed to be tucked in and stay that way
| | | | | |
| --- | --- | --- | --- | --- |
| | Small | Medium | Large | Extra large |
| Chest width | 47cm | 50 | 53 | 56 |
| Hem width | 45.5 | 48.5 | 51.5 | 54.5 |
| Back length | 68 | 70 | 72 | 74 |
| Neck width | 18 | 19 | 20 | 21 |
| Bicep width | 18 | 19 | 20 | 21 |
Navy knit shown: Fender II from SNS Herning at John Simons. Tailoring outfit: PS chambray shirt and Sartoria Ciardi jacket, in detail here.