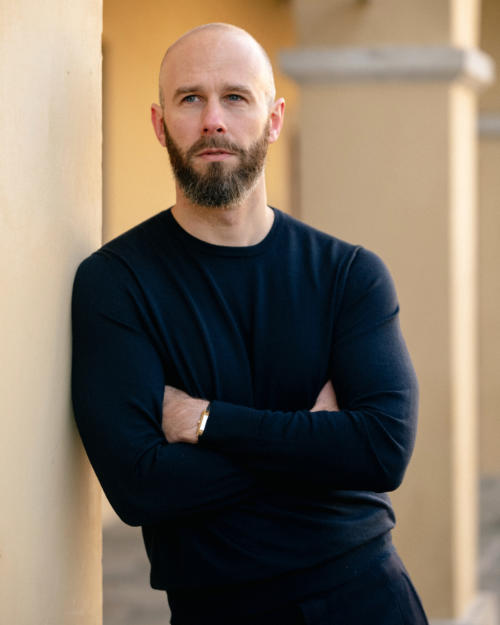 This feels almost nostalgic. The 'finest knitwear' was one of the first proper collaborations we did, six years ago, with the amazing Umbria Verde in Italy. 
We discontinued it because I wanted to focus on collared knits and cardigans – the Dartmoor, the Finest Cardigan – and that felt more like a gap in the market. 
But ever since, regularly and even frequently, affectionately and sometimes passionately, PS readers have written to say how much they loved it. 
The finest crewneck was a wardrobe staple, a base layer to go with everything. It was great for travel, because it was lightweight and packed up so small. I remember a few customers snapping up the last dozen or so, to guard against future needs. 
Fortunately, PS is now a bigger operation, and we can afford more lines (the cost being largely advance payment, the cost of holding stock, and to a lesser extent storage). So we've brought the crewneck back – initially just in navy, but potentially in more colours if it proves popular. 
And we've also restocked the collared Dartmoor this week – originally a collaboration with John Smedley, but now made to a higher standard by Umbria Verde – including a new black colour (below). 
So what was – what is – so nice about the Finest Crewneck?
Finest wool, finest gauge
The idea was that it would be both the finest materials and the finest make.
Why? Well, the finest merino feels as soft as cashmere, but is more robust. When cashmere is knitted finely, it pills more and can lose shape – that's why fine cashmere knits usually have a silk element, for strength. 
For me, fine merino is a better option. It looks smart but matte, without any silkiness. More of a menswear staple. 
Working with Umbria Verde, we could then knit that merino particularly closely. They use an adapted knitting bed to knit at 37 gauge (the number of needles per inch); Smedley's fine knit, by comparison, is 30 gauge. 
This denser knitting is what gives the crewneck such body, a really lovely drape, and makes it stronger. I don't like the concept of 'stealth wealth', but this fits that definition of something that is superior but understated – everyone goes for cashmere because it's a label, but for a fine knit, merino is better (and no cheaper!).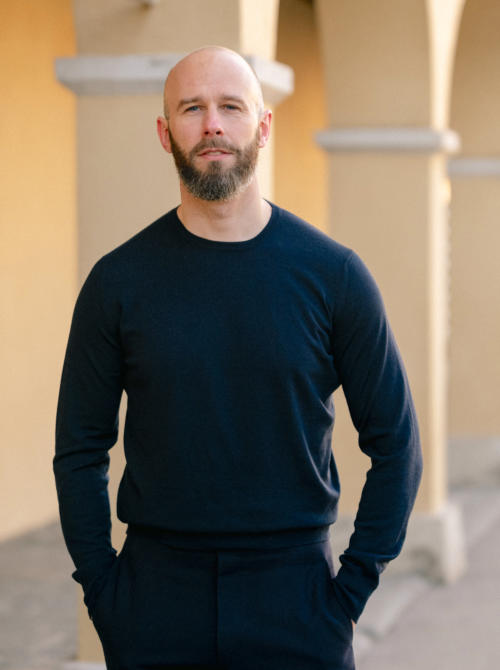 Finest make
Just as with the knitting, Umbria pulls out all the stops when it comes to the manufacture. 
These little details elevate the product, but are also what the material deserves: there's no point using beautiful cloth and then putting it together in anything but the best way. 
Below are two examples. In the first image, note the join between the body and the sleeve. This is almost twice as wide as on a piece of regular knitwear and, as a result, thinner and flatter. As with the same seam on a bespoke shirt, having it flatter (and curved) makes it more comfortable.
Second, look at the shoulder point in the second image, where the shoulder and two sides of the sleeve meet. On most knitwear there is a hard little knot, where the yarn is folded back on itself. With Umbria, the point is flattened out and re-stitched, so the knot is removed.
As mentioned back in 2017, this is work Umbria developed for its top-end customers, who are basically the luxury brands I still respect and would buy from. It's better not to name them, but readers won't have hard time guessing who. 
The style
We've made one small change to how the Finest Crewneck is cut, which is that the body is now 2cm wider on all sizes. 
To be honest, the previous iteration was pretty slim – slimmer than any other PS product – and this makes it a little more comfortable as well as more in line with other PS items. 
As you can see from the images, it has a fairly high collar – but still works nicely with a shirt collar underneath, not strangling it. The knit has a longer rib on the bottom (7cm), which I've always thought is a nice way to push body proportions subtly towards the more flattering. And the cuff is a touch longer too. 
That's has a single cuff, unlike the Dartmoor, as I think it fits the cleaner, stripped-back look of the crewneck and its use often as a mid-layer. 
Like the Dartmoor, being a fine gauge makes it smarter than most knitwear. It is therefore most at home with a smart pair of trousers – perfect for the office worker who wants something to wear instead of a shirt with his tailored strides or nice chinos. 
It can be worn with more casual trousers, such as jeans, but I would always err towards the smarter end of any such category – an ecru denim or a dark indigo one, in a neat cut, not a baggier mid-blue with rips or heavy fades. It wouldn't look wrong necessarily, you're just not making the most of the style. 
As well as wearing it on its own like that, indoors, I wear the crewneck as a layer under tailoring (as below) as well as under more casual outer layers like Tebas, fleeces, suede jackets and layered under shawl-collar cardigans. 
As readers have often commented, it's a great layering piece – particularly useful at this time of year – and is great for travel. It folds up small and only weighs 150g. 
Underneath, I tend to wear a fine T-shirt, like the PS Undershirt. It can be worn against the skin, but you'll need to wash it more regularly and that takes more care.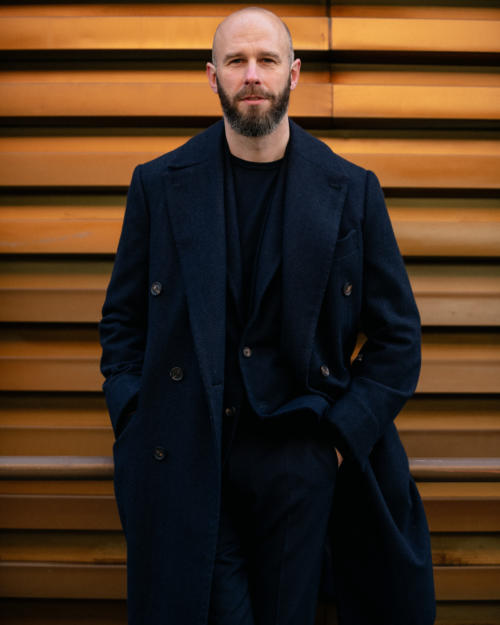 The full details of the Finest Crewneck are listed at the bottom of this post, including points on care and maintenance.
I also need to mention that the popular Dartmoor is back, with the navy, grey and olive restocked, and new colour – black. 
Readers probably won't be surprised to hear that this is the new iteration, particularly as I've found knitwear one of the easiest ways to wear black. It's a nice, less classic alternative to navy with a whole range of trousers – brown, olive, cream, navy, many shades of beige, all shades of grey – and can even be combined with black trousers for a more evening look, as with the popular all-black look posted here. 
I should also say that we've had to increase prices on both the Dartmoor and Finest Crewneck as a result of increased costs from suppliers. That's the only reason, however, and those luxury brands mentioned know sell this quality of knitwear at over £500. (There's an interesting multiplier effect there – if bigger brands use bigger multiples on their costs, they become even more expensive relatively as costs increase.)
Details on the Finest Crewneck:
Made with Loro Piana Wish merino wool

Knitted at 37 gauge by Umbria Verde in Italy

Finely fashioned and finished on all seams

Weighs 150g, folds up small

Cost £225

 plus VAT
Care:
Generally hand wash or dry clean 

Can be machine washed on a cool, wool setting, but machines vary, so only recommended with a machine that you regularly wash woollen knits

Brush with a soft clothes brush to remove lint and light dirt

Although strong, this is still a fine garment, so treat with care

Do not chuck into the bottom of a bag or shove into an overcrowded drawer

Equally, do not pull hard or fast when taking on/off (sounds crazy, but I've seen people rip at the thing)
Sizing: 
Fits moderately slim, regular length

Simon wears a Medium, and is 6 foot, with a 39-inch chest and 33-inch waist

But as ever, compare measurements below to a garment you already have, rather than begin with body measurements

Should not shrink or stretch/give over time 
| | | | | | |
| --- | --- | --- | --- | --- | --- |
| Size | S | M | L | XL | XXL |
| Chest | 52cm | 54 | 56 | 58 | 60 |
| Shoulders | 41 | 42 | 43 | 44 | 45 |
| Sleeve length | 63 | 64 | 66 | 67 | 68 |
| Front length | 64 | 66 | 68 | 70 | 72 |