Whils spirits could be deemed as the "safe" choice, craft cocktails always evolve and elevate. With rise of the contemporary craft cocktails and the art of mixology, it appears that the alcohol industry is booming. With bars and mixologists alike popping up to tap into this burgeoning market, Singapore pulls ahead as one of the ultimate cocktail purveyors in the region. Fresh off the prestigious list of Asia's 50 Best Bars, here are the bars that made the cut, validatinig their status as some of the nation's world-class bars.
#95 Origin Grill & Bar
Shangri-La Hotel's Origin Bar boasts a wide array of cocktails and wines with an overarching concept of travel. From the old-school train station, it resembles, to the cocktails that take you on a journey through the city's five districts (Orchard Road, Chinatown, Little India, Boat Quay and Marina Bay). "Orchard Road" is a clear standout. This tropical number contains pineapple spiced with nutmeg and pepper, sugar cane, lime wine and gin.
Address: Shangri-La Hotel, 22 Orange Grove Road, Tanglin, Singapore, 258350
Contact: +65 6213 4595
#83 Bespoke
Referred to as "one of the most underrated and understated bars in Singapore," D.Bespoke has been a consistent inclusion on Asia's 50 Best Bars since 2016. Bespoke cocktails, premium Spanish Sherries, French Calvados and Armagnacs, and rare vintage Rums and what's on offer. Co-owner and head bartender Mr Daiki Kanetaka states that "D.Bespoke is about quiet evenings with special drinks. Where you can completely indulge and relax with the finest of Zen-style hospitality." A signature cocktail worth highlighting is the 'Million Dollar', which incorporates gin, Italian vermouth, pineapple juice, grenadine and egg white.
Address: 2 Bukit Pasoh Road, Outram, Singapore, 089816
Contact: +65 8141 5741
#79 Offtrack
Located on North Canal Road, this bar is a collaborative creation between the co-founders of local music collectives Darker Than Wax and Ice Cream Sundays, Offtrack combines music and drink in equal measure. Try out the signature Grasshopper made from mint liqueur, cacao liqueur, mint bitter, milk, cream and fresh mint or stick to a pitcher and enjoy a schedule of local and regional DJs. 
Address: 34 North Canal Road, Chinatown, Singapore, 59290
Contact: +65 8748 0408
#74 Sleep Club
Described as a "tiny pop-up on Singapore's Club Street", No Sleep Club has gone on to win numerous awards including Campari One To Watch Award in 2020, the Disaronno Highest New Entry Award in 2021, No.8 in Asia's 50 Best Bars 2021 and a top 20 spot in Asia's 50 Best Bars 2022. If you are stopping by, the Pornstar Martini and Bloody Mary are two elevated classics worth trying out plus a section of Highballs concocted with unique in-house creations. The tequila-based Espresso Martinis are said to be the best in town. 
Address: 20 Keong Saik Road, Singapore 089127 
Contact: +65 88380188
Read More: Craft Cocktails: Refining the Art of Mixology
#73 Night Hawk
Night Hawk boats to have its own "private universe". This retro-futuristic speakeasy serves up signature cocktails including Night Hawks – a cold mix of coffee infused with rum, vodka and amaro and  Gamma-Ray Holiday, a reimagined take on the Japanese melon liquor Midori sour. Drinks are served up in an interior space that is a cross-section between a 40s and 70's metropolitan watering hole aptly described as a "hospitable haven of futuristic nostalgia; inspired by the emotion of 'urban alienation' invoked by Edward Hopper's mid-century masterpiece "Nighthawks".
Address: 43 Tanjong Pagar Road Singapore 088464
Contact: +65 9666 0928
#64 The Elephant Room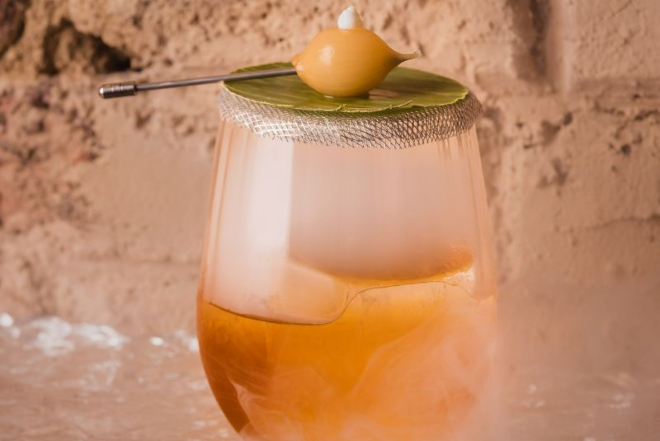 The Elephant Room celebrates Singapore's diverse culture and exemplifies how multiracial communities come together through food and drink. With ingredients locally sourced from the neighboring Tekka Market, the bar's ethos is clear — "one drink and plate at a time, our ambition is sincere and simple: To take an often under-documented culture and spread it to the world in all of its richness, colour and delight. With cocktails that are inventive, distinctively rich and entirely one-of-a-kind, every sip feels like a step into Little India.
Address: 20A Teck Lim Rd, Singapore 088391
Contact: +65 9111 5131
#63 Tippling Club
According to Chef-Owner Ryan Clift, the Tippling Club "imbues the dining experience with a sense of excitement and a touch of theatre". With a  frequent spot on the World's 50 Best Bars and Asia's 50 Best Restaurants since its inception, Tippling serves up world-class cocktails including the '$$$', which contains extravagant Louis XIII cognac and champagne. Conde Nast Traveller referring to the experience as a "high concept drinking and dining at its finest"
Address: 38 Tanjong Pagar Road, Singapore 088461
Contact: +65 6475 2217
#61 Last Word
What's in a name? According to "Last Word," the name says is all. Titled after the classic (albeit seemingly forgotten) drink, Last Word is a restaurant and minimalist cocktail bar "which aims to rekindle the romance of classic cocktails". The curation of cocktails is both exciting yet unpretentious and includes a Japanese inspired Bloody Mary and the classic Martini. 
Address: 8 Purvis Street, City Hall, Singapore, 188587
Contact: +65 9187 5719
For the latest on cocktails and dining, click here.