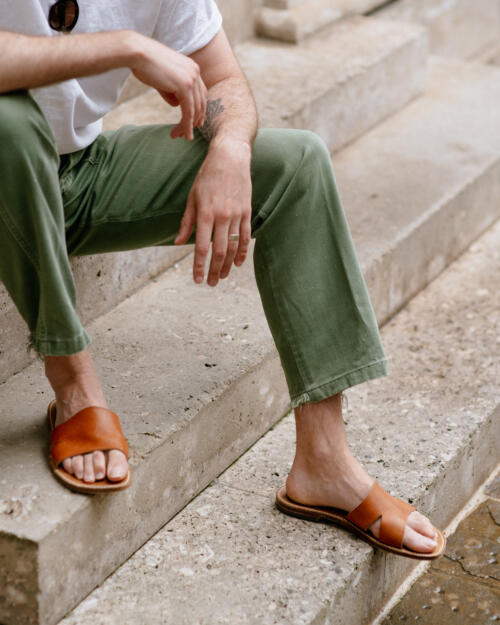 Espadrilles are my preferred, casual summer shoe. I've always liked their clean lines and simplicity, which make them more elegant than pretty much any other option. I also quite like the massage-like feeling of walking on rope. They're cheap, easy and surprisingly not ubiquitous.
However, there are times I like and wear sandals. There are two main reasons – one old and one new – and I'll explain those, which models I like and why, and discuss other sandal options in this post.
The first reason, which has existed as long as I've been going on holiday, is having a shoe to quickly slip on and off. Like many people, a lot of the time I'll be barefoot – around the villa, around the pool – and it's useful to have something to slip on just to get across the gravel or the grass. It's also nice around the beach of course – as you walk out to the sand, as you come back out.
Espadrilles can be used like this, with the back folded down, and there is something pleasingly dégagé about it – in the same spirit as a sweater literally thrown around the shoulders. But sandals will always be that touch easier, and of course are happier around the water than espadrilles*.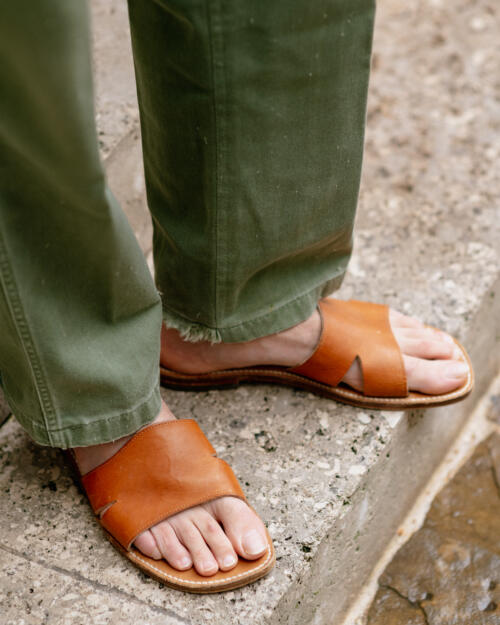 The sandals I wear in this vein is the 'Bande Coupée' from Rondini, pictured above.
Still made in the same location in St Tropez, the Bande Coupée is simple but quite functional for a slider, with slits that help the strap fit better on the foot, and leather that moulds effectively. They were apparently the model for the H-shaped Hermes sandal.
Lucas turned me on to Rondini, and I've been pleased with how they've worn. I haven't tried any of the other models though, as this was the only style I needed, so if any readers have experiences with the others I'd be interested to hear how comfortable and long-lasting they've been.
The other obvious sandal would probably be Birkenstock, and I have worn them in the past. They're a great company and a great product, and I'm not even put off by how ubiquitous they've become.
But they are chunkier – deliberately often, ergonomically – and I don't find they work as well with a slimmer or more refined style: better with more casual, perhaps streetwear or workwear style.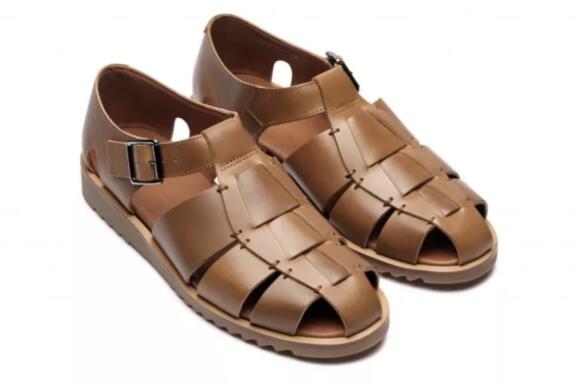 Of course, as discussed recently, I don't really like wearing open-toed sandals outside of holiday or the home. They feel out of place to me, like shorts in the office.
(And at the very least, if men are going to wear sandals like that to the café, or the library, they need to learn to look after their toenails. Women go to some effort here for a reason.)
How about closed-toe sandals though? Fisherman styles have become popular recently, perhaps driven by a shared desire to stay cool, and comfortable, plus casual but not quite as casual as a pair of Havaianas.
Tony touched on a few options in his Riviera-style article, including those from Church's, Paraboot, Ralph Lauren and Ludwig Reiter. He's a fan of the 'Triestiner' from Reiter, which has a series of holes around the front (so more closed than most).
Personally I find a lot of these sandals too chunky. Not the Triestiner, but the Pacific from Paraboot, Steve Mono sandals, La Botte Gardiane or the French military from Blackhorse Lane.
It makes sense that they'd be like this of course, given they're styles for fishermen or similarly functional occupations. But the combination of thick (often grained) leather, wide lasts and often contrasting soles makes them too coarse for my style.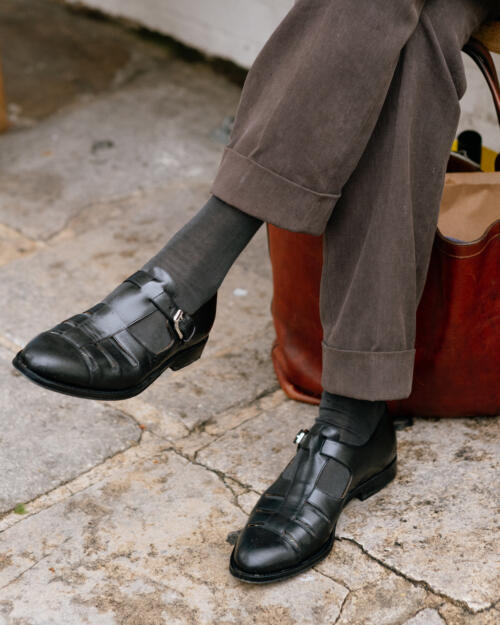 Still, I've been thinking about the style for a few years, and decided after various try-ons that the slimmer, truly closed-toe style from Church's and Ralph Lauren was one that might work for me.
Unfortunately this model only seemed to be sold by companies with big, big-company mark-ups, and that held me back – until earlier this summer, when I managed to get the pair above from RL Purple Label second-hand.
One thing that attracted me to the style when I tried it on, weirdly, was how nice it felt with socks.
Socks and sandals, of course, have a bit of a dodgy reputation (even though brands like Ghiaia are doing a lot to reclaim it). But this is different – fine, dress socks, worn tone-on-tone with similar sandals.
It sounds odd, but the combination has both practical and historical justifications. Practical, because it's actually very cool given the thin socks, and fairly subtle in style. And historical, because this is how many summer shoes were originally worn, whether sandals or espadrilles. It was cooler than a regular shoe, but you still wanted to cover your toes and ankles.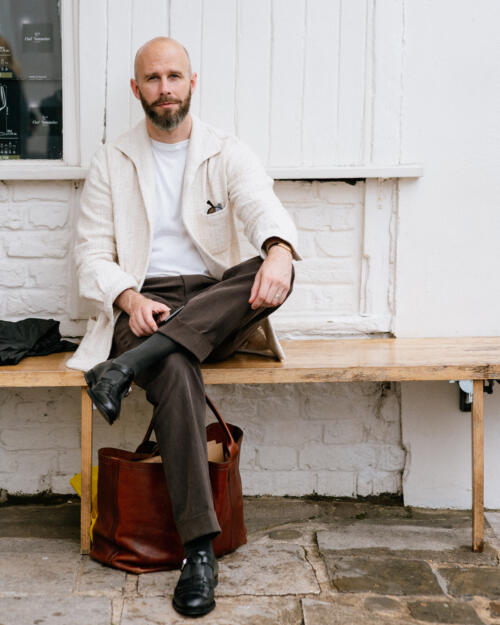 Of course, such a historical precedent should never be taken too far (and often is, by classic menswear fans). At the most I think it should prompt you to question modern assumptions – rather than ignore them and adopt period dress.
That questioning has worked quite well for me here, however. This isn't an everyday look, and it won't be for everyone. I wouldn't recommend readers wear it into the office with their tailoring on Monday. I'm also fully aware it might be something that, next summer, I look back on and decide was a wrong turn. But so far it's a fun experiment, didn't break the bank, and I like the combination of subtlety and originality.
It could even prove to be a stepping stone to other sandals, like those Ghiaia ones (below) or a slimmer Paraboot model like the Ferret/Aragon. (Although I do prefer it when they have more of a captoe – a real closed-toe).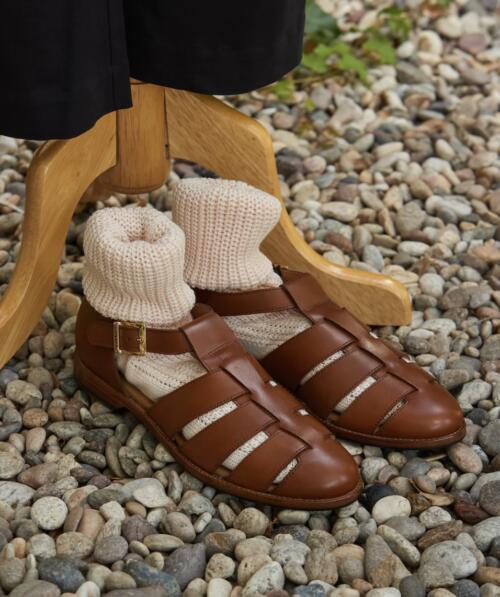 Other options in this area are the almost-closed sandal from Adret, shown below (and a similar style from Soloviere). I like the simplicity of these, but found them a little too chunky for everyday wear.
Then there are huaraches, which I've tried in the past. These can be very functional and achieve the same effect of a closed-toe sandal, in being cool but covering much of the foot.
The issue I usually have with huaraches is that they're often wide, with big soles or (in the case of some Chamula) contrast leather. But I did try a pair from US brand Nisolo recently, based on a reader's recommendation, and they were much better.
The only issue there was the quality – OK for the price but not as good as Chamula or Rondini. Perhaps there's a bit of a gap here, for a range of huaraches and similar sandals that are between the high street and the top makes in terms of quality.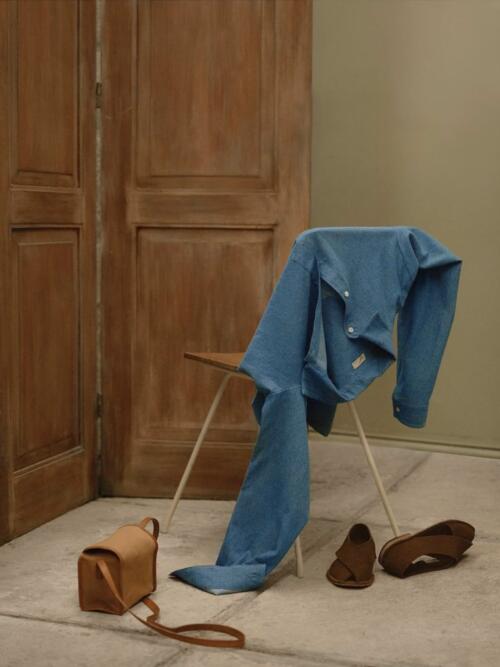 Clothes shown with Rondini sandals:
Clothes shown with Ralph Lauren sandals:
Adret 'Riviera' shirt in natural handspun cotton
Bespoke linen trosuers from Whitcomb & Shaftesbury in Solbiati 'Art du Lin'
Charcoal cotton socks from Anderson & Sheppard Haberdashery
Large working tote in chestnut from Frank Clegg
T-shirt and sunglasses as above
Photography: Alex Natt