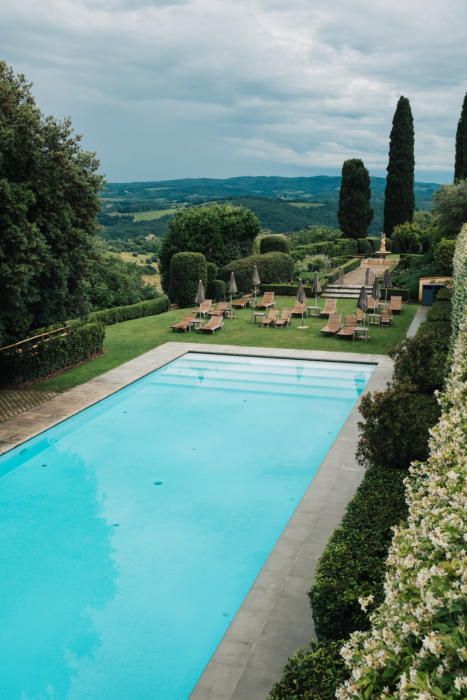 I haven't written about swimming shorts for a long time. Other than a passing reference on our regular 'holiday snaps' articles, it's been over a decade since they were covered on PS.
Even back then, it was a pretty short article about Orlebar Brown. I took the time to interview the founder, which most bloggers wouldn't bother to do, and it went into some technical detail about the make and pattern cutting. But there wasn't much general guidance. 
My feelings about swim shorts haven't really changed in the 12 intervening years. I still feel that what suits most men is a simple style in a comfortable, often slightly shorter cut, with a good make and minimal detailing. 
No logos or 'funny' patterns, no prints of a Slim Aarons photo or, worse, something James Bond-related. Why would you want to reference James Bond by wearing something he would never go near?
Anyway, I thought I'd take the opportunity of being near a pool this summer to illustrate these thoughts on what makes good swim shorts, and give some recommendations. 
In terms of cut, swimming shorts should be roomy – not baggy, but usually the danger is more the other way, with a certain guy wearing skin-tight swim shorts in the same way he wears skin-tight casual shorts, or stretch chinos. There is the idea that this is more flattering when I'm not sure it is. 
Swim shorts also look good with a fairly short inseam – perhaps five or six inches. Of course the proportions depend on height, but these are sports shorts and my rationalisation is they look better when they give the impression of freedom of movement. Mid-thigh or thereabouts. Those pictured are five inches. 
This leads onto points about colour and pattern – style. I like this kind of length because it's moderate, unremarkable. There is no attempt there to make a style statement, by wearing tiny stretchy shorts or at the other extreme, knee-length board shorts. 
Pattern is similar. Nothing wrong with a little micro-pattern if you want, but the aim is not to make a statement. No bold zigzags or little dancing bananas.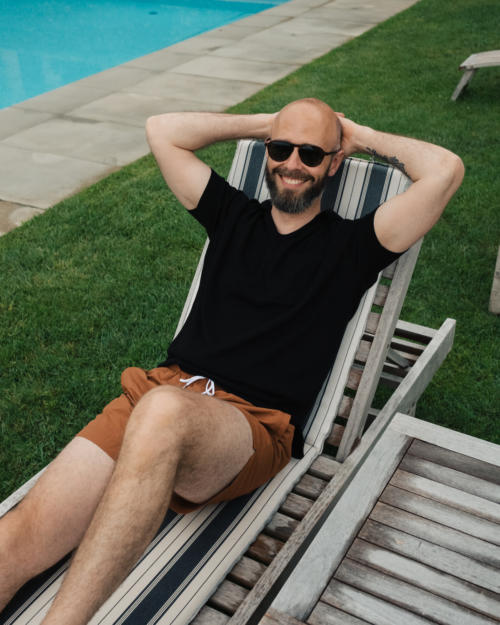 Which in turn leads onto colour. While brands will often offer a swim short in something classic like navy, most of the other colours are usually bright – scarlet, pale blue, lemon yellow. 
These bright colours certainly look better on holiday in the sun than anywhere else, but that doesn't mean they suit most people even then, unless they have a strong tan. 
Given most men will only have one pair of swim shorts, it also makes sense for them to be versatile. A bright-yellow linen shirt can be lovely in the summer, but if you only had one shirt, it wouldn't be yellow; chances are it would be white. 
There should be more sophisticated colours out there – tobacco, dark brown, olive, not just navy and black. I know these colours are harder in synthetic materials, but it is possible – it's the reason I impulse-bought the (definitely overpriced) Hermes ones pictured; they were such a great colour.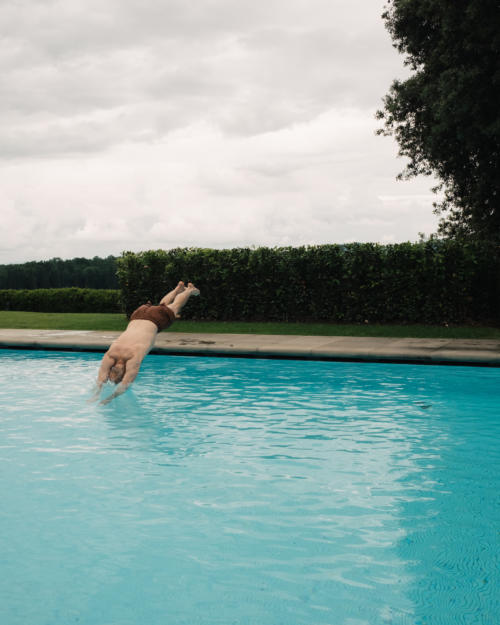 Lastly, make and material. I've tried perhaps a half dozen brands and materials in the past decade and the biggest difference I've found is weight. (Readers, please do chip in as always with your experiences.)
The polyesters and nylons don't vary that much in feel, but if the material is too light, and there is a drawstring or elasticated waist, they quickly look like boxer shorts. It doesn't help if you've gone for a 'jazzy' stripe that could well be the colour of your boxers too.  
We want something that looks like regular shorts rather than boxer shorts. Details like a drawstring rather than elastic help, as do pockets, but the weight makes the biggest difference. 
On the subject of make, I'm no longer much of a fan of the Orlebar side-adjusters style. It looks a little fussy for a swim short, but a little cheap for a proper short: I'd rather have one or the other. 
In fact, I should go through an update some of those earlier posts about Orlebar polos and swim shorts – if indeed readers still find them through search. Let me know.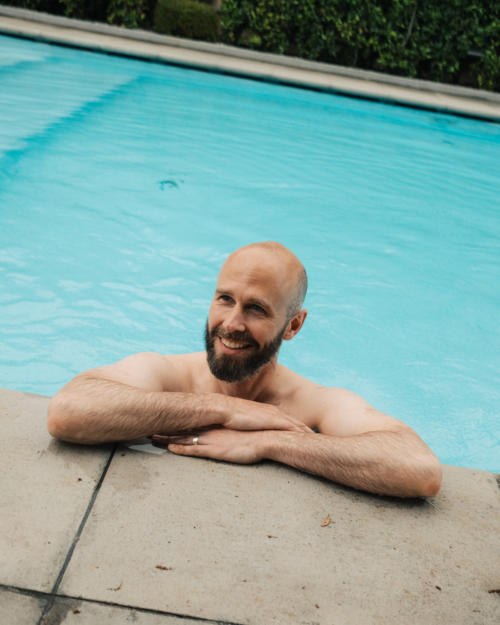 A last style point: I'd always avoid logos and branding. You wouldn't have it on your normal shirts or shorts, so I don't know why it's necessary here. 
Here are a few other brands I've tried over the years. Once more, do let me know which you like and why – there are a lot out there.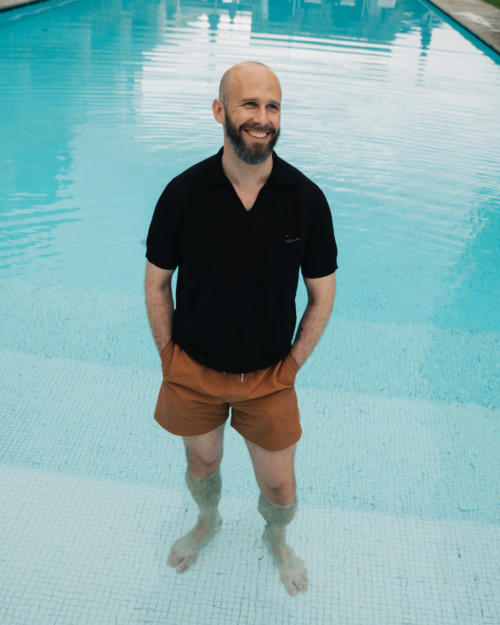 Note: These are shorts for holiday, for the beach, for the holiday pool. Not necessarily actual sports shorts for swimming 30 lengths every day. 
Other clothes shown: Black Nonpareil polo, Rubato; 'Californian' sunglasses, EB Meyrowitz.
Photographed at the COMO Castello del Nero hotel and resort, Tuscany, by Milad Abedi.