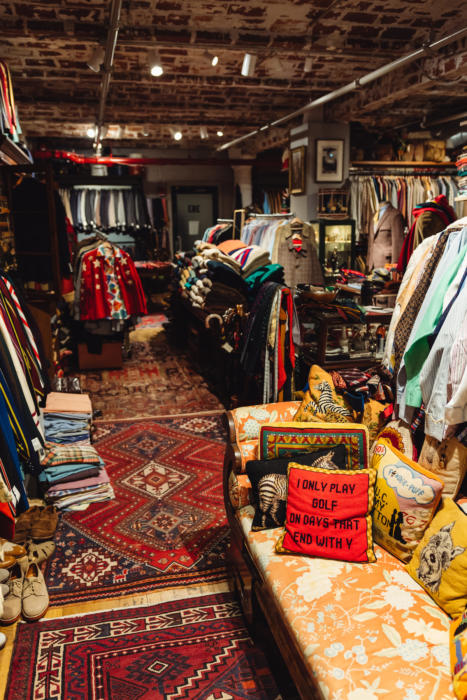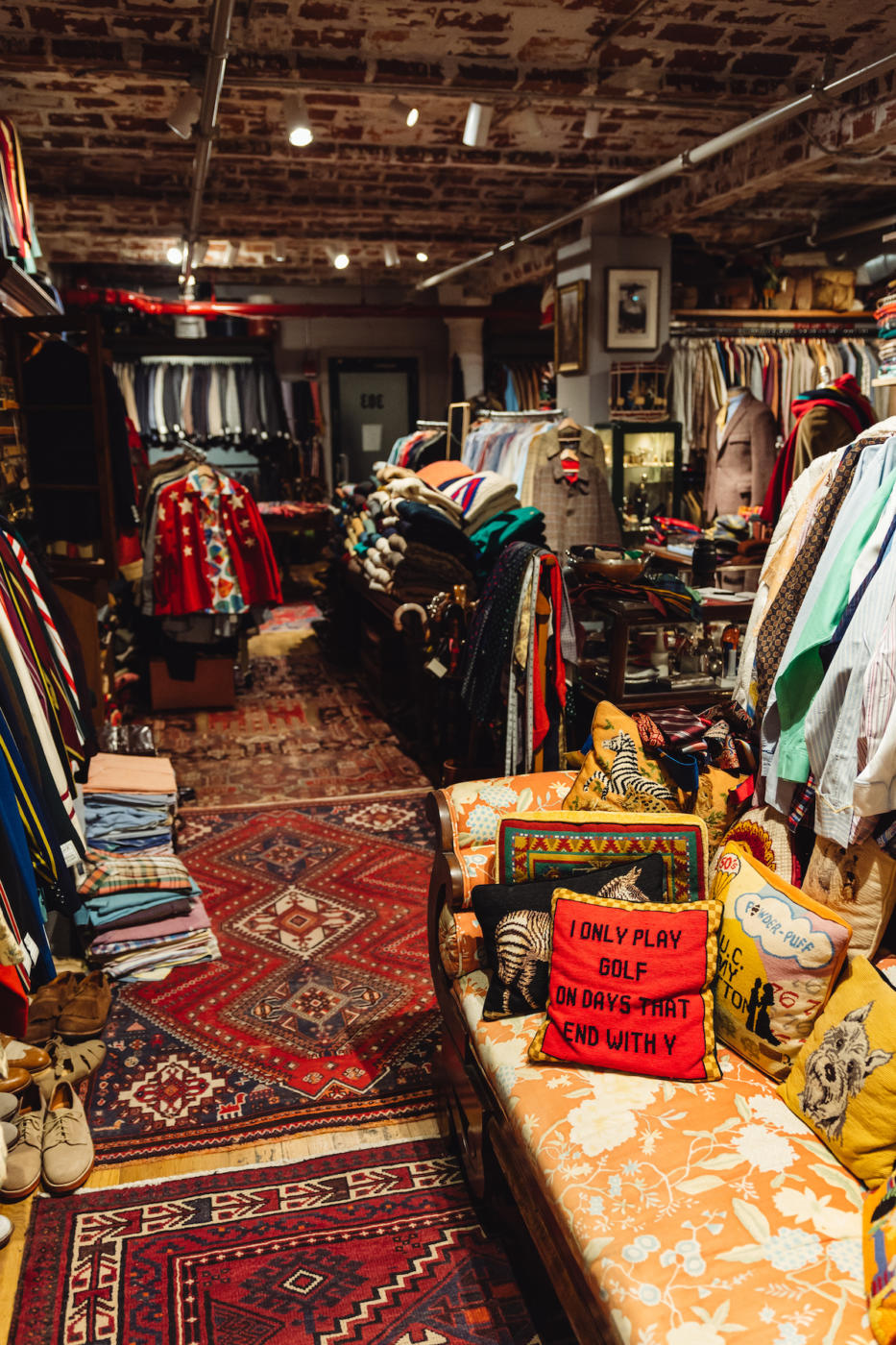 Crowley Vintage is a vintage shop in Brooklyn, New York with a more particular angle than most. 
We've talked in the past about different types of vintage – those that focus on older or newer, on rarity or thrift – but there are few that focus on a specific style, pretty much to the exclusion of other factors.
Sean Crowley is an ex-Ralph Lauren designer (we covered his history at Ralph here) who, after a brief sojourn at another brand, set up a vintage business stocking pretty much only Ralph Lauren and the kinds of clothes that inspire Ralph Lauren. 
Actually, it's narrower that that, because there is very little western clothing at Crowley's, no RRL or performance-based Purple Lapel. Instead it's smarter and more British: dressing gowns and Fair Isle sweaters, country tweeds and Savile Row, plus varsity knits and some military.
Importantly, it covers all periods, from the end of the nineteenth century to the beginning of the twenty-first. 
At one point during my visit, looking for an old pair of chinos, I came across two pairs that seemed like decent candidates. Both were mid- to high-rise, both fairly wide leg. One looked more frayed and worn than the other. 
It was only when I tried them on that I realised the less-worn pair were original American WW2 chinos, and the more worn pair were Ralph Lauren 'Rugby', from the early 2000s. The holes and fraying were artificial. 
For a fan of this style of clothing, both will have their own appeal. But when I think of a Permanent Style reader going to shop at Crowley, this breadth of stock is one thing I feel they need to aware of.
The style is clear from Sean's curation – the piles of striped scarves, the madras and seersucker. It's even organised into different themes: tailoring, college, military, summer. But the range from old to (relatively) new won't be as obvious. 
Crowley is also not cheap – it's towards the rarer, the more curated end of the vintage spectrum. Those that visit are doing so partly for Sean's eye.
A couple of interesting tailoring pieces were the coachman's coat above, and the rather ornate suit by New York tailor Roland Meledandri, below. 
The coat was phenomenally heavy, designed for someone that would be in the elements all day, without exception. It had a few details that suggested formality, but weren't actually functional, such as large flap pockets that were nothing more than flaps. 
Sean and I also marvelled at how someone had managed to hand sew the buttonholes. 
The suit, in a cream jacquard cloth, would probably be of most interest to those in New York's tailoring history (I knew Meledandri only from his connection to Ralph Lauren), but I guess there might be a more flamboyant dresser who would wear it too. 
"I have to say it's all much clearer now we're in this bigger space," he says. "We've only been here two years, and it's only in the past few months that some of this display has come together."
When Sean started selling vintage in 2017, he only did so on Instagram. Then there was a shop, but it was smaller and less accessible. Today the store might be in a unit on the third floor (which requires various twists and turns to track down) but you can see the full range and it's easy to get to from Manhattan. 
"There's still one area at the back that I need to clear up, but it's curtained off so no one really realises that," says Sean. "Otherwise it's all nicely put together now."
Something else that's at the back of the shop is an ironing board and a sewing box – Sean frequently repairs new clothes himself. 
"I guess that's one thing that makes it clear I'm still very much a retail destination," he says. "I sew, I darn, I reinforce buttons. I want the clothing to be as perfect as it can be when it's sold." (It's also evident from the extremely useful labelling – describing the size, waist and leg length.)
Compare that to somewhere like Stock Vintage, where most nips and rips are left in and the focus is more purely selling to designers. 
"There's a good network of repair places in New York too – for repairing knits, for invisible repairs on wovens," says Sean. All are apparently open to the general public, so I'll get the details and do a separate article at some point. 
I only walked away from Crowley Vintage with a couple of small pieces – an old Ralph hat and a belt – but then I'm never doing more than half shopping, with the other half of my brain asking interview questions. 
The belt, too, was a good example of a lovely style Ralph used to do, but no longer. Cotton canvas with leather-covered ends, it is slim, good quality, and much nicer than the elasticated ones you find more commonly. 
Sean has about 30 of them, all in different colours. I was feeling contrary and chose a pink one. 
I'd recommend Crowley to anyone that likes the style – that's crucial – and who's shopping vintage to find things that are unusual, rather than cheap. 
If you want more normal vintage – as in, a much broader range of styles and indeed of prices – you'd be better off over in Williamsburg at someone like 10ft Single by Stella Dallas, which is huge and varied. The cloth shop next door, the original Stella Dallas, is also worth a visit. 
Crowley Vintage is open Saturday 10-6, and Tuesday to Friday by appointment. Address: 147 Front St, suite 303, Dumbo, Brooklyn
Photography: Christopher Fenimore