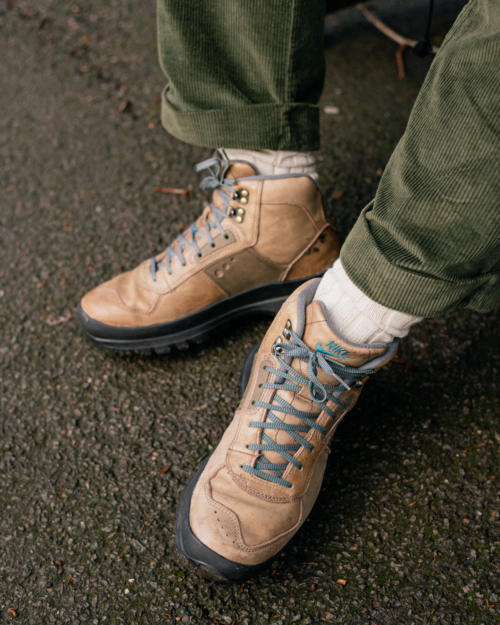 By Tony Sylvester.
I am sure you too have a full and eclectic 'Saved Searches' section on your eBay app. Mine includes everything from rare Barbour jackets to Finnish glassware; old Polo coats to Georgian jewellery. Some are comedic reminders of spur-of-the-moment rabbit hole dives, others tributes to long-standing obsessions. Occasionally, they even lead to the landing of a white whale.
Recently, something along those lines came up that seemed to be an unbelievable eBay 'bargain'. A deadstock pair of 1990 Nike hiking boots appeared in my size with the 'buy-it-now' price of £10. I couldn't believe my luck, until closer inspection revealed the reason. While the uppers and sole were indeed completely unworn and box fresh, the midsole had crumbled away with age, a common ailment with footwear of this vintage, making them unwearable.
The seller acknowledged this in the listing, suggesting they were "for display purposes only"; this was no doubt the reason for the super low list price. I weighed up my options for a couple of minutes and placed an offer for £8 for the grail item. Within minutes I was the proud owner of a completely useless pair of 33-year-old hiking boots.
So, a gauntlet had been thrown down. In the spirit of both thrift and sustainability, would I be able to repair the boots in the same way as Goodyear-welted dress shoes? The care, upkeep and rebuilding of clothing is something that Simon has covered in depth on Permanent Style, from the darning of socks to the best ways to store and maintain cashmere. Could the same care and attention be brought to these redundant boots?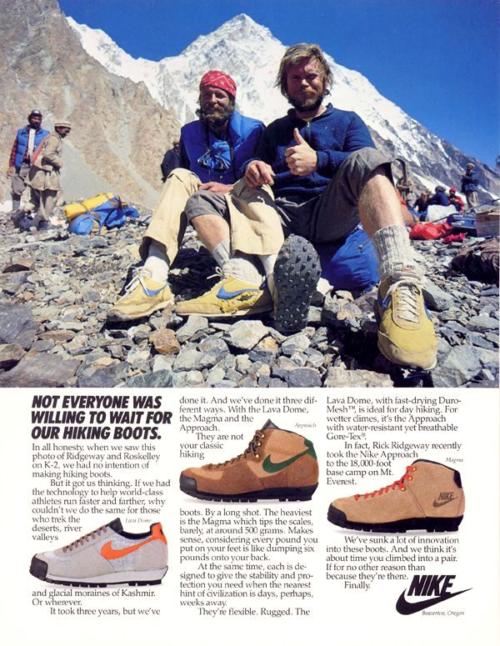 I've always had a soft spot for Nike's ACG (All Conditions Gear) sub label, and its antecedents. Nike's history with the category of footwear goes back a long way: having focused primarily on running shoes in the early seventies, by the end of the decade it had turned its attention to more rugged pursuits. In a similar manner to its innovatively lightened running shoes, the hiking boots shed the clumpy heaviness of prevailing styles while retaining the necessary toughness.
Climbers Rick Ridgeway and John Roskelley started the move by conquering K2 in 1978 in pairs of heavily trashed and repaired Nike 'LDV' running shoes (above). These were far removed from the bulky leather alpine boots of their forebears, and the design team at Nike set about trying to create a model specifically designed for climbing and hiking, but with a similarly slim silhouette.
The colourways of the resulting boots paired earth tones with flashes of contrasting colour to beautiful effect. They deliberately echoed the rugged hippy-inspired style of seventies climbers – a look I would like to delve into closer in a future PS column. The late great streetwear and culture writer Gary Warnett of Gwarizm described the ACG range as "merging a rustic breed of beard-friendly gear with state-of-the-art technologies and a fair amount of whimsy."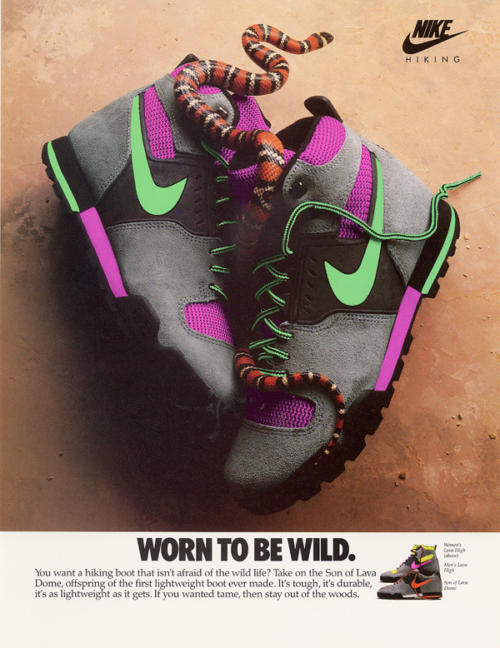 Unboxing my eBay boots was bittersweet. The colour and styling were perfect: although not as loud as the usual ACG colourways, the true olive grey/green is offset by an embroidered logo of pleasing teal, and the condition, as advertised, was immaculate.
Seeing the degradation of the midsoles was heart-breaking, however, and sadly unavoidable with trainers of this vintage. Sneaker designer Chris Law explained to me that this is due to oxidation of the EVA and comes from storing them in damp environs, like an English loft for example. Trainers from the mid-eighties and before were more likely to have rubber soles, so this is not a problem, although rubber will harden over time instead.
So what was my next move? I didn't buy the boots to sit under a cloche on a pedestal. In pursuit of '10,000 steps a day' and in appreciation of the coastline of East Kent – where I now live – I wanted the boots to perform the task they were built for. Fortunately the high quality of shoes from this era (as Law put it "what is considered premium now was standard in the past") means that resoling is a viable option.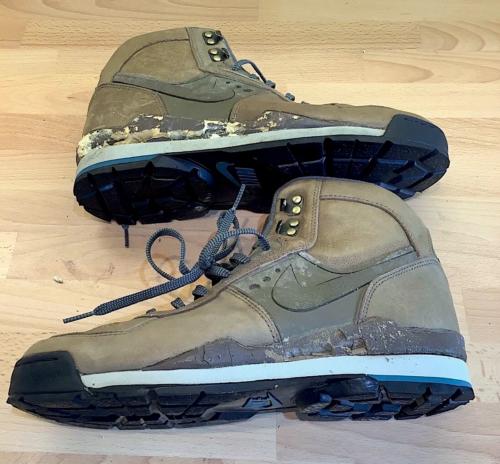 My first port of call was Tony's Heel Bar in Kentish Town. They are still the go-to people for my resoling and repairing, and provide their services to all London shoemakers.
Speaking to Tony, he felt this was a specialist job that might be better taken care of by an expert, so I called Will Stowe, presenter of the Nike 'SNKRS' podcast for his input. He told me I had two options: a full "sole swap" – a specialist procedure where the entire sole unit from a similar shoe is swapped onto your upper by a custom restorer. Or, a resole with a generic sole from another company that was as close / simpatico as possible.
The use of the custom sole swap appeared the most reverential to the boots, and I was recommended to contact Kyle Smith from KS customs.
Here, Kyle said the key was finding a viable alternative sole that would fit the upper, with the recommendation of a sole post-2018. He suggested the Air Jordan IV as a suitable candidate. The cost would be £150-200 for the labour, plus the cost of the donor shoe for the sole removal. My rash purchase was beginning to spiral out of control, with a potential bill of £400 plus for some usable kicks. A generic resole started to look more appealing.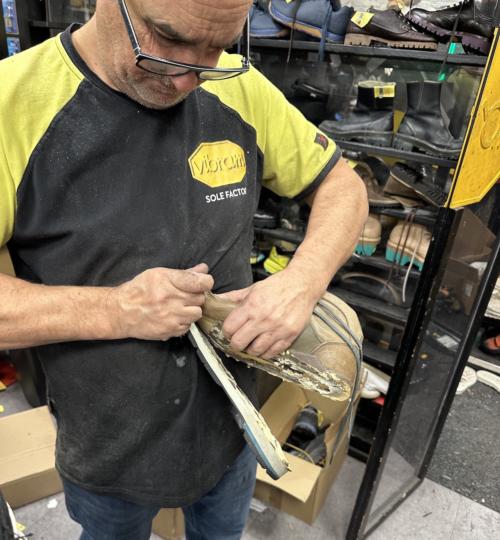 Further research took me to the rather lofty sounding Vibram London Academy on City Road. Opened in 2016, this East London outpost of the Italian rubber-sole manufacturer offers repairs and resoles on all kinds of footwear, providing you choose from their range, which comes in a dizzying array of colours. Everything from boat shoes to trainers, work boots to dress shoes can be handled.
Their best option was the Bristol – a generic hiking boot sole with a thick chunky tread and an extremely high midsole, which seems to envelop most of the upper. Despite some jazzy two-tone choices, I opted for the black, with a price tag of £79 for parts and labour and a four-week wait. It seemed I would get my boots after all.
As promised the boots were back at the shop within a month and ready to test drive on the chalky cliffs of winter. I was very happy with the results – a stout, handsome pair of boots with a resonance of nostalgia for the stylings of my youth.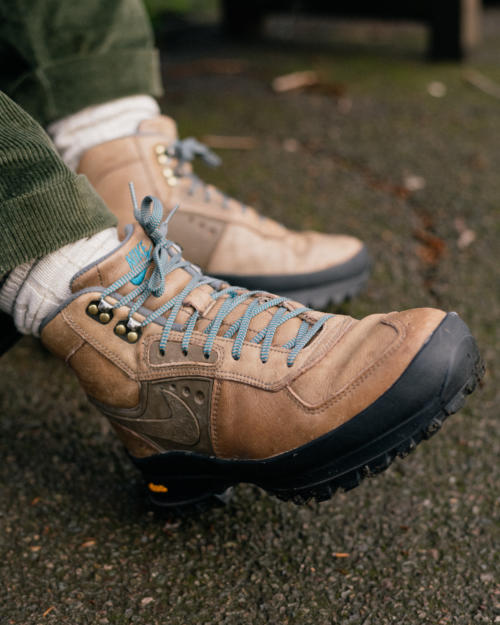 Are they perfect? Well no. But what I want is unattainable: the exact shoes of the period in wearable condition at a realistic price point. One of the great selling points of the original models was their toughness combined with a slimmed down silhouette. Having to use the generic Vibram Bristol sole has undermined this aesthetic purity a little.
But, I now own 'brand new' boots in an iteration I will likely never get the opportunity to buy again, for a price tag south of £100. All in all, a worthwhile pursuit.
For those seeking that elusive sleeker look, may I recommend New Balance's Mount Rainier reissue, Paraboot's Yosemite model or the Danner Jag boot (pictured below, in that order).
For styling, I pair mine with the Bryceland's Foul Weather Anorak in a heavyweight Kersey cloth, and a pair of corduroy walking trousers that I unearthed from the bottom of a stack at San Francisco's Cable Car Clothiers, another rare and slightly eccentric piece of deadstock.