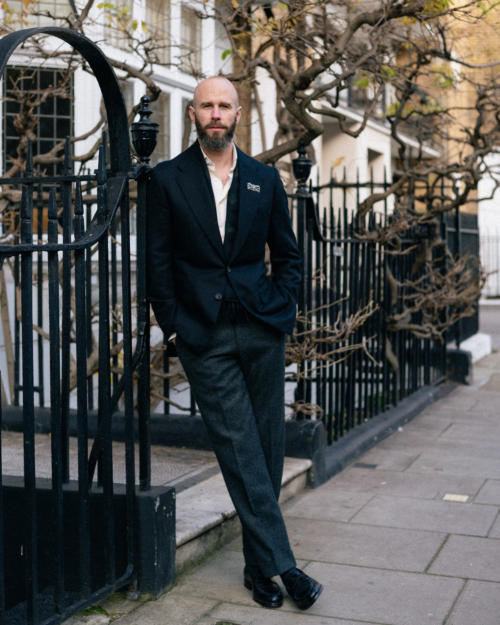 This bespoke jacket was made for me by Paolo Martorano, the tailor in New York I first covered in 2020. 
It's particularly significant because of the dearth of bespoke tailors in the US. Although many tailors travel to the US from the UK and Europe, and some now also have full-time bases in New York – Huntsman, Cad Thom Sweeney – for such a big country with many bespoke customers, there are surprisingly few tailors. To an extent it illustrates the importance to such crafts of tradition and a support network. 
There are some, such as Leonard Logsdail, and we've covered them in detail on an article here. The comments on that piece, by the way, are just as useful as the article itself. 
But homegrown tailors remain rare, and so I know American readers will be keen to know what I thought of Paolo's work, now I was having something made.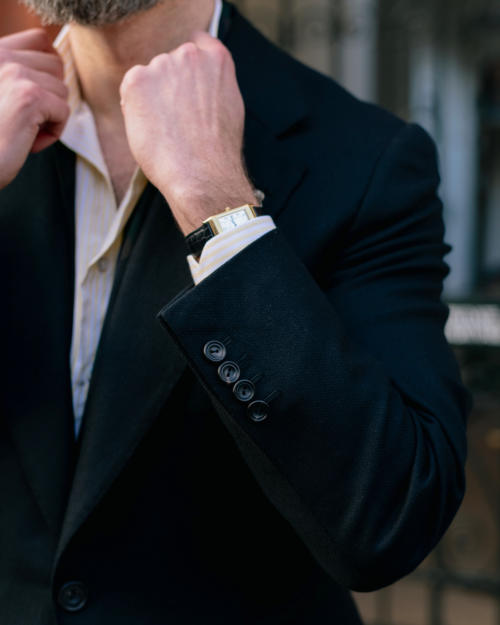 The answer is that I think the fit and quality are very good. Certainly on a par with a lot of English tailors, and both more consistent and better finished than some of the cheaper options from, for example, Naples. 
We had three fittings in total (one in London, two in New York) and I think there's a slight issue we need to work on next time in the closeness of the back and/or armhole. I'm not technical enough to know what the issue is – but I know how it feels and, more importantly, know enough to know what I don't know. 
However, this is a small quibble. The jacket has beautiful, clearly bespoke shape, from the high and close-fitting collar, through the shape of the chest and into the waist and skirt. It is real bespoke (unlike some US offerings) and shows that in every part of the way it is executed.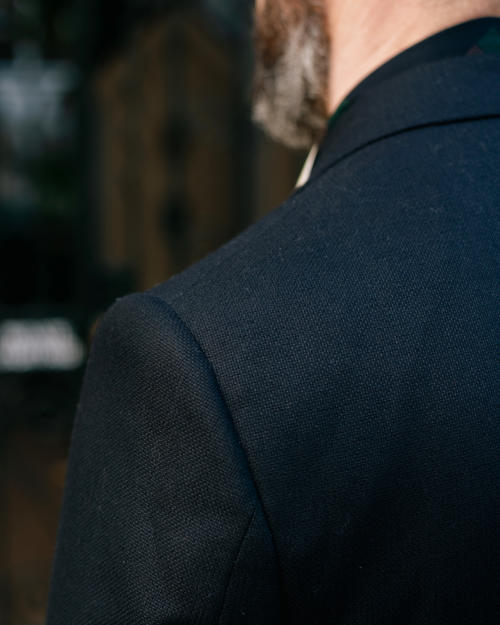 The material is a black, cashmere-mix hopsack. I have many things to say about this choice, but one that should be flagged early is it's difficult to photograph. 
Put in direct light, it looks wrinkled where it isn't; put in shadow, you can barely see the shape. Alex and I tried, and this is the best you're going to get. As I always say though, the images are merely illustrative – there to illustrate written points – and any attempt to judge the fit purely from them is a fool's errand. 
The other things I have to say about the cloth are more fun, less technical. 
The hopsack is beautiful, soft to the touch but without apparently sacrificing much of the sharpness of a regular hopsack. Paolo was wearing one when we met, and it convinced me to choose that over a regular navy merino. Unfortunately it was a vintage length and no other mill offers a cashmere-blend hopsack as far as I'm aware. 
The colour choice I'm less sure about. Of course, I've plunged headlong into black in recent years, and this does seem like a natural extension. But I have the feeling my black tweed might be easier to wear. 
Plus the navy mesh jacket I have from Ettore de Cesare does need to be replaced – it was my first piece from him and isn't really a style I'd pick now, even if it wasn't pretty tight. 
I went into colours I like with black jackets on that tweed article, so won't go through them all again here, but some of them don't work as well with the sharp hopsack – the browns and greens in more casual materials like corduroy, for example. 
Paolo, by the way, disagrees with me here and thinks black is just as versatile as navy, with the bonus of being less pedestrian. The latter might be driven the greater popularity of navy blazers in the US, compared to the UK; but the former is just a style difference: Paolo would wear this with dark jeans and with cords and chukkas, where I wouldn't.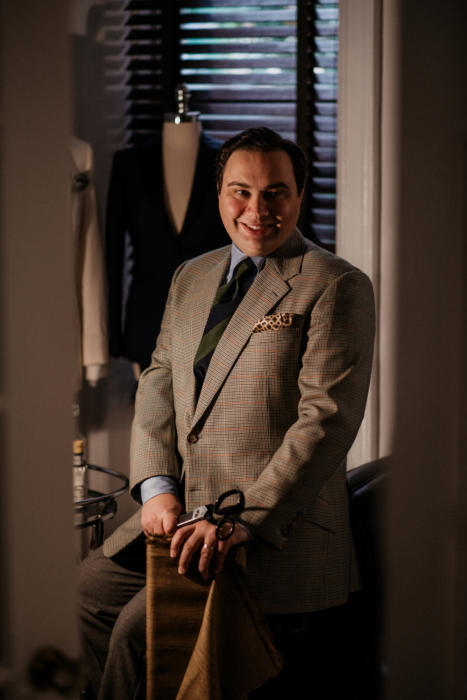 But returning to Paolo (above). When we had our first fitting in London, I was a little concerned. 
The jacket was cut big, almost everywhere, with the intention to get the balance right and then take it in everywhere. I always emphasise that tailors operate in different ways and the only thing that matters is what works for them, but you're always a little assured when the fit is close from the very start. 
Fortunately it all worked out, and when we met in New York you could see the jacket had that perfect balance – when you unbutton it, the two sides stay hanging close together (a matter of balance front and back as much as left and right). 
I should also say that Paolo made me a pair of trousers right after that first fitting, and they were superb. Actually, two – he wanted to show me his usual style, which is high rise, double pleated, wider in the leg and with a lapped side seam. 
Those fit well, but weren't my style. They've gone to a good home, while the other pair – in a six-ply high-twist grey/brown from Drapers' Ascot bunch – will be worn a lot this summer.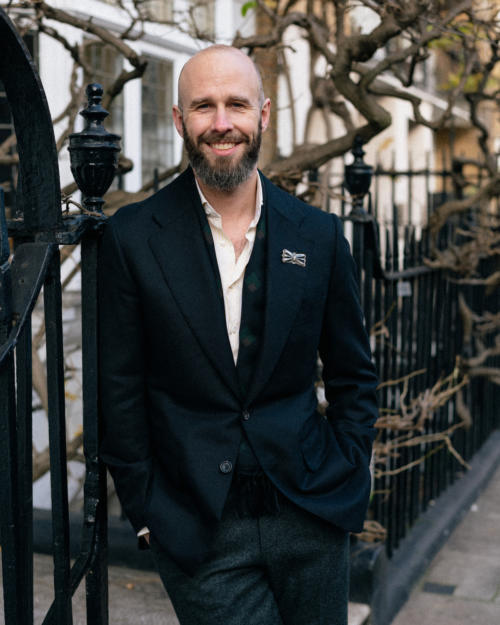 The shape of the jacket is really lovely, which of course is partly driven by Paolo's house style and partly by my preferences. 
The shoulder is wide, just off my natural shoulder point. There is padding, but only to square the shoulder, not to lift it – there is no padding at the neck, it's gradually added as you move towards the sleevehead. 
The lapel is wide but not dramatically so (perhaps not noticeable even, to most people), with a little belly. The notch is set a little lower than most ready-made brands, but not to the point of being stylised; I like the fact the gorge points squarely at the shoulder, not the chest or the ears.
There is a little drape in the chest, as Paolo likes, but the fit through the back is quite close, again as Paolo likes. We let this out a little bit after our final fitting, but as I mentioned earlier on, it might need a little bit more.
It's understandable that a bespoke tailor wants to cut a clean back. It looks so much nicer, especially when the jacket is going to be photographed and pored over in public. But really the style of a bespoke garment is in the shape of the back and chest, the gentle waist suppression and kick into the skirt. It's not worth sacrificing comfort for that back to be a little closer to the skin.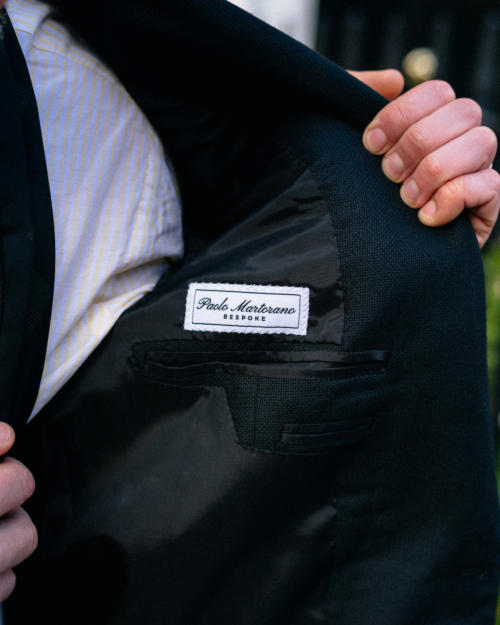 The finishing is of a very high standard. Fine buttonholes, lovely taste in the choice of buttons. Though I'm not sure I'd have a pen pocket next time, just because it makes the cut in the cloth through the inbreast pocket more obvious. 
Paolo, as with most people in New York, is not a cutter but works with a dedicated cutter and coatmaker, and I met the cutter during my second fitting – it's lovely to see the gentle little arguments between people when they discuss the subtleties of bespoke. 
The cutter spent most of his career working with Rafael Raffaelli, and we talked about the influence of different traditions on New York tailoring – many of whom saw Savile Row as the zenith, but came from Italy and had their own traditions too. Many liked a particularly low, droopy gorge for instance. 
They all had to be versatile though, and this gentleman had also worked for Bill Fioravanti, who liked a shoulder that was very different to Raffaelli: "So padded! You could play [American] football in them!" in his words.
Paolo feels that there is a new American tradition to be forged here: something that is definitely not Neapolitan, but not Savile Row either, building on that Italian/New York look that the city's tailors became known for, but updated and refined.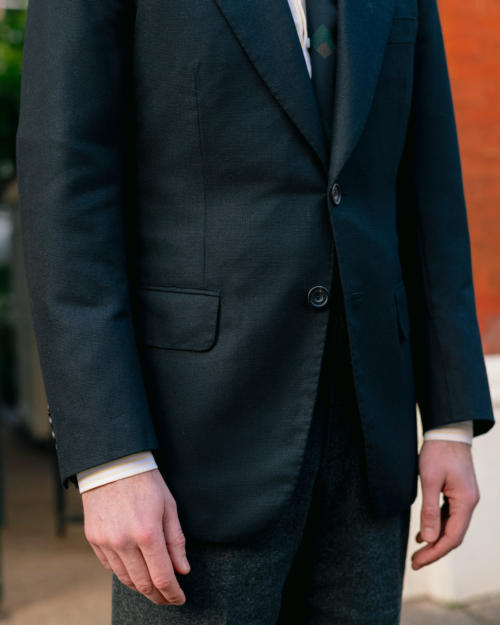 Paolo has moved showrooms since our first visit, though still in the same building. It's a nice, cosy apartment: you walk through a office hung with fittings (always check out the fittings for inspiration) into the fitting room. 
He's also still accompanied by Tom Mastronardi, which is a bonus. Tom was with Paolo at Paul Stuart and has excellent taste – I don't dress in the same style of tailoring as him, but would still always take his advice. Few tailors have someone good like that. 
I don't think it's likely I'll be using Paolo a lot going forward, just because the location makes it inconvenient and he's not offering something dramatically different to tailors in the UK. 
But then, that's not what US readers want anyway. They'll want a good, real bespoke tailor in the US that makes a suit that brings out the full potential of bespoke. And on this evidence, that's what Paolo Martorano does.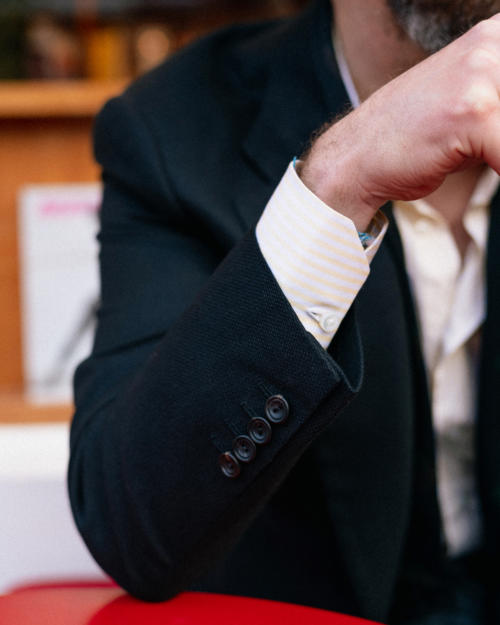 Cloth is a vintage Super 150s/cashmere hopsack from Standeven. From a current bunch, Paolo would use Drapers 'Jackets & Solaire' bunch for hopsack, though there is no cashmere blend.
Price was $5200 including VAT, which is the starting price for a jacket. Suits start at $7500, trousers $2200. 
Red Rabbit pin and black rayon scarf from Bryceland's. Cotton/linen shirt from D'Avino, grey flannel trousers from Whitcomb & Shaftesbury.
www.paolostyle.com. Below, Paolo with guitarist John Pizzarelli