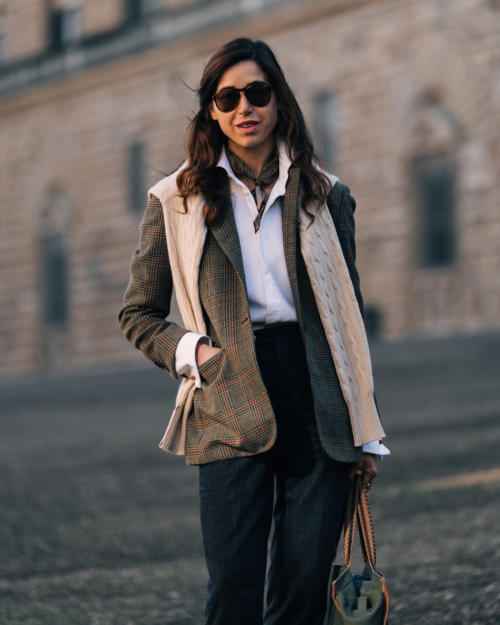 By Emilie Hawtin
Developing a personal uniform is a common goal for those that are into clothing, I find. It has the twin benefits of being personal yet easy, distinctive yet versatile.
Where some people want depth and variety in their wardrobe, and dress for mood, others strive for consistency. To my surprise I've become one of the uniformists.
It can sound unappealing to those that aspire to, for example, visit every tailor in Naples. But I have to say it gave me great pleasure when I arrived for Pitti Uomo last month to breeze past menswear aficionados struggling with their Rimowas on the cobblestones, with just hand luggage. That feeling, and a head free of decisions, was worth every one of the shirts left behind.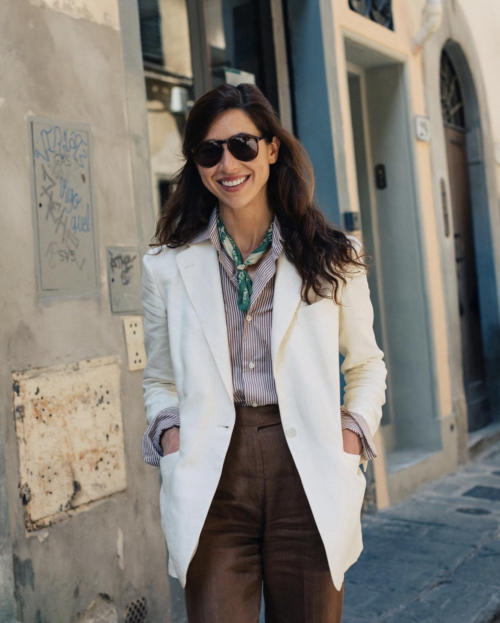 For years I thought uniforms were reserved for iconoclasts like Tom Wolfe, Giorgio Armani, Wes Anderson or Jarvis Cocker. Their refusal to change their clothes was a sophisticated form of art, their self-knowledge an act of rebellion.
That changed when I had a linen suit made a few years ago (jacket pictured above). It's not what you would think would wear easily, but I found incredibly easy to wear.
In fact, you might feel you've seen this before, and you probably have – in the piece I wrote for Permanent Style last year. The suit is the same, but the topic different; which of course just shows what a useful, much-loved uniform it has become.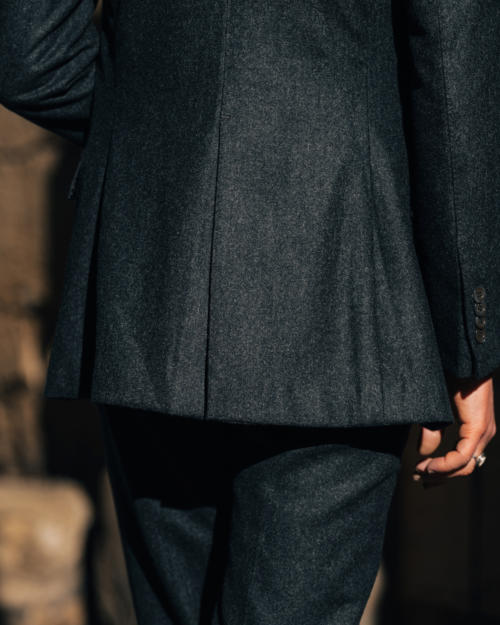 Developing a uniform is different for everyone, but I start with a perfectly fitting base. For me that's a suit silhouette that's loose fitting with a longer jacket, a high back vent (above) and slightly tapered side-tab trousers, here the Clementina suit from J.Mueser.
This ivory linen I wear as a suit, but also rotate in trousers – brown, green and beige. Then in the winter months I swap the linen for wool – charcoal-grey or navy blue – and rotate in tweed or herringbone jackets. Mine, in the same cut, is shown at the top of this article and below.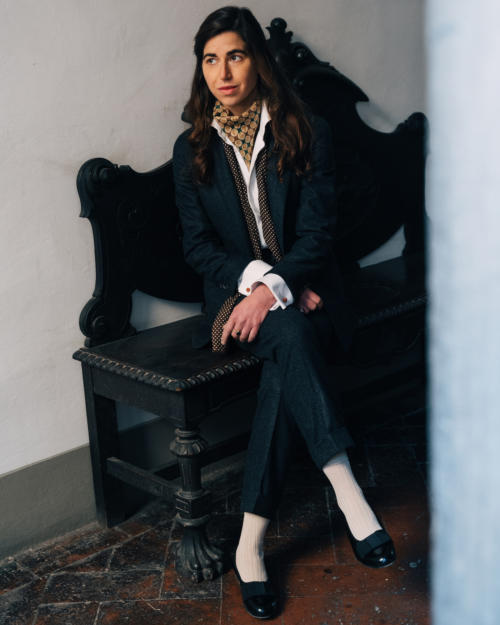 With that established, you can play with shirts, scarves and pocket squares, socks and shoes. I think these expressive layers can add dimension to every man's wardrobe, as well as mine. 
For daytime I stick to Speciale 324 point-collar shirts in cheerful blue and ivory, which have a very slight silky feel and rounded cuff, or thin-striped shirts in neutrals like brown and beige.
And for a change of pace I might try a cord Western. I prefer soft ivory to stark white, which I think is more elegant and more flattering.
Accessories on top of a base like this are easy, a delight.
I carry an array of patterned neck scarves from Charvet, Drake's, old YSL, eBay, plus some navy bandanas (above). They change the mood and are featherweight for travel.
I always have extras in my bag (a Chiarastella Cattana olive tote I borrow from my partner David) – on a daily basis. Scarves are a point of visual flair and stand out against a solid suit.
For dressier occasions I wear a Charvet men's tuxedo shirt, understated cuff links, and more scarves or ribbon neckties to create a particularly Ralph Lauren look (shown above, seated).
I enjoy Bombas men's dress socks (good weight, stay upright and surprisingly warm) and Speciale 324 silks. I find a classic wool suit paired with boldly colored socks in purple, red or yellow very appealing and attractive on men. But when in doubt, I go with brown.
The shoes – a range of formalities, but all blackShoes are simple: Friulane velvet slippers, a pair of suede loafers from Baudoin & Lange, Belgian loafers, and a pair of opera pumps in black calf that work well with suits, tuxedos or with jeans. These shoes are all comfortable, nuanced, dressy, timeless, and have a certain worldly flair.
Many of these are black editions of otherwise preppy shoes – something I think of as 'goth prep'. They bring a touch of rebellion to East-Coast traditional style and it works with Belgians, opera pumps, desert boots or penny loafers.
Velvet Fruilane slippers are incredibly utilitarian and stylish. They bring diversity and are made for European cobblestones, beaches, black tie, linen suits, wool trousers, jeans and all four seasons. I can't say that about any other shoe. It's fun to collect them from different Italian regions, and I often pick up a pair in Florence.
In Venice, I go to Piedaterre, which makes my favourite style with an elongated toe and last. Brown velvet makes an ongoing appearance and emerald green changes the game. These add an easy feeling to my suits and I find them flattering on all men and women.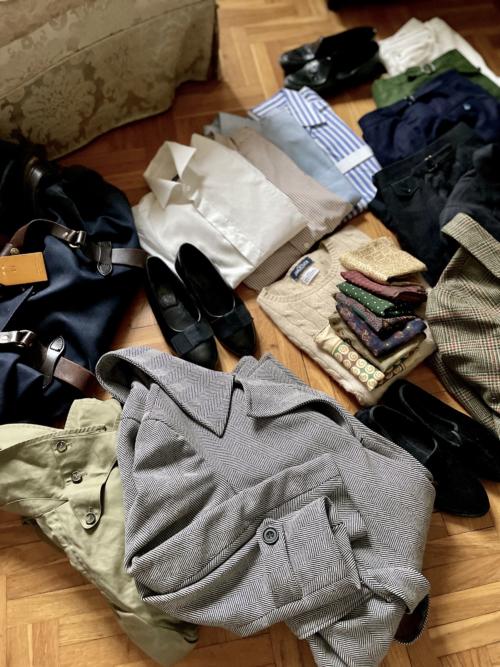 Of course, part of the point of writing this is that I think these key pieces and my approach to dressing overall can easily translate to a man's wardrobe.
That's largely because they're sourced from men's brands and tailors. As a woman, I eschew menswear 'rules' and experiment with the classics. But any man can also wear a charcoal grey suit and rotate in western, striped or tuxedo shirts as well as patterned pocket squares.
I think they should also be encouraged to wear a suit in the first place. If you feel overdressed that's a good sign. (Although maybe save any pinstripes for later.)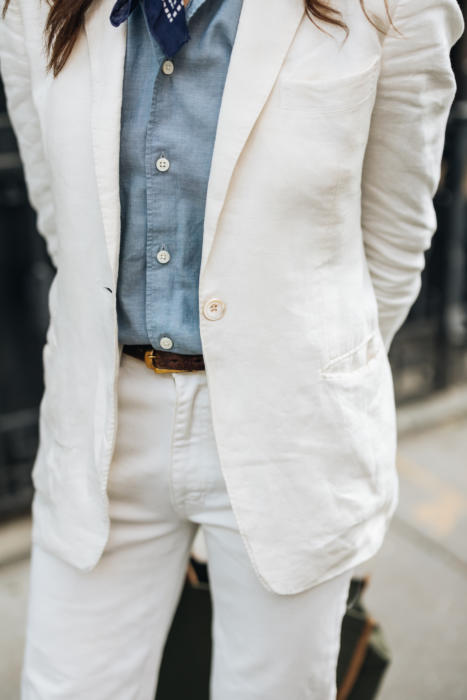 I find uniform dressing particularly personal as, almost by definition, it's something that reflects the wearer more than anything else. Often the wearer will have cycled through countless other genres over the years, before settling on something that feels like them – that feels like home.
Ease is the gift of uniform dressing. Although we all admire the sophisticated layers worn by Italian tailors and Japanese buyers at Pitti, it's often their sense of ease that is most appealing – and transcends any trends.
Uniform dressing is for those who know what they like, can admit what they don't, and have the confidence to wear a variation of the same thing every day. With self-knowledge and discipline, you arrive at a world of fewer, finer things. You require less and yet communicate so much more.
Emilie Hawtin is an editorial director and style commentator, based in New York.