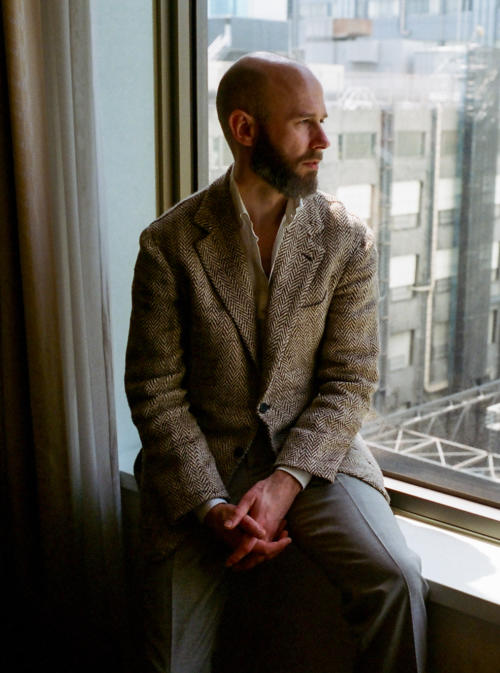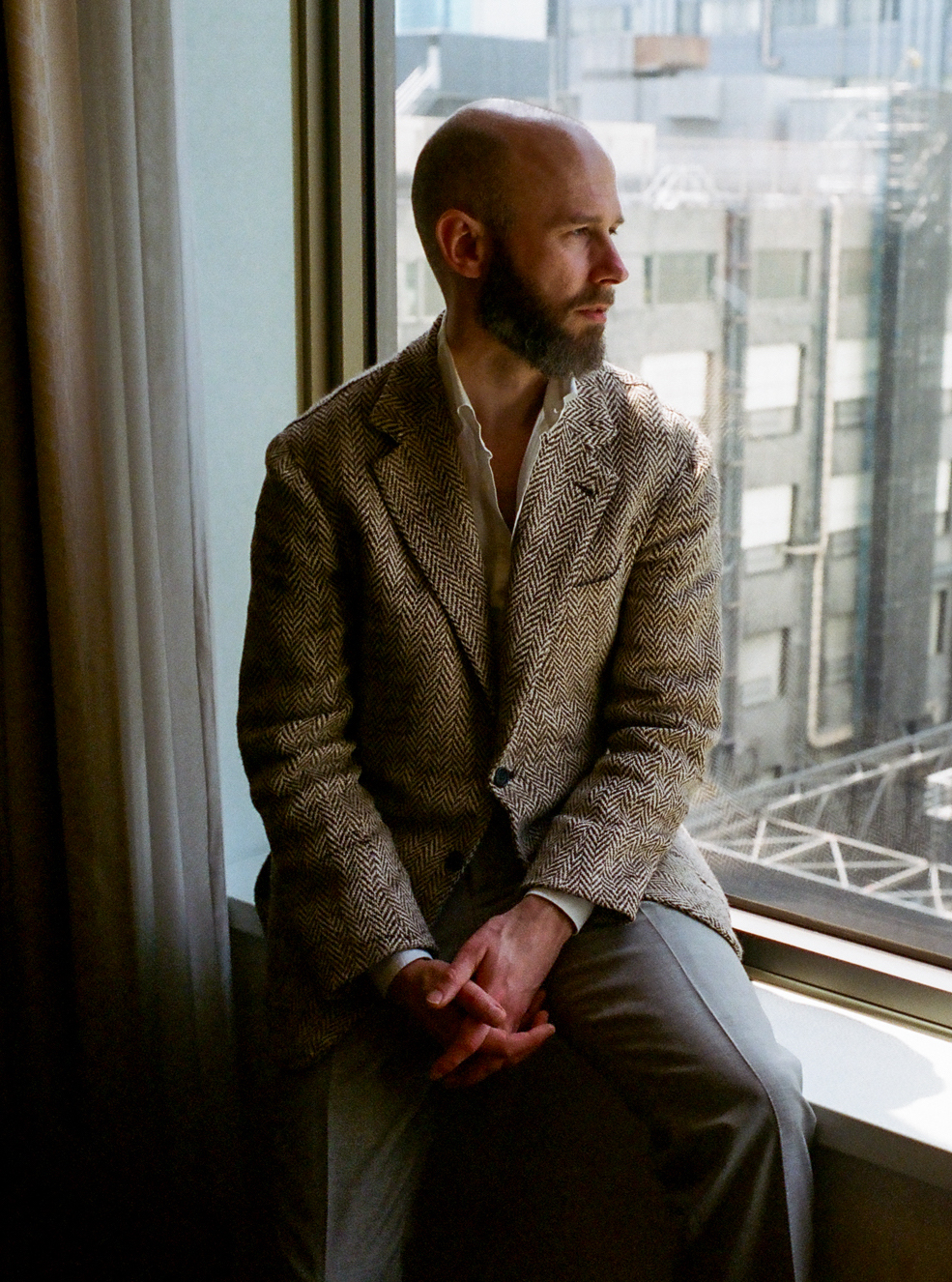 I thought it would be interesting to do a post on what clothing I packed for my recent Japan trip. People always seem to like these capsule pieces, although this trip was particularly challenging for a couple of reasons. 
First, I needed a full range of clothing from smart to casual. I would be meeting tailors and vintage buyers, covering bespoke shoes and leather jackets. Dressing in a similar way wouldn't be absolutely necessary, but I find it gives the right impression. 
Second, I would probably be buying quite a lot of clothing there, so I wanted to take the minimum with me. Everything had to work with everything else – to give the maximum number of outfits with the smallest volume of clothes. 
Below is what I packed, and above and below are some of the resulting outfits.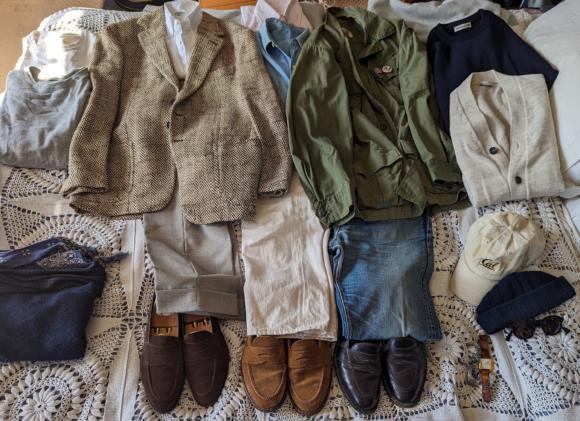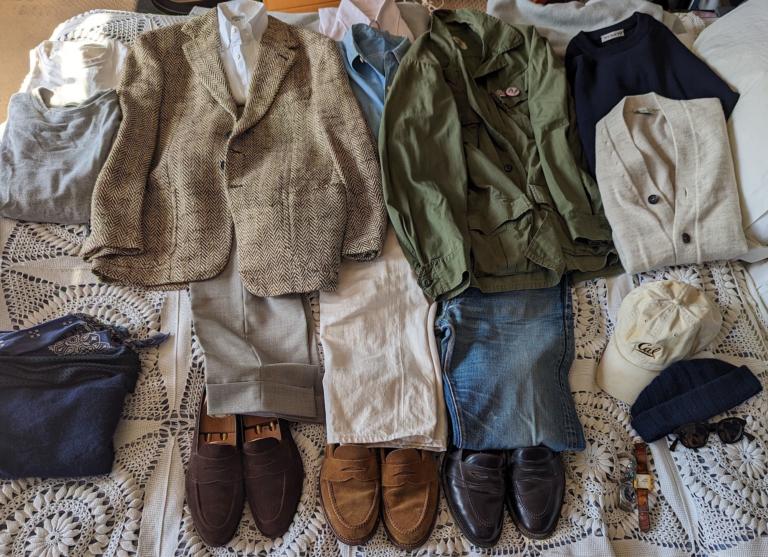 The first thing I start with, when putting together a travel capsule, is jackets and trousers – ideally I want all of them to work together, but cover a range of situations. 
For jackets/knits I went with:
My

J.Mueser wool/silk/linen herringbone jacket

, because it's the only summer jacket I have that works really well with both tailored trousers and jeans. 

A

vintage Jungle Jacket

, because it is more casual but also works with jeans and just about with smarter trousers. It's also great for travel with all those pockets.

A

navy crewneck from Colhay's

. This could function as outerwear if needed, just going to dinner on our own for example, and the navy would go with everything, but it could also be layered.
Then on the bottom:
Light-grey high-twist

wool trousers, as they're nice and summery, good for travel, and smart without being quite as business-y as mid-grey.

Vintage blue Levi's

as it would be the most casual option but still go with both the jackets.

White jeans

as white is so versatile, and given it was going to be warm and usually sunny, they'd pretty much always be appropriate.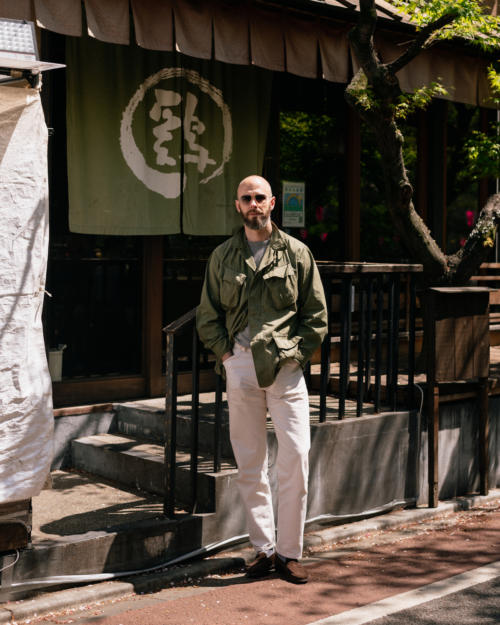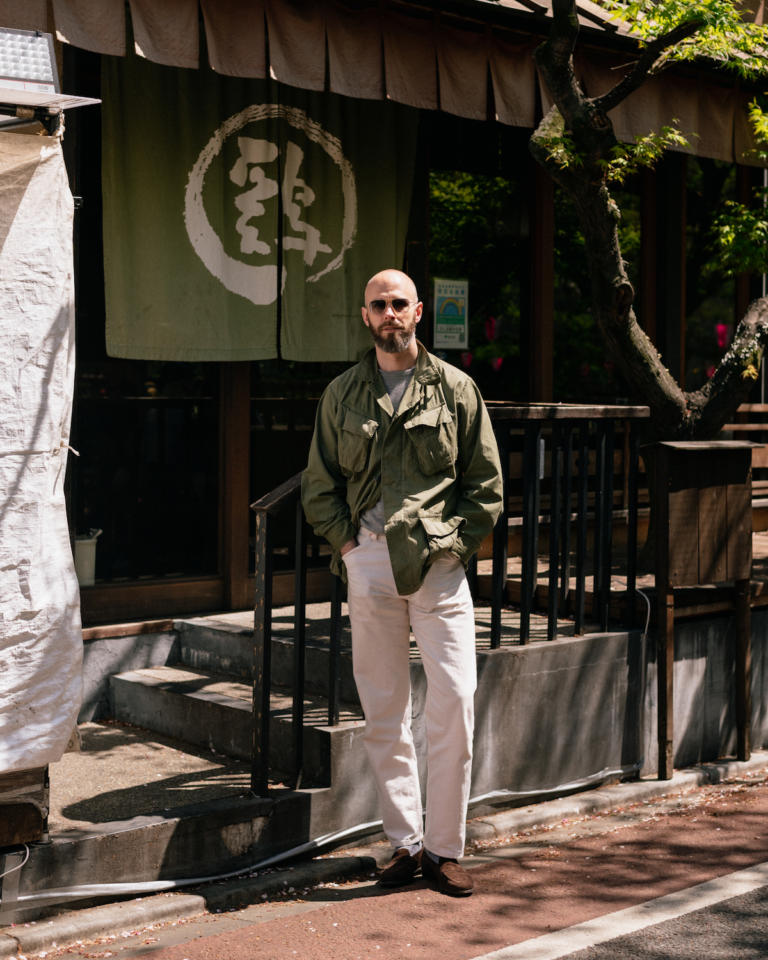 Next was the shirts and T-shirts. Again, everything ideally to go with everything, but by picking jackets and trousers that were really versatile, it meant most shirt colours would work. I went with:
Lightweight white-cotton button-down

Vintage light-blue chambray
The only combination that wouldn't be great, at least on its own, would be the white shirt with white jeans. But a belt separating them would help, and it would be OK with the knit or jungle jacket over the top. 
Texturally, these were also picked so they worked with both jeans and the smarter high-twist wool trousers. I also packed a white and grey T-shirt – both to wear on their own under the jungle jacket, and as base layers under a shirt or knit.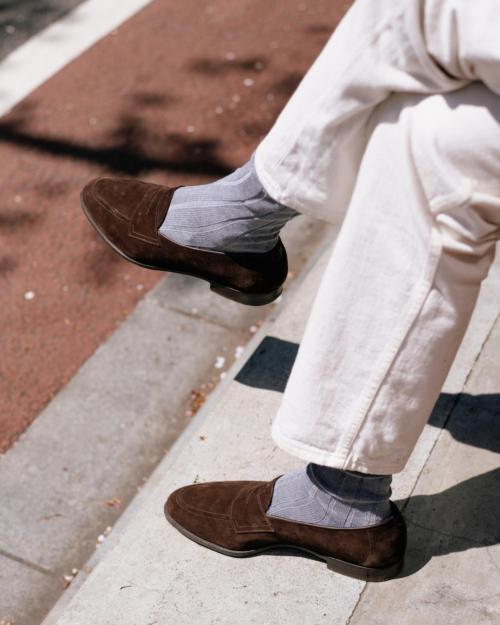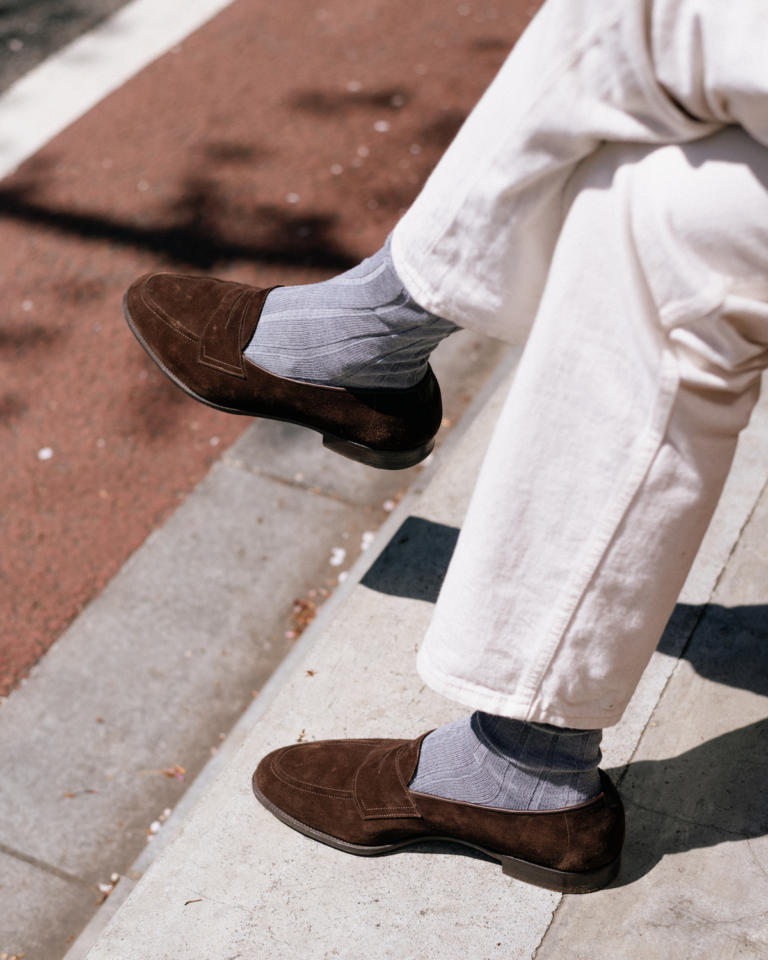 Last major category: shoes. Now the issue I find with shoes is that when you're travelling, a pair might start to give you pain one day for no apparent reason, or get soaked through in unexpected rain, or for some other reason not be wearable the next day. 
So in some ways they have to be most versatile of all, with one pair easy to swap in for another in the next day's outfit, without any issues. 
This means these all pretty much had to be loafers, and in versatile materials like suede and cordovan. Still, the three I picked are sufficiently versatile that they still presented a range of options: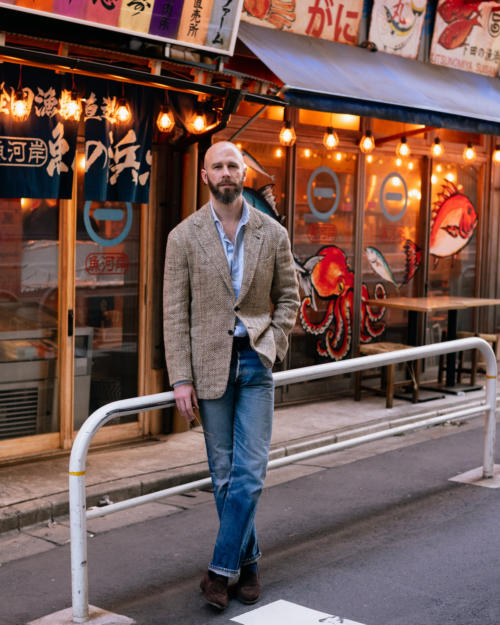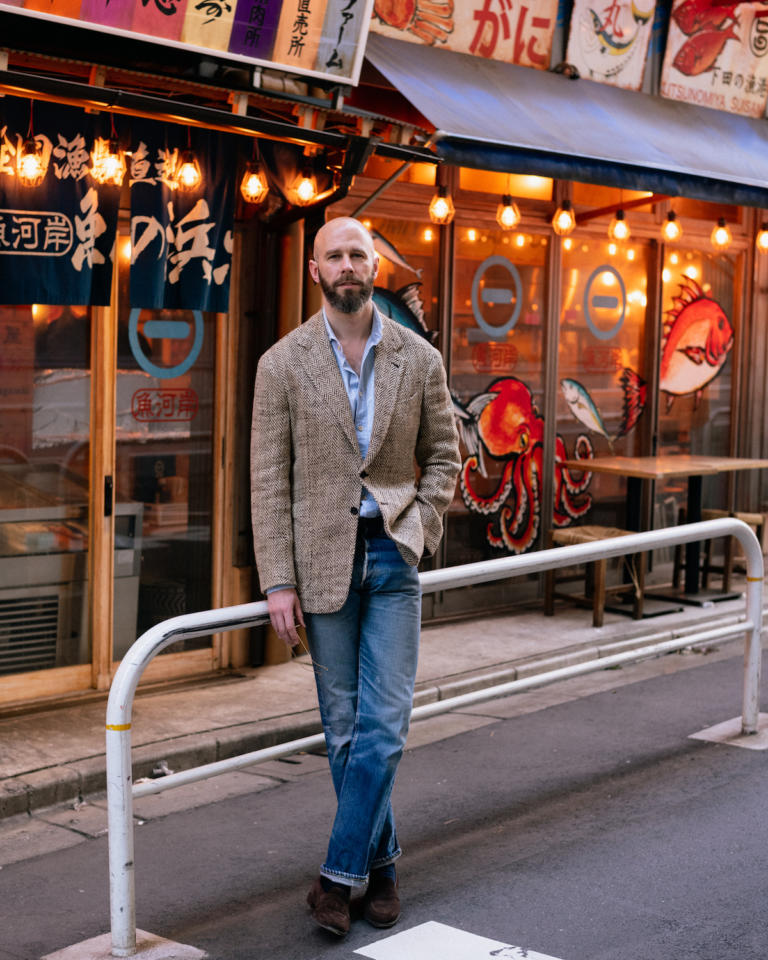 And finally, some bits around the edges:
Two hats,

a PS watch cap

in navy and my Cal cap, for sun and for warmth

Three scarves, because they weigh nothing and add a little interest/decoration as well as warmth.

A PS Arran scarf

in navy, an old blue cotton bandana, and a long, thin Hermes silk

My Connolly beige cardigan

, as it could be layered under either jacket and actually looks good with both a shirt and T-shirt. I also ended up putting on a grey Colhay's crewneck when I left for the airport in London, because it was colder than I expected.

Two watches, one smart and one casual,

my Tank and my GMT

Two pairs of sunglasses, a belt, a couple of badges
Luggage wise, I use a big Rimowa and take a canvas tote bag (Ichizawa-Hanpu, recently restocked at Trunk) as the latter is so light and packs away if not needed. 
I also needed to take my Yohei Fukuda oxford shoes so that Yohei could see the fit in person (he'd never seen them on me) ahead of maybe ordering a second pair. As you can probably imagine, it killed me that these were extra and basically worked with no outfits… Oh well.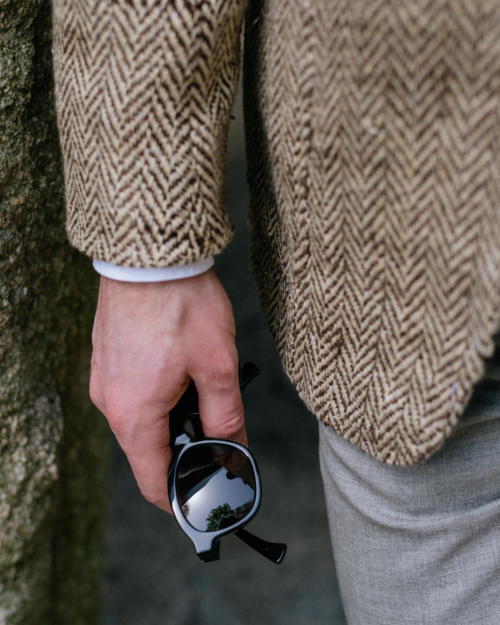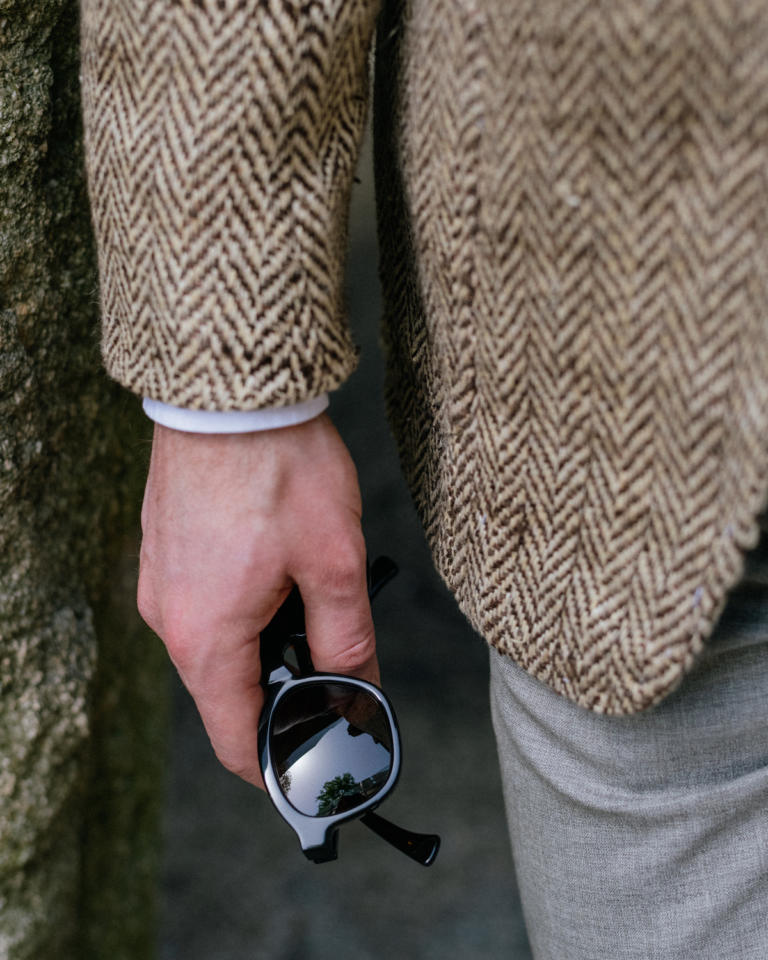 The packing was made immeasurably easier by the weather, which was warm and promised almost no rain. No need for hats or coats. 
And what did I get wrong? I think the only thing was not bringing my Doek canvas shoes, as a bit of a break from loafers. It's just like going to Pitti in the winter: I never pack a big shawl knit, but I always want to put something like that on in the evening, after nothing but tailoring.
Any questions on any of the clothes or outfits, do shout.