The Bores jacket from Chato Lufsen has been covered on PS before – it was reviewed by contributor Tony Sylvester in November last year. 
But seeing that jacket in person made me reconsider the style, and then when Christophe of Chato Lufsen – who makes them – visited our pop-up shop, I had the chance to try it on in different sizes and materials. 
I commissioned one on the strength of that, and have been pleased with how it turned out. Not necessarily the execution of the made-to-measure service, though that was fine, but the pleasure I've taken in wearing it, and how it has fitted in my wardrobe.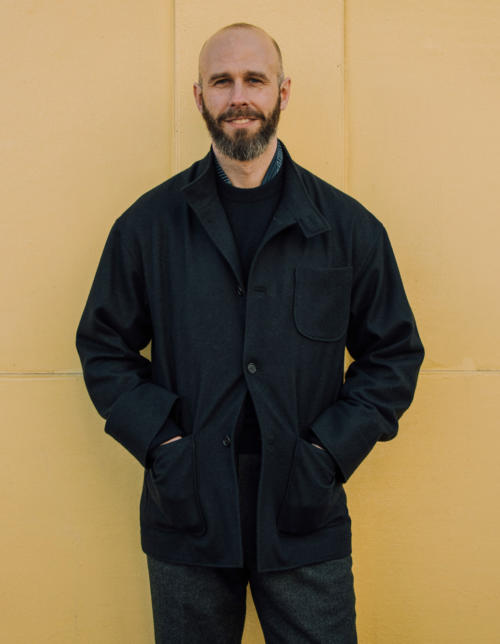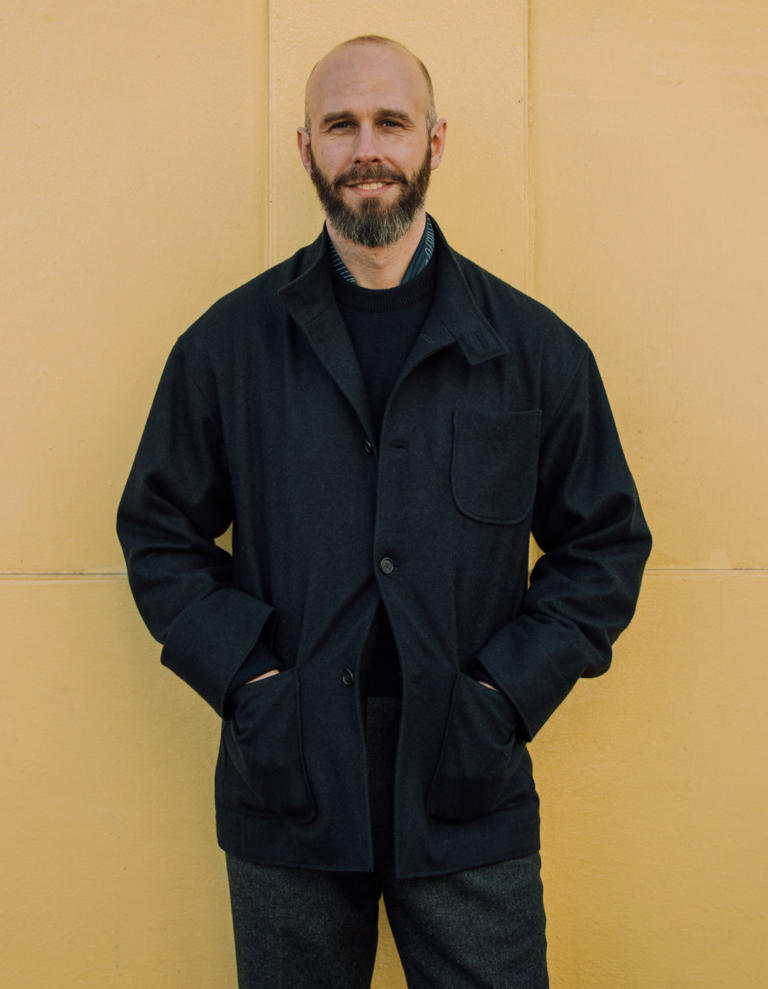 The pictures taken here are from a couple of months ago, when it was rather colder, but they illustrate well how I was wearing the jacket during that colder time. 
With a pair of flannels and a crewneck, the jacket looks a little dressed up but a completely different style to a navy blazer. There is no suggestion of that formality or classicism. 
Of course, a Forestiere jacket has its own traditions, but virtually no one outside of menswear is going to be aware them. What they see is something very relaxed but still relatively smart with its own distinctive style. (At the most they might make a connection between the collar and a Nehru/Mao style.)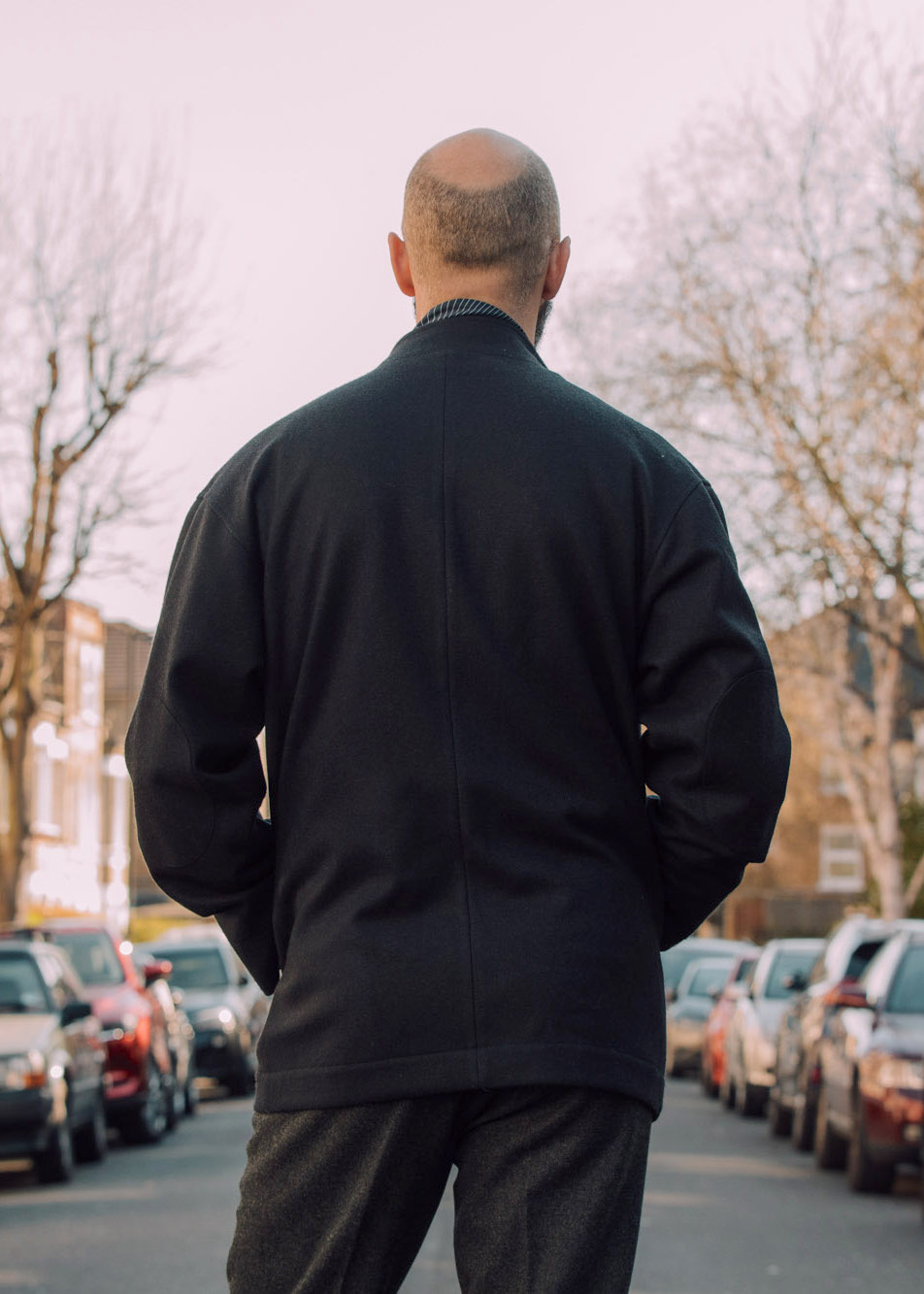 There is of course nothing wrong with the sharp lines and formality of a navy blazer. Quite the opposite: bespoke tailoring of that sort is the style is prefer, admire most and enjoy most. 
But most men want more than one style, and I know a lot of readers are interested in jackets like this. In fact, I think my love of elegant jackets is the reason why the Bores appeals to me. It means I can wear such pieces in a broader range of moods and occasions – where otherwise I'd be switching down to something much more casual like a chore or blouson. 
I had commented previously that the traditional Forestiere from Arnys didn't really appeal. It always seemed a little sloppy to me, and eccentric in its brightly coloured lining, often deliberately revealed by folding back the cuffs. 
That feeling has been melted first by Christophe, when he created this slimmer, modern version that he calls the Bores, and then by myself in the style choices: using a classic-menswear dark navy from Fox Brothers, a tonal lining, and dark-brown horn buttons rather than the decorative, domed ones the jacket is more usually made with. 
A reader also commented years ago that the Forestiere only seemed to suit older, larger men, who appeared to be trying to conceal their girth with clothing that was that much bigger and bolder.
I don't think that's always true, but I do think the slimmer Bores offers the best of both worlds – slightly dropped shoulders that give an impression of width, but a body that is tapered to be relatively slim yet still very comfortable.  
Interestingly, some of the Bores's relaxed nature comes from the fact that the sleeves are cut shirt-style, almost horizontal to the body, rather than pointing downwards like a jacket (above). This creates folds around the chest and sleeve, making it look very different from just an unstructured jacket. 
I also think the three patch pockets suit this style, and like the tonal elbow patches.
The only aspect I'm still a little unsure of is the extended collar. It flops rather, and I don't especially like the look of it buttoned. But the jacket wouldn't be the same without it – it would lose character, be much plainer and more ordinary, and it helps that it's clearly functional. 
Even in this slimmed-down style, I still took a size smaller in the Bores than I would normally in a suit jacket – 48. 
But the 50 I tried was a better length on me, so we used that as the reference for length (2cm longer). And as is often the case with me, the jacket kicked out a little at the bottom, becoming slightly A-line, so we removed 3cm from the bottom. 
This was all executed correctly by Christophe and his makers, and I think the choices were the right ones too. As with many things – and certainly anything that is a new style – I would recommend trying sizes in person and using those for the specifications, if you can. That currently means visiting Christophe and the Chato Lufsen shop in Paris, although he is planning some trunk shows.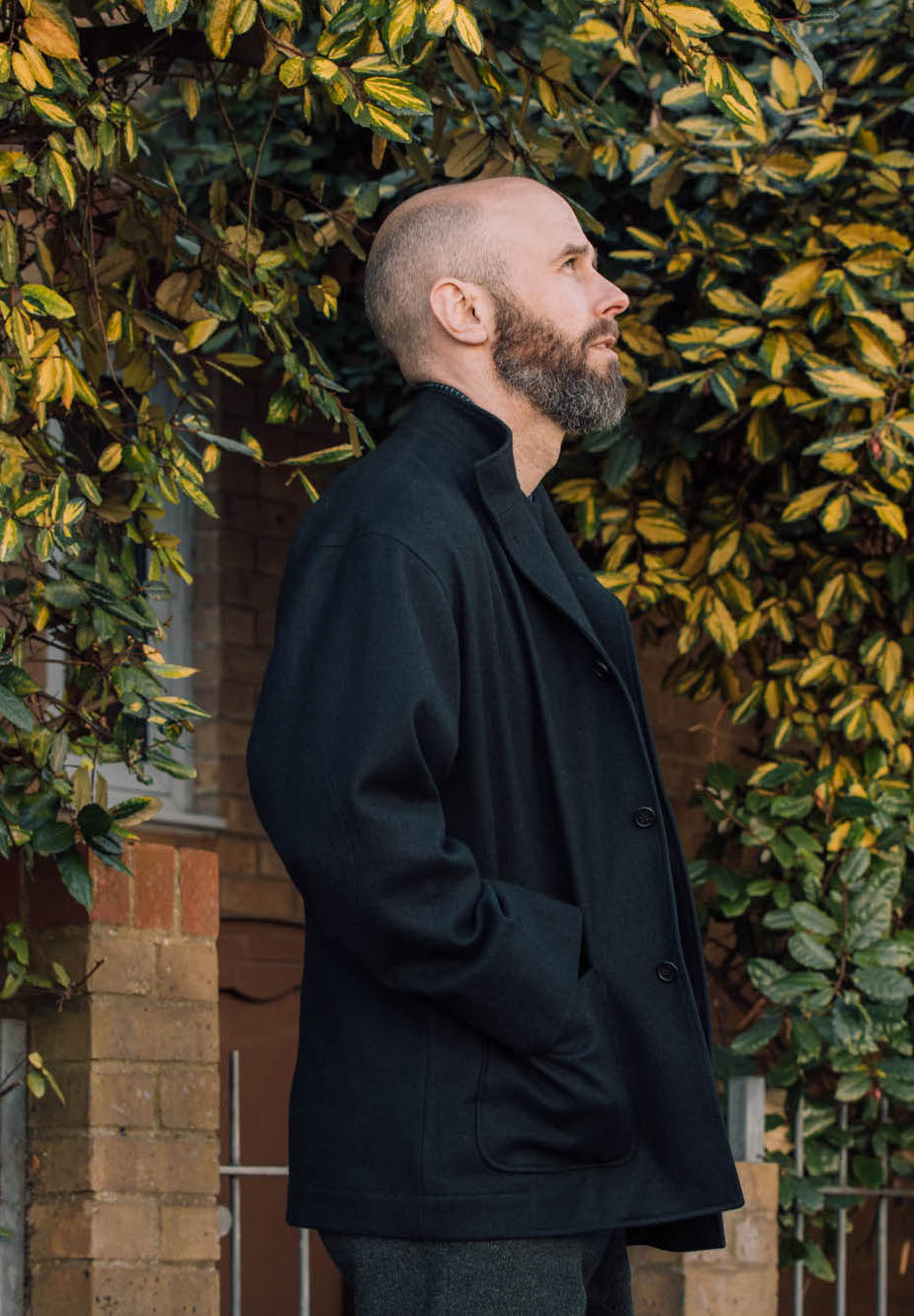 Christophe offers a recreation of the Forestiere, the 'Borestiere' (as well as dealing in vintage Forestieres, and other Arnys products). He often wears this as an overcoat over a Bores, with the result of two extended collars running in parallel. 
I think it's revealing that my Bores – already a size down from my normal jacket size – is something I would wear almost like a coat, in a heavier cloth and taken off often when inside. It has that room to it. 
Which makes me wonder whether a summer one, more akin to Tony's (below) in weight and more like a jacket, would be something I'd wear in warmer months. It's certainly I'll consider given how successful this one has been.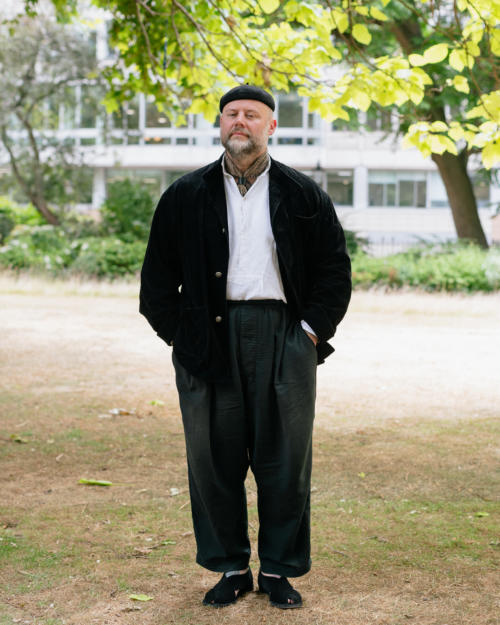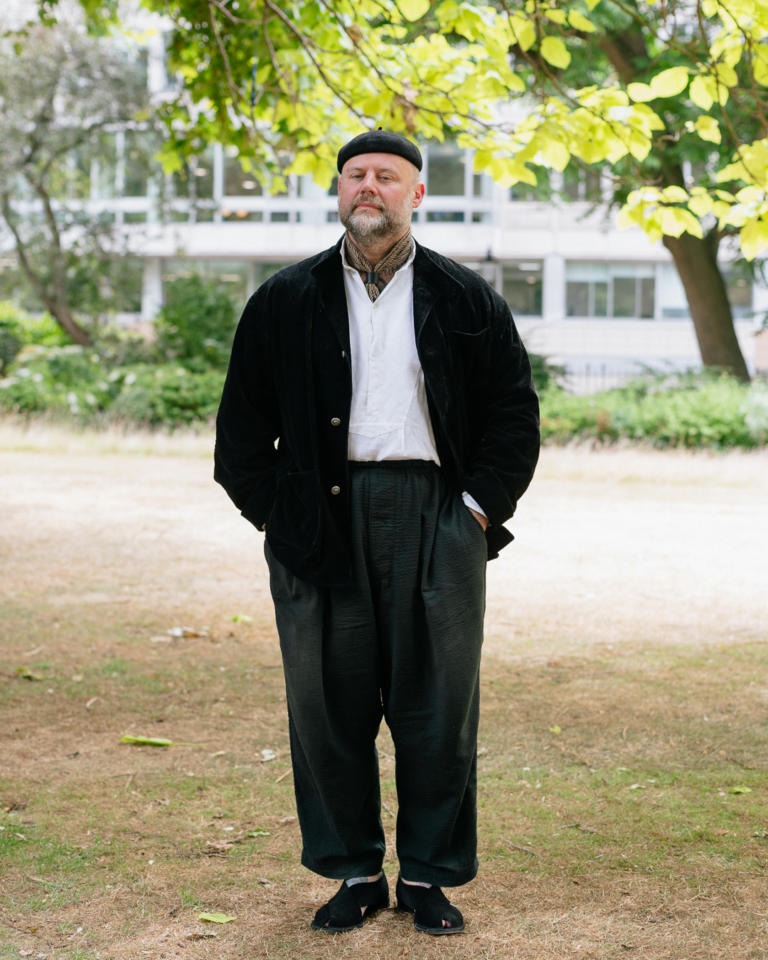 Details about making and pricing are all in Tony's original article, but in brief:
Ready-made Bores jackets cost €790

Made to measure, like mine, starts at €1090

Both are made in France

My cloth is a 530/560g Fox Brothers flannel, FS405L-A2069/234. (Rather hairier than most flannels and so better for a jacket.)
The rest of the clothes are:
Rubato lambswool crewneck, size Medium

Hermes silk 90×90 square

Bespoke Whitcomb & Shaftesbury trousers in Fox 19oz flannel

Alden full-strap loafers on Aberdeen last, size 9.5