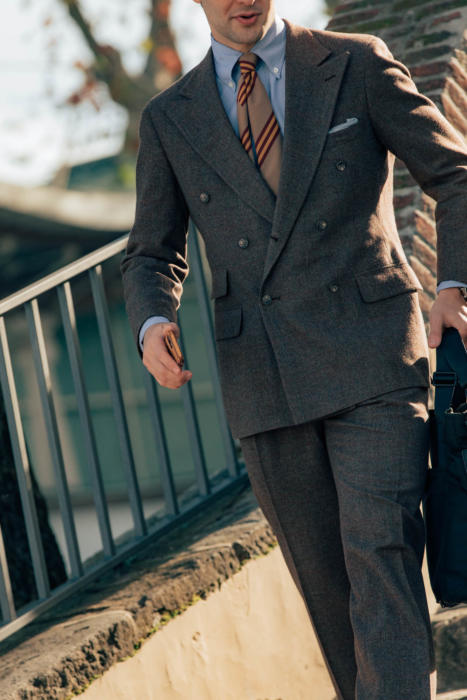 As we did last year, during Pitti I picked out a few people and outfits that I really liked, but that could have been missed – because they're not Ethan, Jake or Tatsuya Nakamura.
They're deliberately a mix of smart and casual, tailoring and streetwear. But I would encourage readers to spend a few moments with each, even if they're not obviously their style. Each holds beautiful little lessons, whether it's a colour combination or an interaction of length and volume. 
If anyone wants the more expected faces I can do that sometime too, or include them next time.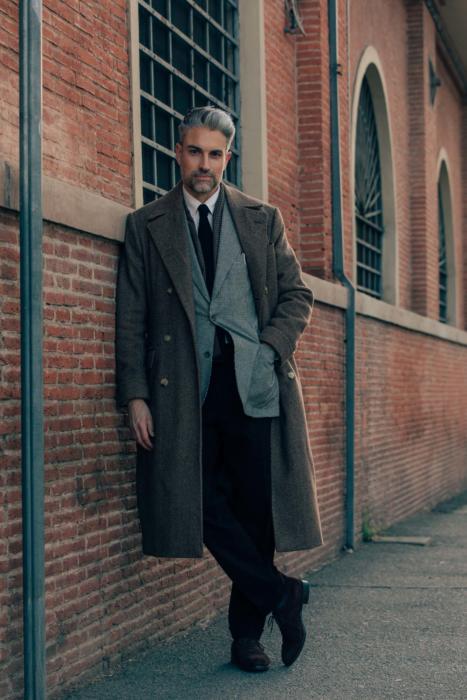 First is Paul Croughton, an old friend and now editor of Robb Report in the US. He's had an increasing amount of tailoring made in the past few years, and the pieces from Fred Nieddu, such as this jacket and coat, are particularly lovely. 
As is often the case with great tailoring combinations, the outfit looks merely elegant at a distance, but actually has lots going on. In particular the three micro-patterns in the coat, jacket and scarf, which would be too much were it not for the anchor of white shirt and dark plain tie at the heart of it all.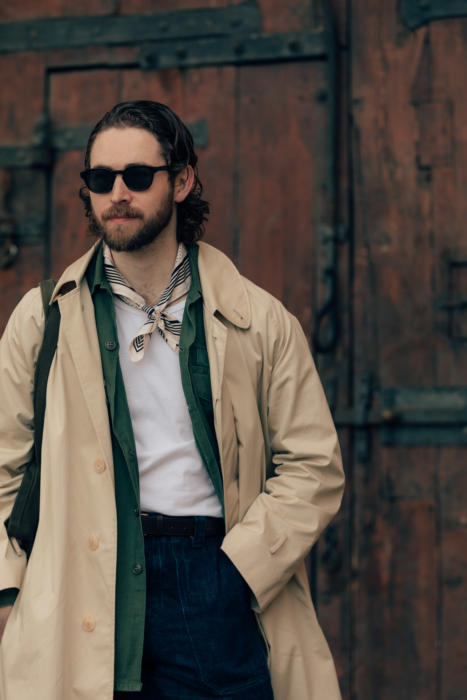 Cream, white and green. As soon as I saw those three colours here I started to wonder how I could wear them together too. A white shirt under a cream cardigan, perhaps, with a stronger, grassy-green trouser, coat or jacket. Perhaps vintage army trousers, a white shirt and a cream crewneck. 
I also find it interesting that the standard beige of the rain coat looks more like cream when it's picked up by these whites and creams.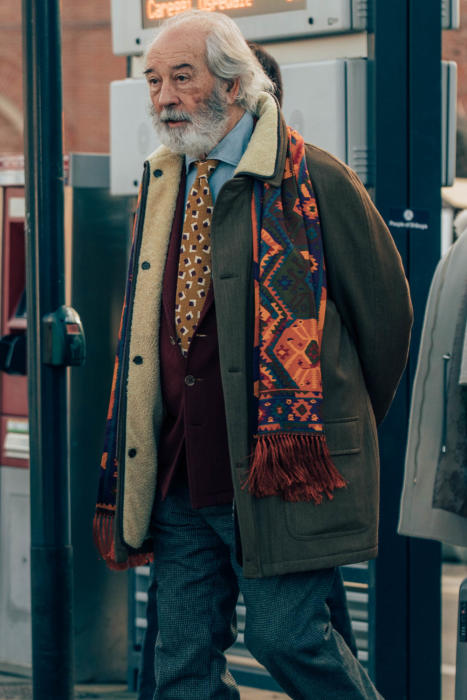 Justo Gimeno's father, Gimeno Sr. There is so little here I would actually wear myself and yet so much I like on him. The strong patterns of the tie and scarf, which feel better as a twosome than on their own; the burgundy Teba, combined with the green of the coat. 
There is an extent to which these stronger patterns and colours (the Teba is fairly punchy) are easier for someone older to pull off. As if there are clearly no restrictions of work or society any more. This feels like it would be as much at home, in Spain, as on a walk into Pitti.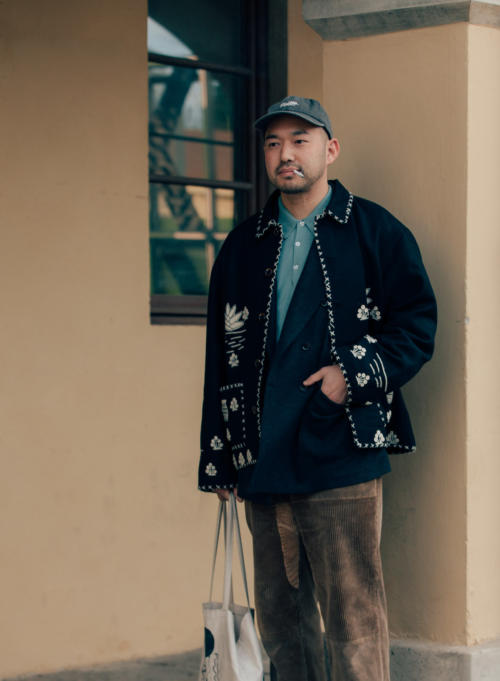 There's strong pattern here too, in a hand-embroidered jacket from Bode. But it's the lovely blues of the polo, jacket and cap that caught my eye: they form a quiet and harmonious backdrop to the eye-catching things elsewhere. 
I wouldn't wear those trousers with it all, it's a bit too jarring. But I would really like to try a polo in that colour.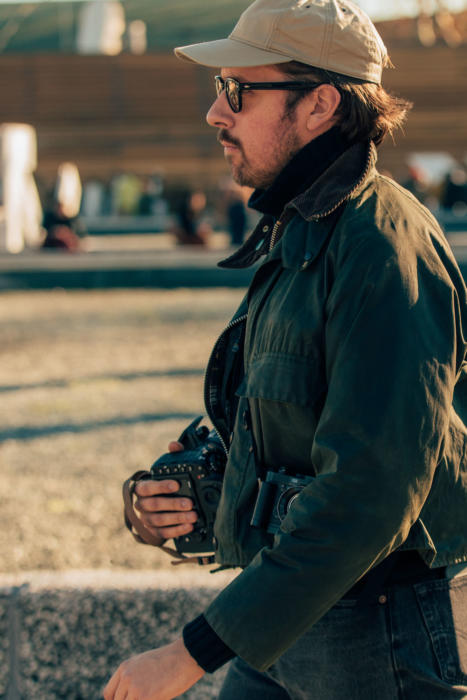 As was mentioned in a recent article on PS, photographer Alex Natt has really honed his style in recent years, and I admire how interesting, personal and practical it is. Not always an easy combination. 
He's outside a lot of the time and requires multiple pockets, so the outer layer is usually a Barbour or similar waterproof. However, fishing varieties are especially practical and are pleasingly unusual, as shown here. Then there are black jeans or carpenter pants, roll necks, a cap. All dark colours, all anonymous at a distance but telling well-combined close-up.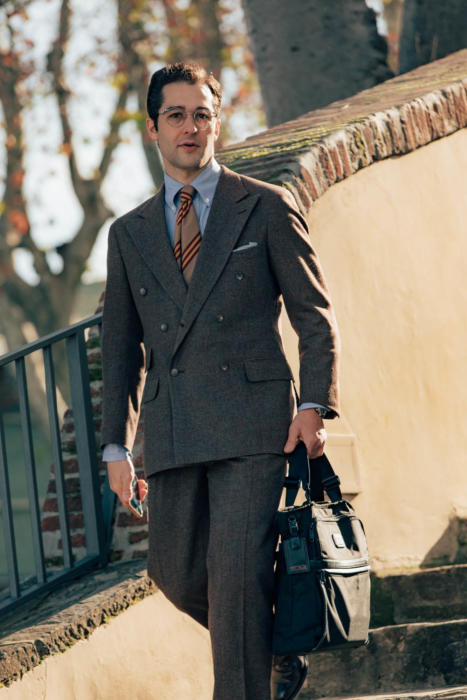 Christopher Berii. Writer, model, and our current Tokyo correspondent. Read his piece on Japanese shoemaker Seiji McCarthy here. 
This is an old Ralph Lauren flannel suit that Christopher found on eBay, and the proportions work well on him. The 6×2 button set-up, fastening on the bottom row, is of course dramatic but Pitti is the kind of place for something like that, and it's the kind of style that I think can work well elsewhere in evening wear. 
This gentleman was one of my favourites I saw. Smiling and interesting, every day. The orange shetland pops beneath the browns of jacket, trousers and indeed cap. Without it, the browns would be rather dull together, but as a mid-layer, the orange also doesn't stand out too much. 
I like the second outfit above too. I'm never going to wear those shoes, but I admire how he really embraces volume, and it looks great even though he's a shorter guy. One reason is the probably accessories around that volume, like the shoes, coat and bag; another is the similar volume in his other clothes: wide trousers and pieces like that fluffy fleece.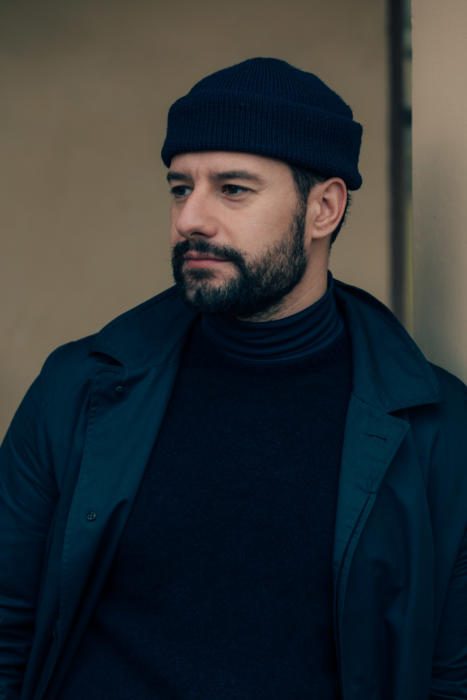 Mikey, from Sunspel. Always a good dresser in an understated way, and I liked this warm and practical combination in shades of navy. Fine rollneck under chunky sweater, under waterproof coat with a watch cap.
I usually see a rollneck under a crewneck like this with more contrast, such as the previous gentleman, but this made me make a note to go home and try my finest navy rollneck (from Sexton) under something like a Rubato lambswool crewneck. If it works, it would be pleasingly unusual and very cosy. It's something women do a lot more, and would be interesting to try.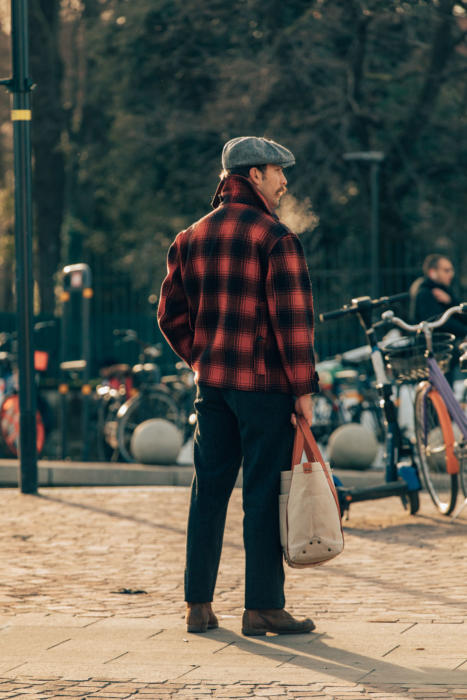 A reader commented that it was brave of me to wear double denim to Pitti (on the last day, my day off). I wonder if they realise that there's just as much workwear at Pitti as tailoring. The bright suits might have been the reason Pitti became famous, but there's a lot of western clothing, work clothing and sportswear too. I wonder whether it's a case of only following certain feeds. 
I thought this shot, taken by Jamie on a cold morning, was a nice example of workwear done well. The fit of the buffalo-check jacket is perfect: just the right length, neat across the seat but big in the shoulders, with a tall collar on top. With an old tote, and boots that aren't the obvious Red Wings. It's an outfit that could be worn by any reader at the weekend, particularly if the cap were swapped for a beanie.
Photography: Jamie Ferguson