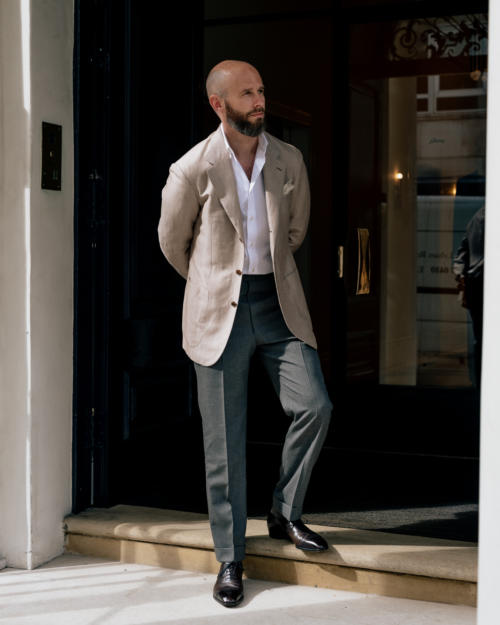 Wool/silk/linen blends have been a favourite for summer jackets for many years, although in the UK they only started to be offered about 10 years ago. 
More recently, English mills have also started offering their own versions, sometimes without one of the fibres, such as silk. Materials like this are becoming more and more popular, and are often the default for a warm-weather jacket.
Today's guide is intended to help pick among the various bunches – to suggest colour, pattern and fibre mix, and then recommend specific swatches. It's similar to the guides we've done on corduroy, linen and high-twist wool, but different to the Guide to Cloth, which is more technical and compares all the options for a particular use, such as hot weather.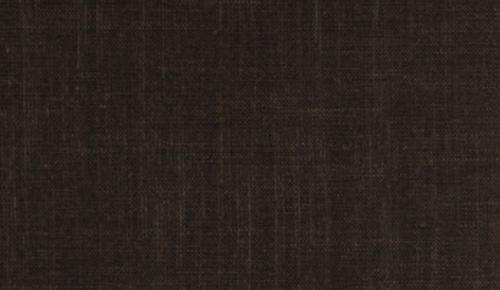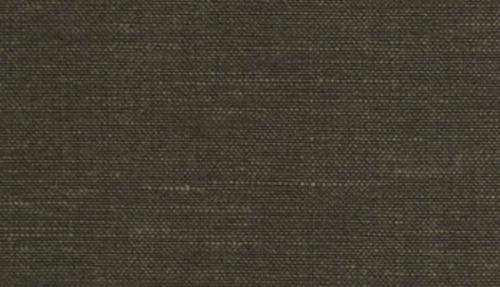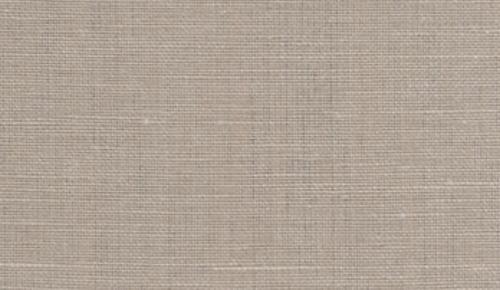 Colour
In terms of colour, my recommendations for wool/silk/linen are quite similar to the five jackets capsule, just with a lean towards brown, green and browner greys. 
The reason for this is that smart, dark navy tends to be better in materials like hopsack in summer, and straight greys can look a little dull – better an oatmeal, or pale tan, which bring out the best in white linen shirts or cream trousers. 
So my favourites for a summer jacket in this kind of material are a brown, dark green or beige – shown above, 98427, 98424 and 98416 respectively, from Harrison's. (They're actually a wool/linen blend, but more on that later.)
Brighter colours can look lovely in summer, such as bright blue or pastels like pink. Often these stronger tones are better in pure linens though, which soften the colour, and at the least should be kept very subtle and pale.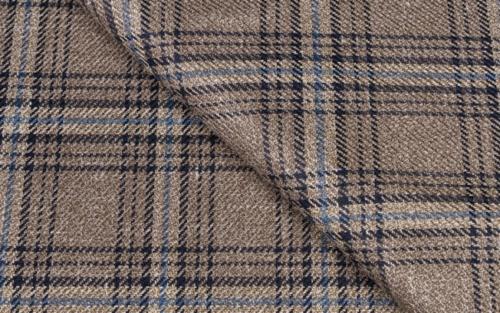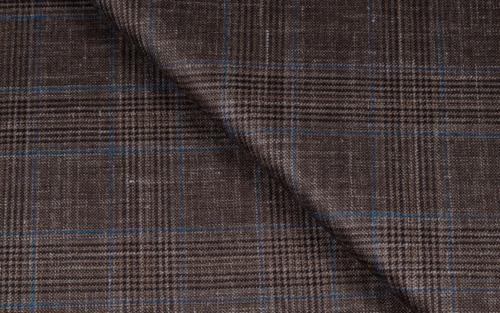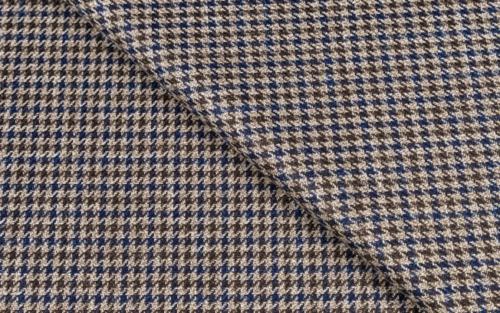 Pattern and texture
Jackets are usually nicest with a little texture or pattern to them. Trousers will always be plain and shirts often are, so the jacket holds responsibility for visual interest, especially in the absence of a tie and pocket square. 
However, it's easy to go over the top here. Many of those Italian bunches have big, bold checks that will be frankly overwhelming unless you live in the south of Italy. Remember that a check will have greater impact when it's made up into a full jacket. 
Above I've shown some examples from Caccioppoli. The first would be too bold for most, the second is the kind I prefer, and the third is a houndstooth that would be surprisingly bold at scale. (This jacket was also too bold in retrospect.)
If in doubt, I'd satisfy myself with a little textural interest – something wool/silk/linens usually have anyway as a result of the variation in fibres, or the slubbiness of linen. You can see that in the plains below from Huddersfield Fine Worsteds.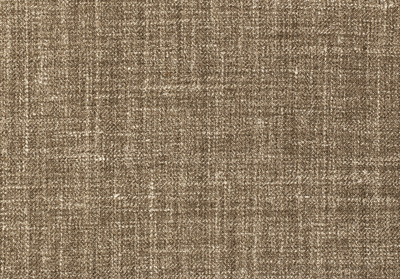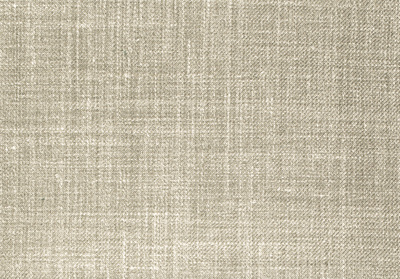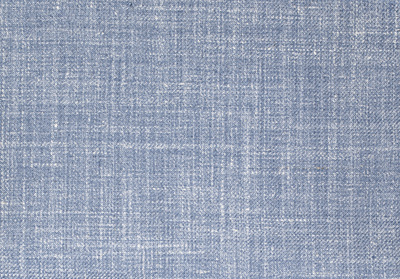 Fibre mixes
Those examples are from HFW's Summer Breeze bunch. It's mostly wool and silk with only a little linen. As a result the material has more sheen (from the silk) and will perform better in some ways (wrinkling, odour, due to the wool) but not be as cool to the touch (without the linen). 
This amount of variation in the mix makes a noticeable difference, as it does if you remove one entirely: the Harrison's Isca bunch is half wool and linen, while Indigo is 80% wool and 20% linen. The latter basically adds a touch of linen's coolness to a lightweight wool jacketing, while the former has more of the feel of linen and usesa high-twist wool. 
But I wouldn't stress over smaller variations in the fibre mix, such as 5% or 10%. Often weight, yarn thickness and weave will make a bigger difference – something you can see quite easily when you look at the texture and feel the handle of a material. 
Look at the two examples from Ariston below, for example. They vary slightly in the mix, but the more important difference is texture.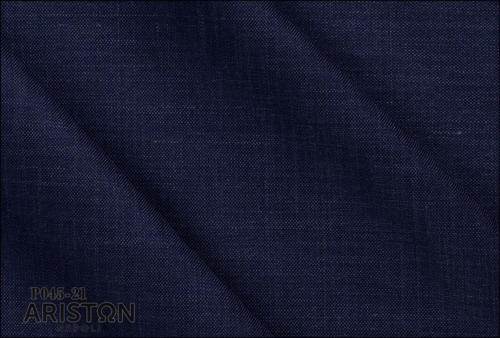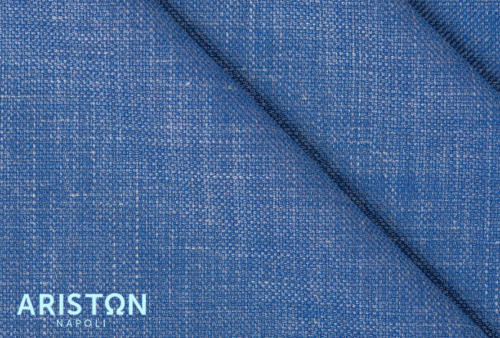 Other fibres that are sometimes included are bamboo, cashmere and cotton. Cashmere I don't really understand, as it makes the material much warmer. Bamboo is a great story, but most of the time I'd rather have linen or silk. 
Cotton, however, does add something different, and it's worth considering if you want a more matte, casual material than looks a little more casual. Although personally I usually prefer pure cottons.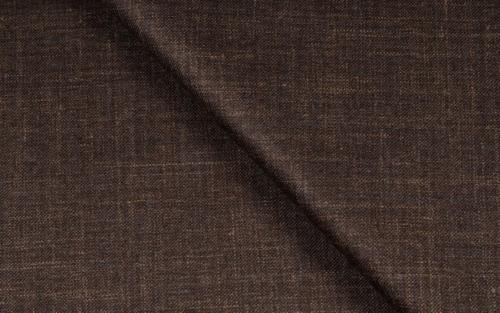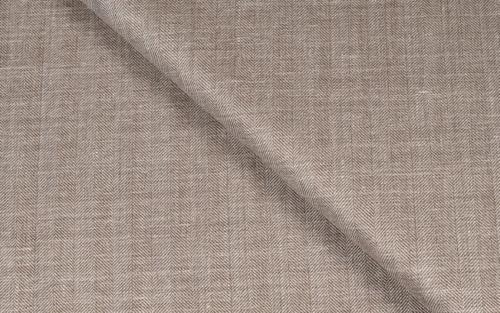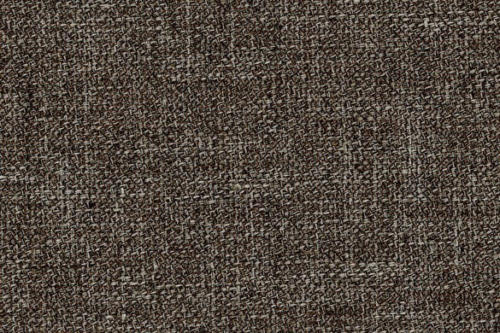 Mills and bunches
Most Italian mills do a summer jacketings bunch, which changes every year. This can be a little frustrating, as it means anything you see made up has a good chance of being out of stock. You need to look for something similar, rather than the same. But then hopefully the advice above makes that easier. 
Among these Italian mills, Caccioppoli usually has a big range, and can be relied on to have the dark browns, greens and beiges discussed above. This year, 330150 is a nice example of the plain brown for example and the herringbone 330144 is nice. (I prefer both to the ones with a colour shot through, such as 330134.)
Drapers has a smaller range but is similar. Ariston tends to have more experimental options, which means brighter colours, bigger checks, more variations in weave and fibres.
Loro Piana and Solbiati (same company, different bunches) have consistently the best taste in my opinion – if I was looking for something unusual, this is where I would go. If there is a pale mint or a yellow herringbone, it will be a good one. They spend more on design and it shows.
Below are some examples from previous seasons. Solbiati is a linen specialist and usually has more linen in its options. Unfortunately their collections are usually available online.
Dormeuil and Scabal tend to be a little luxe, and a lot of bunches use superfine wools or silks. The Naturals bunch from Dormeuil does have some nice plains and a lot of different mixes though – 862610, a cotton/linen mix, has some lovely texture. 
Among English mills, we referred to the different fibre mixes of Harrison's and HFW above. I'd go to them if I specifically wanted the effect of that mix. Same with the mostly silk mix of Holland & Sherry's Oceania – H&S is best at lightweight wool suitings in summer.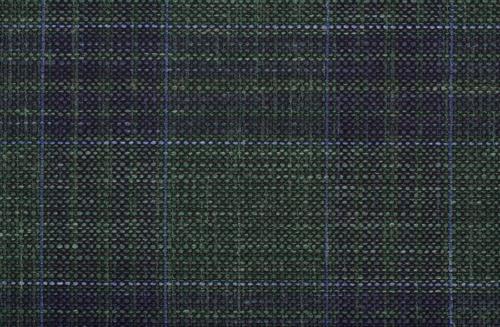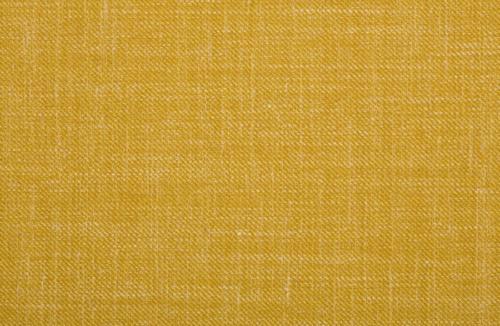 A lot of readers asked for more pieces recommending cloths. My plan is to do more like this, which are relevant for longer than the seasonal pieces we did in the past. 
If you have any other feedback, or would like to suggest the next type of material to be covered do let me know. In the meantime I might actually add these pieces to the Guide to Cloth page, to make them easier to find. 
More inspiration for colours and patterns (if not necessarily in current bunches) can be found by reading old Spring/Summer pieces here.
Below are images of some of the wool/silk/linens I've had in the past 15 years or so. If you don't recognise them and would like a link to the original piece, let me know.