Creating a home that feels calming and serene, yet also luxurious, is the holy grail for many homeowners that long to flex their amateur interior design skills. Trends come and go, but there are ways to design rooms that will look stylish for years to come. In this guide, we'll discuss interior design trends that elevate every living space, highlighting popular looks and themes that have serious staying power. 
Earthy Tones
Earthy tones are all about celebrating the simplicity of a neutral colour palette while seizing opportunities to add flashes of richer shades and warming tones. The beauty of this trend is that it suits every space. You can channel the minimalist vibe for a cool, contemporary zone or add depth and cosiness to a tranquil spot. From scorched terracotta and indulgent shades of mocha and sandstone to chic camel and lighter tones of cream, there's a shade for every space. Creams, caramels and browns have long been popular with designers and decorators, but this year, the spectrum is much broader. Look out for splashes of peach, coral, pink and rust.
Using earthy colours is a fantastic way to add aesthetic appeal to living spaces and it can also help you to set the tone. Lighter shades are ideal for quiet, soothing rooms like bedrooms, informal living rooms and snugs and dens designed for reading and listening to music. Richer colours add warmth, but they can also create a sense of indulgence and luxury when used in formal dining rooms, kitchens and bijou bathrooms. 
Luxe Accessories
Accessorising is an art. Adorning any design with accessories is an effective way to personalise plans and channel themes and add accents that create a unique, bespoke space. Luxe accessories add instant appeal, turning simple, understated designs into elegant, eye-catching rooms or taking a decadent space to the next level. How you use accessories will depend on your style and taste and your design goals. You can elevate a modest, minimalist look with elegant touches or a show-stopping focal point, or inject opulence into a space that already exudes luxury by embracing the maximalist trend. 
When searching for accessories, think about the overall aesthetic you want to achieve. You may decide to add accessories once you've selected furniture, flooring or paint colours, or you might want to base the entire design on the details. Consider the impact of custom-made brass or copper range hoods in a chic, contemporary kitchen or a limelight-stealing chandelier in an entrance hall or lounge, for example. Create an ethereal, romantic Parisian-style boudoir centred on an oversized vintage mirror, or add quirky lamps or vases to finish off a living room adorned with animal print, retro patterns or textured tiles and carpets. Taking inspiration from places you've visited or seen on TV or features you've seen in magazines or on social media is a great way to fuel your imagination when putting looks together using accessories. 
Aesthetically Pleasing Storage
The primary aim of storage solutions is to keep things neat and tidy, but storage can be so much more than a practical space-saver. Modern design trends are all about celebrating storage in all its glory and demonstrating that functional doesn't have to be mean bland or boring. Aesthetically pleasing storage is all the rage and this is great news for anyone who has a lot of stuff and doesn't want to contain it within boxes, crates or units that don't offer any degree of visual appeal. Innovative storage solutions offer endless opportunities to store stuff in a stylish manner, with everything from decorative boxes and rustic trunks to boho baskets and statement shelves available. 
If you are on the hunt for storage solutions for your home, it's best to think about the items you need to store, the size and scale of the units, shelves or containers required and the look you want to emanate. There are options to suit every brief. From small baskets and achingly cool TV units with built-in storage to ornate, decorative wall-mounted units and storage walls that create a new focal point, you can tailor the design to suit your needs and style preferences. 
Minimalism 2.0
Minimalism has been popular since the 1990s, but this is a trend that is constantly evolving. The minimalism 2.0 trend is all about creating a space that isn't fussy or cramped but offers comfort and warmth. Designs are simple, modest and uncomplicated, but there is also room for cosiness and a desire to extend a warm welcome. Also known as minimaluxe, rooms are pared back with an effortlessly cool edge but they actively encourage kicking back, curling up and getting cosy.
The key to getting this look right lies in striking a balance between simplicity and comfort while providing a space that enables you to show off pieces or details that you love. There's a softness about this trend that is absent from the original minimalist trend. 
Natural Materials
The natural look has been on-trend for a few years now, but this look has really gathered pace recently. More and more of us are thinking about the natural environment and the world in which we live. We're eager to enjoy and make the most of beautiful, natural materials while making positive strides in terms of promoting sustainability and embracing eco-friendly ways of living. Using natural materials and fabrics in your home can transform spaces instantly, especially if you're keen to design indoor areas that make you feel like you're outside, or you want to create the illusion of more space and light. There is a spectacular array of materials available from hardwood flooring, rattan and wicker furniture and storage and jute floor coverings to linen bedspreads, cotton cushion covers and bamboo screens. Add plants, trees and flowers to channel a beautiful Botanic theme or add driftwood accessories, blue details or striped cushions and blankets for a nautical vibe. 
Modern Industrialism
The industrial look is one of the biggest design trends of the last five years. From kitchens and bedrooms to bathrooms, features like exposed brick walls and pipework, concrete floors, oversized bulbs with exposed filaments and heavy-duty furniture have become increasingly popular. As the trend develops and diversifies, there's a new take for 2023. Heavily influenced by brutalism, modern industrialism celebrates materials like concrete and stone, but there is also a nod to natural design elements, which create a softer, more accessible look. Designers are combining stone and concrete with warmer materials like wood and adding plants to produce stunning living spaces that are both functional and inviting. 
Bringing The Outside In
Indoor/outdoor living has become more popular, even in cities and countries where fabulous weather is not guaranteed. The idea of bringing the outside in revolves around creating bright, open spaces, showcasing natural materials and removing barriers and borders between indoor and outdoor zones. You can be creative when it comes to architecture and design elements, for example, creating a covered patio, building an orangery or adding living walls or indoor courtyards and water features, but you don't have to take on a large-scale project to make this trend work. Simple tactics like adding greenery and foliage to your rooms, enlarging the windows or adding lanterns and skylights to maximise natural light, fitting oversized doors and making the most of views can help. Opting for natural materials is also an excellent way to bring the outside into your home. 
Statement Rugs
Adding a rug to your floor is one of the easiest and most effective ways to change the look and feel of a room. Rugs come in all shapes and sizes and they can alter the ambience as well as the aesthetic. Embrace the Scandinavian hygge concept with thick, indulgent fabrics that ooze cosiness or travel back in time with a patterned retro rug. Draw attention to your new design feature with an irregularly shaped rug or a bold print. 2023 is a year for experimentation when it comes to buying rugs. There has been a shift away from safe, neutral colours and uniform shapes, with more and more people opting for quirky shapes, bright colours and patterns and prints. 
50 Shades of Blue
Grey has been the colour du jour for years, but blue never goes out of style. Blue is a brilliant colour to work with because it offers such a broad spectrum of hues and shades. Blue is known for its calming, relaxing properties, which make it a perfect choice for bedrooms and bathrooms, but it's versatile enough to work in every room. Blue kitchens cover all bases from classic, traditional farmhouse kitchens to effortlessly cool modern minimalist rooms and everything in between. Ocean tones are ideal for soothing spaces while rich shades of teal and navy add instant opulence and grandeur.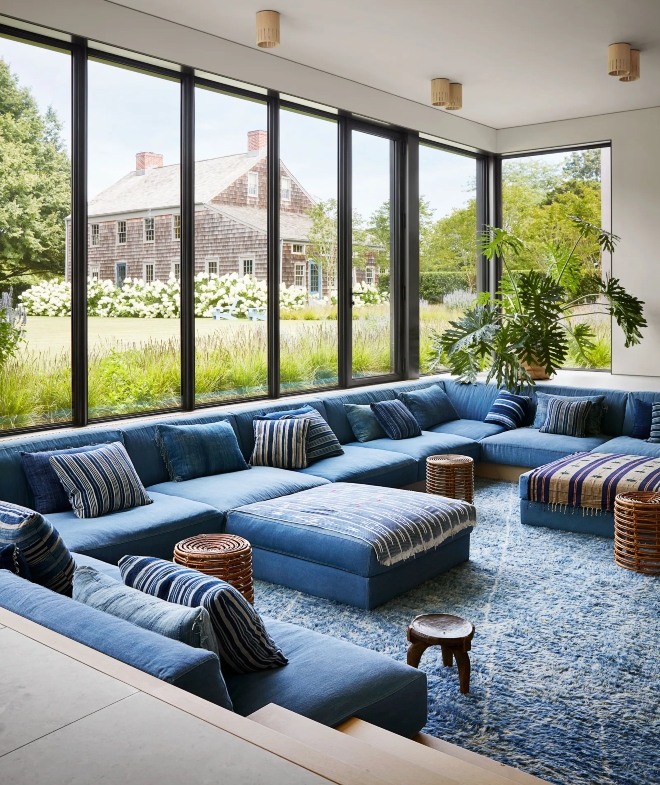 Interior design is all about creating spaces that look and feel amazing and have a unique quality. If you're decorating your home or planning a revamp, and you're keen to elevate the design, it's worth exploring timeless and contemporary trends. Inject creative flair, celebrate your personality and don't be afraid to mix and match styles, themes and looks to create something that is perfect for your home. 
For more on interior decor reads, click here.