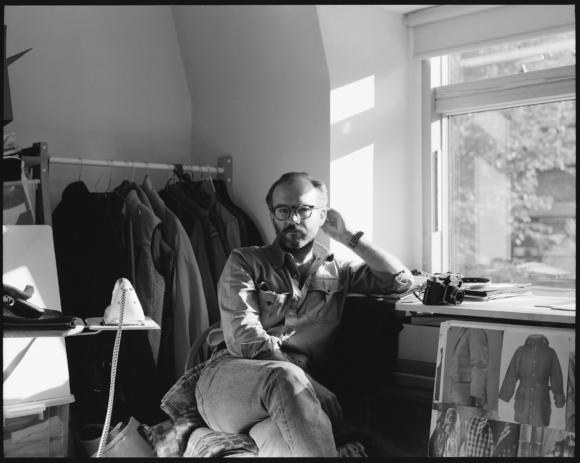 By Manish Puri with André Larnyoh.
Luke Walker is the creative director of the brand LEJ. I still remember the first time I saw him.
He was strolling across my local green, wearing faded jeans and a loose shirt that appeared to be somewhat reluctantly buttoned. A cream jumper was loosely draped atop a pale raincoat. On his feet were a pair of thick-wedged mule sandals (no socks), on his face a pair of square-rimmed sunglasses. His moustache bristled as he sipped a take-away cocktail. He looked stylish, charismatic, and fun.
Several months passed before I saw him again – this time browsing in Adret. We chatted away, spurred on by our mutual love of jokes that even Dads would wince at and, since then, I've had the good fortune to get to know Luke and his brand more intimately; I'm pleased to say that my initial assessment applies to both him and the clothes he makes: stylish, charismatic, and fun.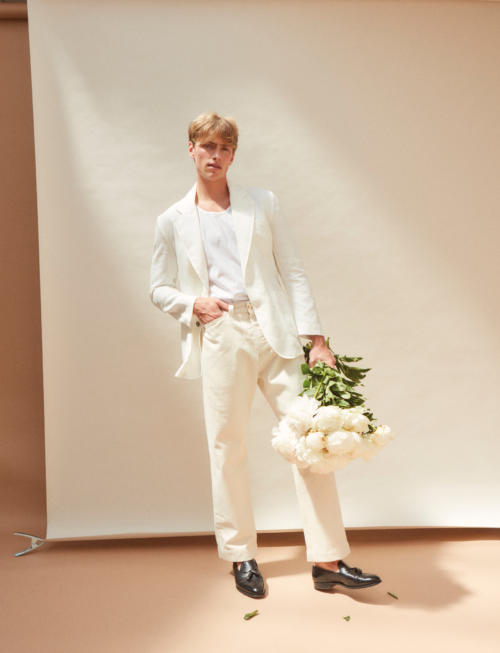 Luke's career has seen him design for the French fashion house Lanvin, as well as UK menswear stalwarts Dunhill, and Drake's. At a time when men need (and demand) more from a casual wardrobe, it's this union between the construction hallmarks of classic menswear and the adventurism of fashion (cloth, texture, colour) that I think gives LEJ a very relevant perspective on modern attire.
To mark their month-long residence in the Permanent Style pop-up shop, my fellow columnist André Larnyoh and I (both customers of LEJ) thought it might be helpful for readers to see how we style some of the pieces we have in our wardrobes.
LEJ could seem a little intimidating to the conservative PS reader and the ways we wear the clothes are sufficiently different, I think, to show how they can appeal to a range of people and styles.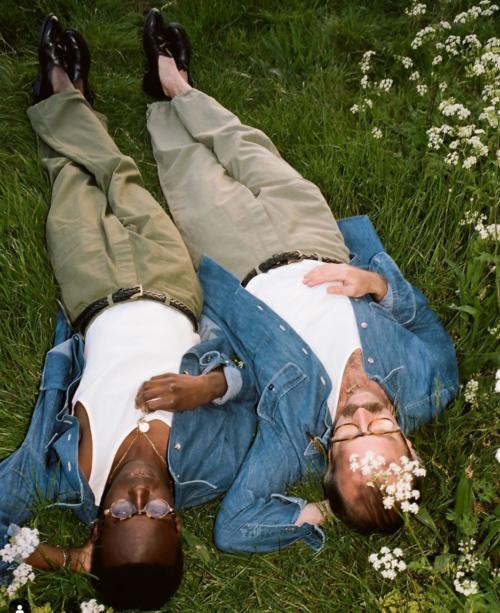 LEJ's presentation of its collections are some of the most joyful and memorable around (the 'twin' shoots in particular, where Luke and a buddy have a raucous day out wearing identical outfits, are wonderful). But I can appreciate that some readers might find these full looks a little outré. Hopefully this article's focus on the style and construction elements that most PS readers hold dear, will help you to love the brand as much as André and I do.
Each of the items we've picked (or some slight variant thereof) will form a part of the spring/summer collection that Luke has for sale at 20 Savile Row.
Of course, the best way to experience the clothes is to pop into the shop and say hello – open Monday to Saturday 11am-6pm and Sunday 11am-4pm (Thursday late closing at 7pm). However, if you're unable to make it, André and I are happy to answer any questions in the comments section below.
*For reference I have a 38″ chest and am a solid LEJ medium for tops. I have a 33″ waist and find large to be the best size for trousers/shorts.
André has a 34""chest and a 28″ waist. He wears extra small or small on top and bottom.*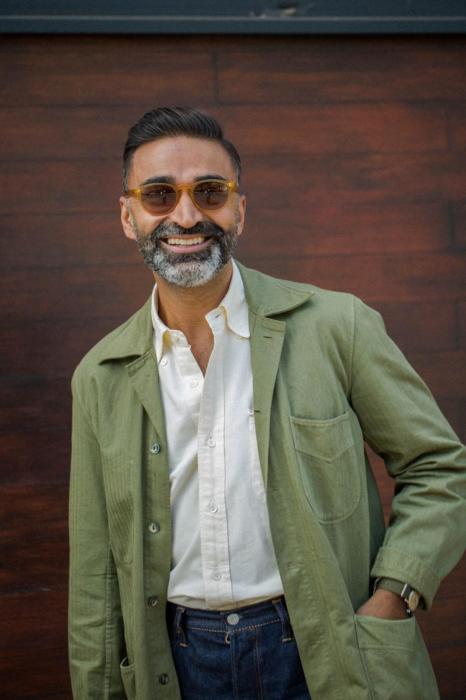 I've written about the Plage Coat before and I make no apologies for featuring it again as it's one of Luke's signatures and a favourite of mine.
The wider point collar, half-belt back and smoky mother of pearl buttons help to elevate this chore coat above many of the more traditional options. And, priced between £295 and £345 (depending on cloth), I consider it to be one of the best-value options too.
The outfit above (photographed last summer by Aaron Christian for his forthcoming book The Asian Man) has become something of a travel uniform for me: Plage Coat in green herringbone cotton twill (which is now back in stock), an Oxford shirt made by Jake's London using the PS yellow oxford cloth, and a pair of Jelado 301 XX jeans from Clutch Café.
All three pieces have sufficient room and fullness to be comfortable for long periods crammed into small seats; and, to my eyes at least, the look feels smartly composed but not overly fussy for travelling. The Plage Coat also has those big patch pockets which make it great for stowing a scarf or paperback.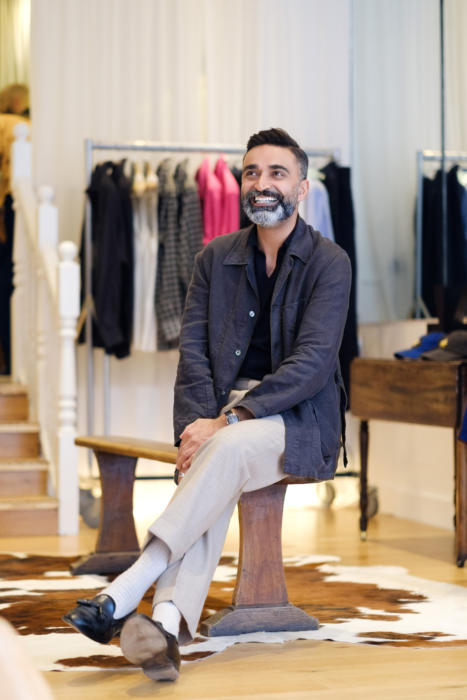 I've found the cloth selections for the Plage Coat (across summer and winter – I also have a houndstooth tweed) generally excellent. In fact, the beauty and unusual nature of the materials is one of LEJ's biggest strengths.
This spring/summer, there is one in a black linen (above) that has been heavily washed to give it an almost charcoal effect.
Simon has written a lot in the last couple of years about wearing black, and one of the lessons I've taken from those articles is to lend visual interest to a darker/all-black look through texture, and this coarsely woven linen is perfect. It can also be combined with a matching wide-legged trouser (the Pat-a-Cake pant) to form a casual suit.
The jacket in the images belongs to Luke and (as with all the most treasured garments) has been given some tough love. The left patch pocket has caught something and come away from the front – running a small brand involves just as much humping boxes as it does sitting at a desk sketching.
On another jacket, this accident would have torn the front, necessitating a more expensive repair. On the Plage Coat, because the pockets (the "crumple zone" as Luke calls it) have been internally reinforced with a cotton ribbon, there's no such tearing, the pocket just needs to be sewn back on (although Luke kind of prefers it as is).
The second item I think readers should consider is the 1-Pocket Officer's shirt.
While LEJ isn't exclusively a shirting brand, it's fair to say that part of the motivation for starting it was Luke's desire to bring some of the construction and style elements from formal shirts to the casual wardrobe: twin-needle stitching on seams or plackets, mother of pearl buttons, side gussets etc.
Most casual shirts tend to slide under a tailored jacket's lapels as the day unfurls. However, LEJ's shirts work well because the collar band sits higher and the points are longer than a typical casual shirt. And because, at heart, they're casual shirts I find they actually look better with an open collar than a stiffer formal equivalent – they were never meant to be worn with a tie.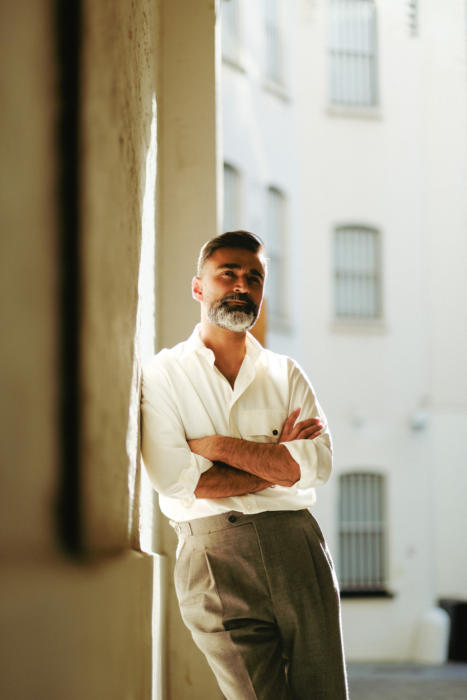 The Officer's shirt is available in fine cotton voiles and oxfords in blue, green, and pink. The one I own is made from a cream silk that's more densely woven than usual, helping it to not feel too floaty and blousy. The silk has also been pre-washed, so the shirt has more of a matte finish which helps steer the wearer away from any risk of looking flash.
The cloth choice was inspired by Luke's love of books, as he explains:
"I draw some inspiration from descriptions of clothing in literature. For instance, the idea for the silk shirts was in part inspired by the outfits in which Ian Fleming dressed Bond. It might be in Thunderball where Bond travels with a high twist black and white tweed, flannels, and a cream silk shirt. The ultimate retort to anyone that thinks silk an effeminate or delicate choice! It's also ultra-practical for travelling. It can be hand rinsed at the end of the day, left to dry overnight, and then will iron itself against the skin before lunchtime".
(By the way, Luke's right that Bond wears a cream shirt in Thunderball: "He was wearing a very dark-blue lightweight single-breasted suit over a cream silk shirt and a black knitted silk tie. Despite the heat, he looked cool and clean.")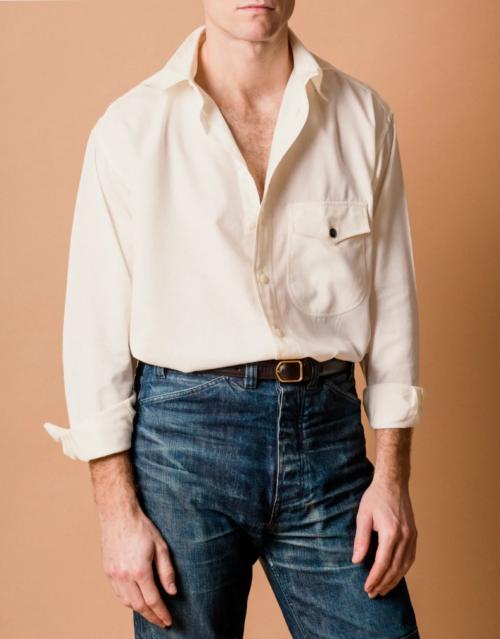 I know a lot of guys favour a blue shirt and I get it – chambray, denim, oxford and poplin (for the classic Italian Background) all work fantastically well in that colour. However, in recent years, I seem to have developed a slightly out-of-control fetish for cream/ecru shirts and polos. They pair so easily with virtually any trouser colour and carry the same fresh elegance as white without the clinical formality.
A similar colour shirt is also available in the Come-Up-To-The-Studio model (above) which I also own – I told you, I have a problem. It's made up of a crisp wool-cotton blend that wears cool but creases less thanks to the wool.
Following the silhouette of a 1950s shirt, the Come-Up-To-The-Studio shirt sits off the shoulder with a fuller body than the Officer's shirt, meaning it has generous drape and volume when tucked – a good choice for those readers (perhaps inspired by André's article) looking to play with proportions.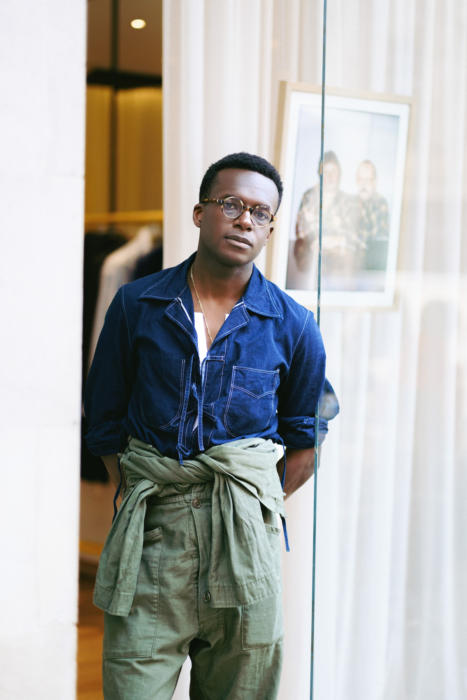 Hello, André here. My turn to talk about how I wear LEJ.
What I love most about the brand is how fun it is. It seems to have found an unholy middle ground between function and luxury. A work shirt but made up in silk – why the hell not? It always transforms the ordinary into something slightly special.
My favourite pieces from Luke's collection all seem to be those which involve some form of tie, or ribbon. The grosgrain ribbon that hangs from the hems of some of the work shirts, the drawstring hems of the pat-a-cake pants. Maybe it's just a boredom with buttons, but there seems to be something really refreshing about the style.
And so, with Manish being a fan of the Plage coat, I am a fan of its steamier cousin: The Quick Release. It takes inspiration from an early 20th-century officer's convalescence pyjama, which used ties for closure instead of buttons. The tied closure gives it a loose, floating shape, while the 'martingale' half tie at the back, when fastened, gives emphasis to the waist.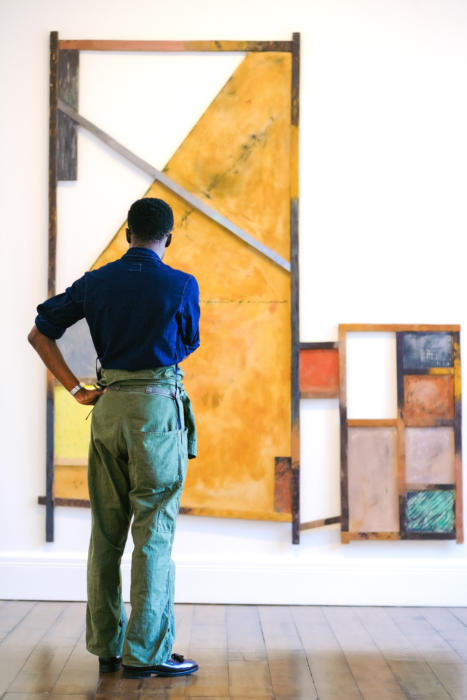 But despite its name, and the fact that it has two patch hip pockets, to me this is not a coat or jacket. It's a shirt first and foremost.
I've nearly always worn it as a shirt and that's because the first time I saw it, Luke was wearing it tucked into a pair of jeans with nothing else underneath (surprise, surprise).  I did whatever I could to secure the piece and over a year a later it is still a joyous thing to wear.
I've struggled to find something I cannot wear the Quick Release with – it's gone from the most casual (as you can see above, with a pair of vintage army overalls) to dressed-up affairs under a jacket. When the situation calls for something nice and tidy, a piece like this gives an unexpected edge to proceedings.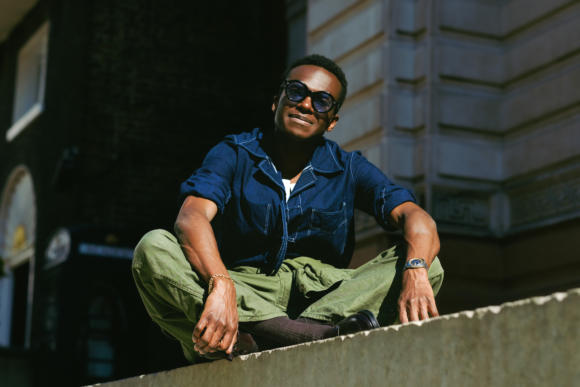 To anyone who might be intimidated by the shirt, what won me over aside from its shape and closure was how, if you stepped back enough, it was an indigo shirt like any other.
If you break the image above down, really I'm just wearing a denim shirt and some fatigues. Who hasn't done that? What makes it easy to wear is focusing on the materials, whatever the seasonal variant might be, and reacting accordingly. There's a striped poplin number, a faded denim and even soon a bone silk, so plenty of options. And if one so chooses, it can be worn as a jacket, which I have done on a few occasions when temperatures have dipped ever so slightly.
I always joke that the Quick Release is a lot of fun at parties – I can tell someone's interested if they start pulling at the strings. This is truly a mischievous garment.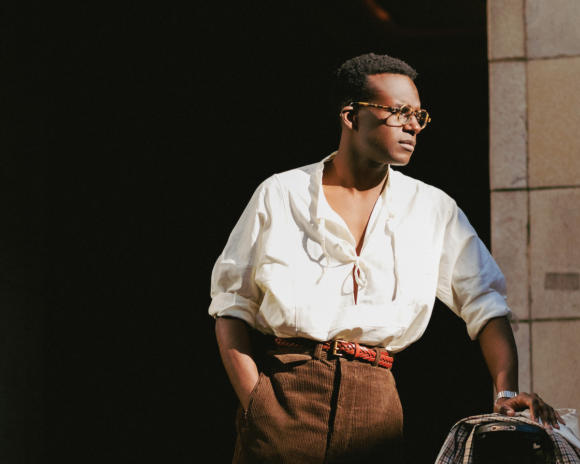 The second piece I'd encourage readers to try is the Sous Chemise Kaftan.
An unusual piece for many, it actually felt like a natural step for me when l was looking for a relaxed, versatile shirt. Part military tunic, part its namesake, the sous chemise Kaftan is such an effortless piece of clothing.
The ecru colour is versatile and simple (as Manish stated above, there's enough blue in the world) while the material is incredibly impressive – a fine twill weave of both cotton and wool with a handle that is lightweight, soft, and robust. Genuinely comfortable to wear at most temperatures. It's even been noted that my posture changes whenever I happen to wear it.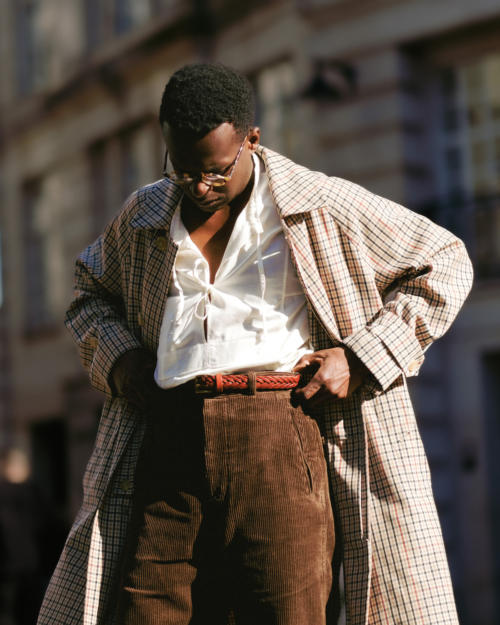 The big question will be how to wear a shirt like this. Well first, the fit is very roomy – it takes its cues from a tunic after all – with a shape that is blousy when worn untucked. I expect to do this more with wide-legged chinos in the summer, but for the most part I prefer it tucked in. It works a charm tucked into corduroys or jeans and with a chore coat or denim jacket over the top. I'm equally excited to try it with tailoring, which goes to show how truly versatile a lot of the LEJ collection is – despite, perhaps, first appearances.
Whatever their style, I think PS readers will find something to love at LEJ, as hopefully Manish and I have illustrated. Pop into the pop-up while you can try it all in person.
Manish is @The_Daily_Mirror on Instagram. André is @andretheapple on Instagram
Other clothes featured, Manish:
Jacket and trousers by The Anthology and loafers by Alden
Polo by Saman Amel, trousers by The Anthology and slippers by Crown Northampton
André:
Vintage eighties US Army overalls, Lee Kung undershirt (from Bryceland's), Alden tassel loafers

Monitaly corduroy officer chino, Mackintosh rain coat, Alden tassel loafers