Just outside the centre of Paris, in the Faubourg Saint Antoine district, there is an institution called Cour de l'industrie: a set of courtyards that houses around 50 different artisans.  
As a home of industry it traces its history back to 1673, but the modern institution was created in 2004 when a group of artisans campaigned against redevelopment, convincing the City of Paris to buy it and hand management to them.
Also known as 37 bis, the space is lovely – a real surprise when you walk off the street. The courtyards are cobbled, the big buildings timber-framed. One studio has a garden of exotic pot plants outside; another displays a row of mannequin heads in the window. There are goldworkers, a guitar luthier and a bowyer. 
In the second courtyard, on the third floor, is the leather craftsman Satoru Hosoi. Ex-Hermes, he makes some of the most beautiful bags anywhere – I'll explain later quite how far he goes with the craft. 
However, the thing I think really makes Hosoi interesting is this combined with his eye for design.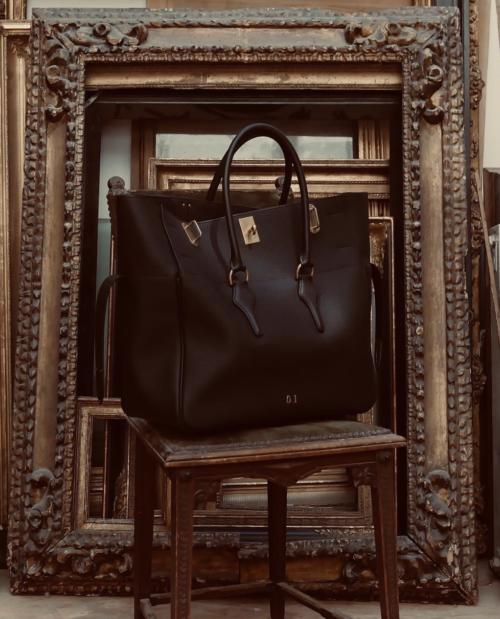 Beginning his career in Japan, Hosoi moved to Italy after a couple of years to undertake an apprenticeship in modelling. He then went to Hermes, working in both the workshop and design centre for 11 years, before going to Moynat. 
In 2020 he left to set up his own brand, which was not the best timing. Paris went into lockdown three days later.
Hosoi can smile about it now – and does. He has a full order book, a new commission today would take about a year, and he's free to concentrate on making the 20-25 bags a year he has capacity for, working entirely on his own. 
You won't see his smile here, however, because Hosoi does like to show his face. He prefers to keep his privacy and only show the product.
This is an interesting attitude in our personality-driven age, but I think it's one that could become more popular if it works. All customers visit Hosoi anyway, so there's no loss of individual connection, and I know many makers that would love to escape the treadmill of social media if they could.
So what makes Hosoi's bags so special? Well, we're in the world of hand-sewn leather here – saddle stitched, two needles held in two hands, looping through the seams. This is stronger in some ways than a machine, and a lot more time consuming. (See breakdown of bag quality here.)
Hosoi is at the top even among this group by virtue of the hand sewing he does in more places, some of them entirely hidden. For example, on the Tolbiac case (above) there is a hand-sewn seam on the inside of the zip, done purely so that – for aesthetic reasons – nothing shows on the outside. 
Then there are other types of handwork, such as the fact the feet on the bottoms of the bags are made of three layers of leather, rather than leather-covered metal or plastic. 
But most significantly, Hosoi makes his own hardware. He makes buckles, poppers and fastening mechanisms to his own design, cutting wax models and then having them cast (below). This is disproportionately expensive and time-consuming, with the only advantage that your hardware looks like no one else's. Which is why almost no one does it – the few include someone like Ortus in Japan. 
So from a craft point of view, Hosoi is one of the best – even among the dozens that I've covered over the years. 
The next point blends these craft points with design.
In every bag that Hosoi makes, he adds little idiosyncrasies and original mechanisms that take more time but make the bags unique. (Which, it should be said, isn't necessarily a good thing – it may mean some bags aren't for you.)
The Sakra tote bag, for example, has what looks like a cloche for a key attached to the outside. It's not a key, however, but a metal plate on a length that can be hooked to the opposite side of the bag, inside (below). This ensures the two sides fold inwards, providing a little protection but also making sure the bag always has the same elegant folded look. 
The Either weekender (shown top), on the other hand, goes from being an open-sided bag to a closed box, with the help of small leather buttons on the flaps. This aspect is something Hosoi doesn't want photographed, because he's never seen it anywhere else and has had designs copied in the past. 
The last thing I admired about Hosoi's work is probably the subtlest. I think his love of design means he has a very elevated taste level – something that can be lacking with other makers. 
There are the basic things, like the tan leather (which Hermes calls Barenia) that is the perfect shade, and solid uncoated brass. The brown grain leather is also really dark, and is much better as a grain than with a smooth finish, as is the black. 
These all look great, but are fairly common choices. More interesting are the unusual colours, like the bright green of the Pirouette model (above, centre). I didn't think I'd ever like green like that, but it's very appealing in person. The russet-coloured suede used on the Tolbiac bag is the same: not something I'd ever pick, but beautiful. 
Indeed, it's telling that Hosoi only offers each bag in two or three colours. This is restrictive, but after all these years I want my maker to have a view on these things.
I want him to have an aesthetic sense as well as a craftsman's. He shouldn't be offering me every colour of leather imaginable, with any lining, and any thread. The result could be awful. Even if I have strong views myself, I want to discuss choices with an equal – someone that cares about the design just as much as I do. 
There's so much more to write about Hosoi's designs. The two-part zips on the Tolbiac, which allow you to access the small interior pockets easily; the strap on the Oreille D'Elephant, which uses a military design so there is no loose flap. But eventually it becomes a sea of detail.
His design vision means the bags won't be for everyone. I loved the Oreille D'Elephant, Sakra and Tronc, but less so the others. The flip side of that, however, is that ones you do love you can only get here. Nothing else is quite the same.
As you would expect, Hosoi's bags are expensive – from around €3000 to €9000 depending on model and leather. But as I've set out in painful detail, we're talking the best in the world. And his alma mater is more expensive. 
I didn't commission a bag, but the Oreille in suede/leather (below) lives in my dreams. 
Hosoi is available through the atelier in Paris and during trunk shows in Japan. The address is 37 bis Rue de Montreuil. Buzzers allow you to contact the different makers, though an appointment is required, contact through [email protected].