History shows that during a financial crisis, fashion is often resorted to for escapism and fantasy. This is the converse meaning of "the lipstick effect theory" where during an economic crisis consumers opt for alternatives to luxury. Similarly, the "hemline index" is a theory from the 1920s that suggests the length of skirts rise and fall with the economy and stock prices. 
This is best exemplified by the satirical Harper's BAZAAR column from the late fashion legend Diana Vreeland who would write "Why don't you…. Rinse your blond child's hair in dead champagne to keep it gold, as they do in France?" or  "Why don't you… Have your bed made in China—the most beautiful bed imaginable, the headboard and spread of yellow satin embroidered in butterflies, alighting and flying, in every size and in exquisite colours?". This purposefully audacious advice was given during the scarcity of World War II. 
Coco Chanel's "Little Black Dress" was released in 1926, shortly before the Great Depression of 1929. It continued to remain as a style staple at a time when textiles and fabrics were rationed. The release of Christian Dior's New Look (comprised of a bar jacket, nipped in the waist) on 12 February 1947 was a year before the "Post-War Brakes Tap Recession" that took place from November 1948 to October 1949. Couturier Yves Saint Laurent released "Le Smoking" tuxedo suit in 1966, the same year the Vietnam war was escalating resulting in higher interest rates and surging inflation along with concerns over a global recession affecting stocks.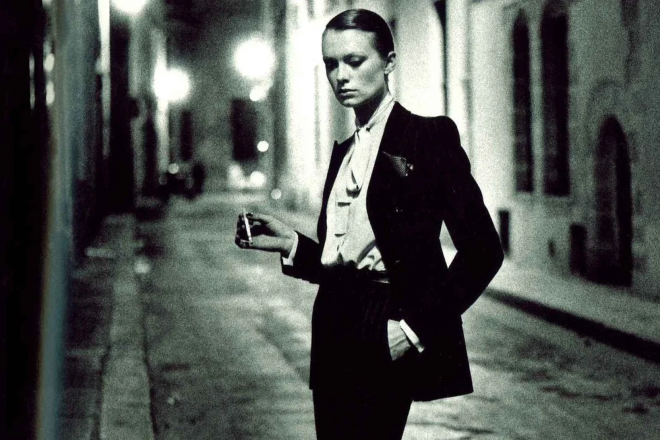 Fast forward to 2023 and there are whispers of an impending economic crisis brought on by the consequences of Covid-19, the ongoing Ukrainian invasion by Russia and a growing rate of inflation. Paris' recent Fall '23 Haute Couture Week went beyond maximalism into the realm of absurdity. Before we breakdown which houses delivered standout showcases, let's dissect what Haute Couture is. The term haute couture is protected by law. The Chambre de commerce et d'industrie de Paris or the French Ministry of Industry. 
The Chambre Syndicale de la Haute Couture is a regulating body that determines which fashion houses are eligible to be deemed as true couture houses. As stated by the Business of Fashion, part of the prerequisites to qualify is that "members must design made-to-order clothes for private clients, with more than one fitting, using an atelier (workshop) that employs at least fifteen full-time staff. They must also have twenty full-time technical workers in one of their workshops. Finally, Haute Couture houses must present a collection of no less than 50 original designs — both day and evening garments — to the public every season, in January and July". 
Iris Van Herpen 
Merging aquatic architecture and bionic innovations, Iris Van Herpen's Fall/Winter 2023 Haute Couture collection was a sartorial reflection of the impacts that climate change has on marine life. As Grazia reports, the looks are the amalgamation of what tellurian and marine dressing would look like.
Schiaparelli 
At Schiaparelli, creative director Daniel Roseberry went beyond construction and conventional silhouettes from voluminous winter white melton coat to hand painting a model's body in brushwork inspired by Lucian Freud, the collection was, as Roseberry put "a Surrealist's interpretation of a woman's essential closet".
Balenciaga 
Creative director Demna showcased his take on quintessential couture and the return to the art of dressmaking. Craft was on full display on the 59-piece runway collection. His vision to bridge the gap between tradition, heritage, innovation and the future was interspersed with flawless couture gowns, a white feathered dress alongside jovial suits and coats in trompe l'oeil denim and faux-fur fabrics. 
Viktor & Rolf 
In celebrating their 30-year milestone, Viktor & Rolf went through past archives to deliver some of their most iconic looks. The runway saw a retrospective including an avant-garde dollhouse of swim and mannequin corsetry. Floating silhouette trompe l'œ effect and high-cut hip lines with a clear gym aesthetic and the boudoir burlesque creations fastened with bulbous ribbons and long, organ-folded bowers are likely to be the unlikely showstoppers for our post modern red carpets.
Thom Browne
True to form Browne's sculptural creations were delivered with motifs of travel done with Browne's signature surrealist stamp in his native shades of grey. Heavy felt jackets were reworked into skirts, the broad shoulders working like an exaggerated crinoline. We also saw a series of coats that cocooned their models while creating a cleverly wrought trompe l'oeil of tailoring across the front.
For more on fashion and style, click here.