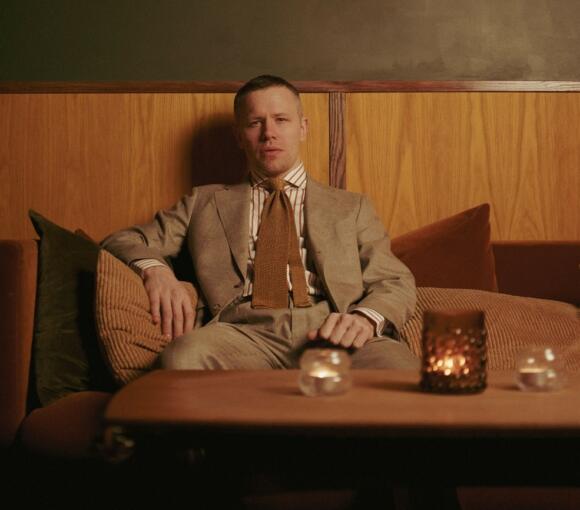 By Manish Puri
The attention of Permanent Style has always been – and will continue to remain – trained upon the highest quality garments in the world.
However, there are barriers to accessing the very best – especially with suits. You might live hundreds of miles from a quality bespoke/MTM tailor. You might be relatively new to tailoring and thus apprehensive about what exactly you want from a suit. You might not have the occasion to wear a suit regularly. Or you simply might not be able afford the best artisans (let's be frank, they're not cheap).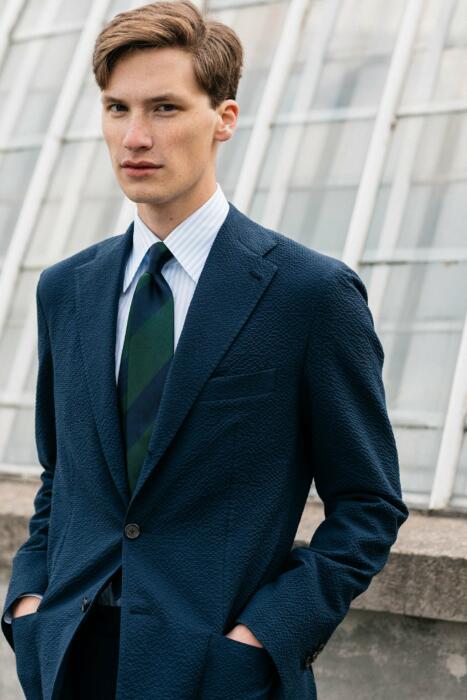 So, in any of those circumstances, it's wholly understandable that you might be shopping from one of the growing number of RTW options that are a significant step up from the High Street (an aside, I had to chuckle at one storied British retailer advertising their suits as "luxury tailoring inspired by Savile Row; fusing exceptional craftsmanship with superior fabrics" – if you want to evoke Savile Row, it might be best to avoid using the word 'fusing') but more economical than the luxury market, where prices can extend beyond even bespoke.
The brands I've chosen for this article all sell suits that cost around £1000 or less, but also represent a range in terms of quality, hopefully making them relevant to a large part of the readership.
The brands selected also have a strong online retail presence, which makes it easier to see lots of imagery, ask questions and get products shipped to wherever you are in the world. They also have the widest range of suiting options; plain navy and grey wools dominate of course, but there are also lots of linens, cottons, checks and stripes to choose from.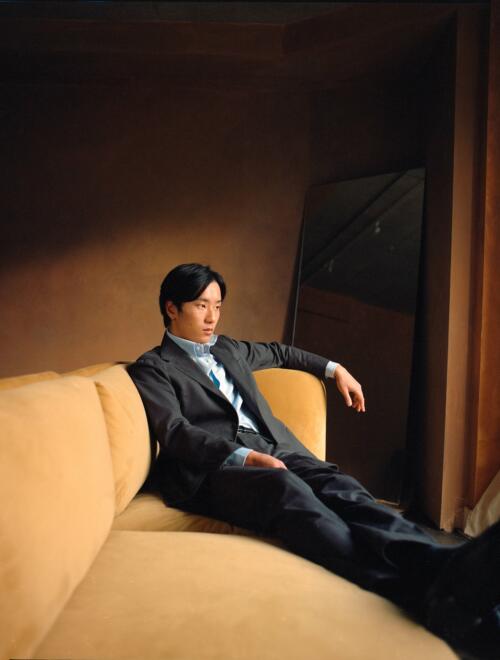 The suits in this guide have several style points in common. The jackets typically have notch lapels, double vents, 3-roll-2 fronts, and no/light padding. The trousers mostly have single pleats, side adjusters, and are sold unhemmed. However, when a brand deviates from these default styles I've tried to highlight it.
In terms of cloth, there is (as you'd expect) a range in the quality available. However, all the brands have suits in cloths sourced from reputable English and Italian mills (in particular, Vitale Barberis Canonico features heavily across the market). Berg & Berg are at the upper price point of this guide, and that's partly because they select slightly more premium fabrics – Fox Brothers, Harris Tweed and Zegna have all featured in recent collections.
In terms of quality, the biggest differences are half vs full canvas, functional handwork like a hand-attached collar, and aesthetic handwork such as buttonholes – details on these are in the index at the end of the article. However, there is a lot less of this at this price level than the brands PS normally covers, even so, all the suits were made solidly and neatly with little else to differentiate them.
As always, if any readers have suits from the brands, it would be great to hear how they've fared over time in the comments section, where I'll also be lurking and willing to answer any questions.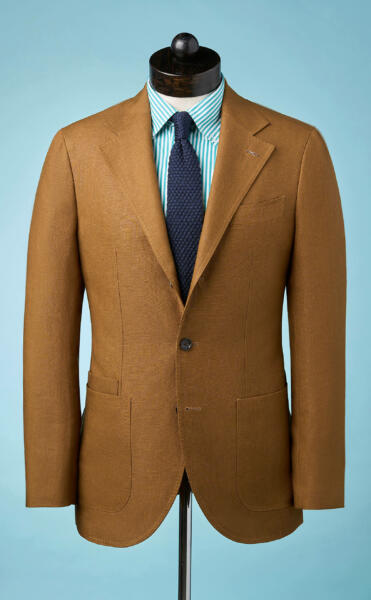 The Spier & Mackay suit offering is the most extensive of any brand here (there are over 100 suits online), but it's also a tad confusing. The website is a morass of cuts, canvas, fits, and labels: Neo Cut, Neo 2 Cut, English Cut, Red Label, Emerald Label "Sartorial Collection", Tailored Fit, Slim Fit, Contemporary Fit, Half Canvas, Full Canvas.
However, what is clear is that the Red Label (from $298) is Spier & Mackay's half-canvas, entry-level offering available in a tightly curated range of classic blues and greys. And the Neo 2 Cut ($448 to $678) is the premium line with jackets constructed using either half canvas or full canvas (unusual for this level of RTW).
The suit I tried was an EU48 Neo 2 Contemporary Fit with full canvas ($598), which no doubt helped sustain a noticeable lapel roll (even when the jacket was freshly unpacked from its cardboard transit). The jacket boasted several other details I wouldn't expect at this price level: a neatly stitched Milanese buttonhole on the lapel, a boutonniere loop on the reverse, Bemberg cupro lining (many RTW jackets use polyester/viscose), underarm shields (sous bras) and an internal pen pocket.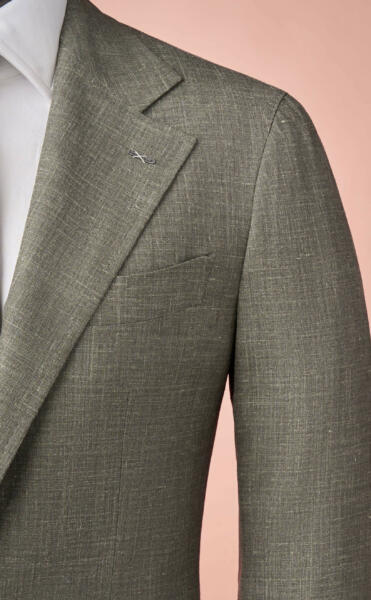 Another Spier & Mackay detail that's atypical of RTW is the upper lapel line, which is initially cut straight before curving sharply towards the neck. This style is usually reserved for bespoke tailoring – the Roman house Sartoria Ripense among its exponents – perhaps because it's easier and more efficient (and thus cheaper) to cut straight(er) lapel lines in RTW manufacturing.
The overall fit through the upper torso was very good – the shoulder seams sat at the edge of my shoulders and the armholes (which I'm told have been raised slightly from previous iterations) afforded movement without digging into my armpit.
The gorge line (sitting 10cm below the shoulders) is low compared to the other brands – which is something I really liked. Consequently, the buttoning point is also slightly lower than the other jackets in this guide.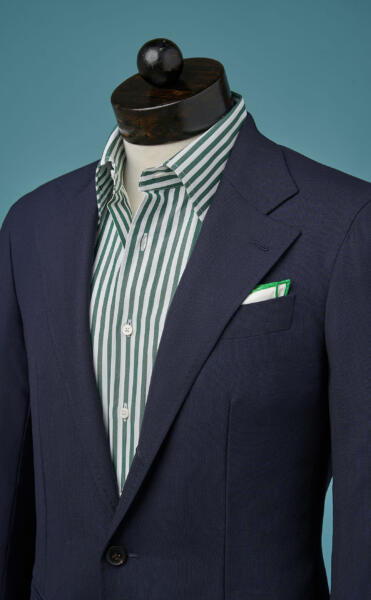 The advantage of the lower button is that it showcases more of the shirt and tie while also helping to eliminate any unsightly 'shirt triangle' (the portion of the shirt visible between the trouser waistband – which is higher here – and the jacket's buttoning point).
The disadvantages are that it reduces the length of the skirt (which I've measured as the distance between the mid-button and the jacket hem) by as much as 4-5cm compared to the Berg & Berg jacket, which has a higher buttoning point and longer coat length.
The fit through the waist was a little tight but there is around 3cm of seam allowance within the jacket to make adjustments. Noting my experience with the fuller Contemporary Fit I wouldn't advise PS readers to opt for the Slim Fit unless they're especially trim.
(Please note, the cheaper models of the Spier & Mackay jackets/suits don't have all the features/fit described above).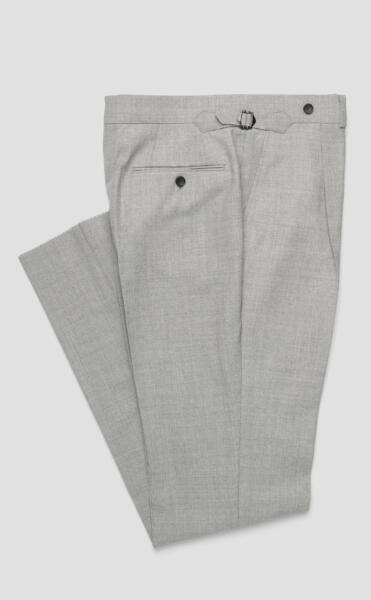 The trousers (in common with most brands featured) come unhemmed, although Spier & Mackay offer a finishing service before shipping them to you. At $12 for a cuffed hem, it's certainly cheaper than any London alterations tailor, though be aware that altered trousers are non-refundable.
As standard, suits are sold with a drop-six trouser (meaning a 38-inch chest jacket, in British sizing, is accompanied by a 32-inch trouser). However, customers can request a "trouser swap" for a different size at checkout (subject to availability) and I availed myself of this option by trying a pair with a 34 waist.
The fit of the suit trousers was spot on in many respects: mid-to-high rise, comfortable in the waist, slim leg but not restrictive. However, the seam from crotch to seat was punitive in its line, cutting sharply into parts of the male anatomy that should only ever be treated with the tenderest regard.
Uncomfortable standing up and eye-watering sitting down, it was, as Lyndon B Johnson once said to his tailor, "like riding a wire fence". This is something that can be improved by a good alterations tailor, but, in my experience, never to full satisfaction.
In all seriousness, it's the only black mark against what I consider to be an incredibly good value suit.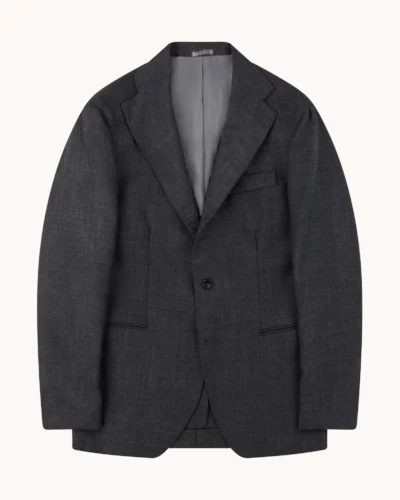 Natalino's Italian-made jacket is strongly inspired by Neapolitan tailoring – the shoulders are spalla camicia and the gorge line is the highest amongst the brands in this guide (I measured a gap of 6cm between the gorge and shoulder seam compared to 10cm for Spier & Mackay).
A high gorge can help to visually lengthen the torso and draw the eye to the shoulders, but it does also depend on your style and body. For my taste, it's a touch high, and apparently, Natalino agree as they have told me that their Autumn/Winter jackets will have a lower gorge, and have kindly shared a preview of what it will look like below. The comparison with the current model is illuminating (I'd love brands to show more side-by-side comparisons please), and, in my eyes, it's a marked improvement.
During our chats, the brand also informed me that a London shop is scheduled to open this autumn so customers will have the opportunity to view the range and try things on before purchasing.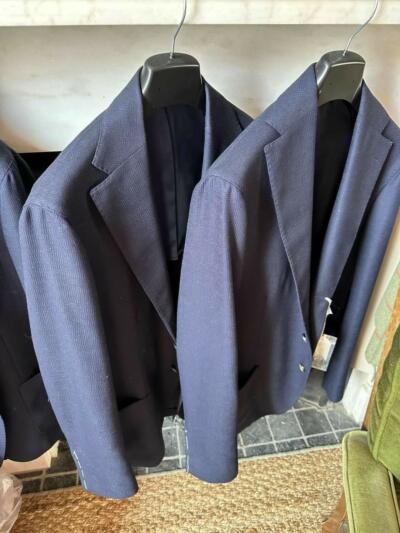 I was pleased with the overall fit of the jacket (a size EU48): neat across the shoulders, good shape through the sides and a fair coat length. When buttoned, the jacket was as shaped as it could be before becoming tight or uncomfortable.
The sleeves are left unfinished so you can adjust their length as desired, but my only gripe is that they are a touch slim. To be fair, I am notoriously picky when it comes to sleeves. I would love to be able to tell you it's because my glorious, sculpted man-pythons refuse to be bound by even the finest of cloths; alas, I'm packing a pair of hairy twiglets and I'm just fussy.
I did try a size EU50 and while the sleeves were better, I found the jacket to be too roomy across the shoulders and in the back so I would advise readers to stick to their regular size.
Natalino sell their suit trousers separately – a blessing for those that like an extra pair to help extend the longevity of their suit, or for those of us that don't conform to the industry drop-six standard.
(An indirect consequence of selling suits as separates is that Natalino is quite conservative with its fabric choices – you don't want to end a season with a stock room of pinstripe trousers and no jackets – which could form the basis of a strong capsule wardrobe: navy tropical wool, khaki linen, olive cotton and mid-grey flannel)
I paired the suit jacket with a 34 trouser which was comfortable in the waist but also slightly tight in the arc between the seat and crotch (although not nearly to the extent of the Spier & Mackay trousers). The fit through the legs was slim but not as much as Cavour's Mod 2 trousers.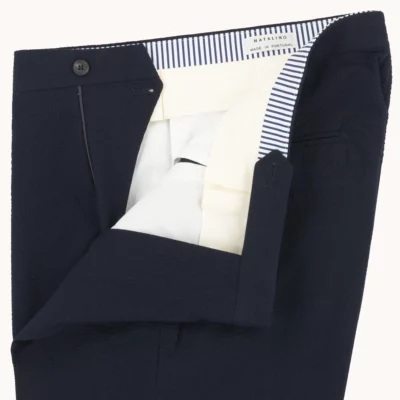 The potential for letting out the waist is curbed by the relatively stingy amount of excess fabric folded into the curtained waistband – there's maybe an inch, which wouldn't even see me through a moderately jolly Christmas (of course, reducing seam allowances is one of the ways that enable Natalino to offer a suit at this price level). Given this and the lean leg-line, I'd advise anyone in between trouser waist sizes to go up a size.
Details include a coin pocket secreted below the waistband which, on the inside, is curtained and anchored by striped fabric – a minor yet pleasing aesthetic detail that's reminiscent of Pommella's finishing.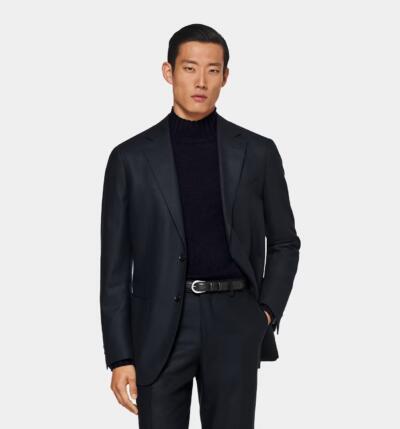 Suitsupply were an instrumental part of my sartorial journey. Their construction details, cloth choices and price point were game changers when they first began sprouting up in the early 2000s.
Unfortunately, whilst my tastes have evolved – I think (and hope) for the better – Suitsupply seem to have remained wedded to a very particular, slim look.
I concede that I tried the Havana (which is Suitsupply's slimmest cut) and may have been better served by a more relaxed model such as their Roma. However, there were over 100 suits available online in the Havana fit and only eight in the Roma, and I wanted to sample the option with the most variety in cloths.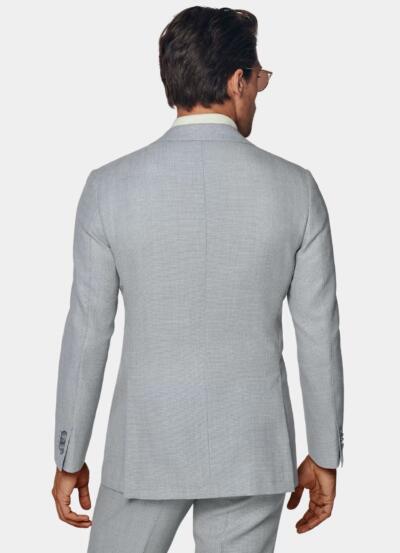 I didn't even entertain the idea of trying a size EU48 and jumped straight to the EU50 in the Havana; it had a lot in common with the Natalino EU48: high gorge, nice across the shoulders, a respectable coat length, and shaped through the sides without being too tight (but only just).
The sleeves were a little narrow and, unlike Natalino, have functioning buttons so any significant adjustments to length are harder. However, Suitsupply do offer comprehensive in-house tailoring that can be turned around within three days at competitive rates.
For example, a sleeve length alteration from the shoulder will run you £50; contrast that with a highly regarded alterations tailor in central London who charges £75 for the same service.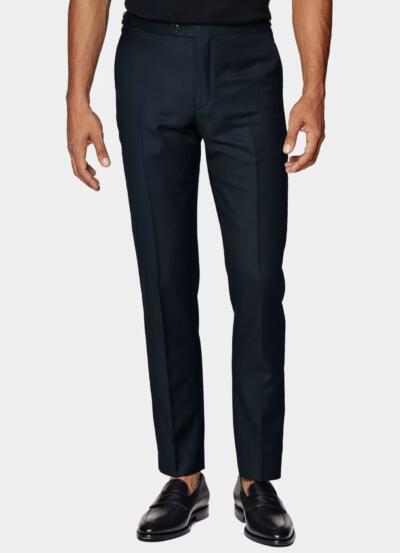 My biggest issue was with the trouser (which will come as no surprise to anyone that's read anything I've had to say about trousers in the past couple of years). I tried a size 34" and the effect was Proustian.
As the zip groaned its way up the straining metal track I was hurtled back in time to the summer of 2012 – where I'm sure climatologists will one-day point and identify the heat generated by my chafed Suitsupply-clad thighs as a major contributor to global warming.
The leg was very tight from the hips down, and the rise was the lowest of all the trousers I tried – I know I prefer a higher finish than most, but I don't think this rise will appeal to too many PS readers. I came away with the sense that the trousers had been designed by an overzealous cosmetic surgeon rather than a pattern maker – every millimetre of excess scraped, nipped and tucked away.
The rise aside, these issues could be obviated by sizing up, except that most of Suitsupply's suits are sold as drop-six (there is some limited mix-and-match available).
If you're in good drop-six shape and looking for a slim suit, at a reasonable price, lots of options to pick from, free delivery and returns, and the facility for quick and inexpensive alterations, then it's hard to look past Suitsupply. But once you've experienced a more classic fit it's even harder to look back at it.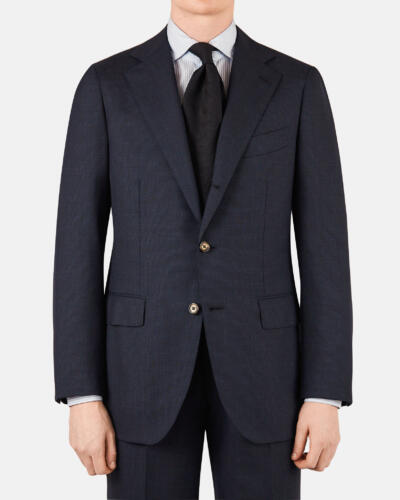 Readers will recall that I reviewed Cavour's Mod 2 trousers (sold as part of the Mod 2 suit) last year in a market survey of RTW trousers. I described them as "fuss-free with a sharp silhouette" but had to size up to a 36" to get a comfortable fit through the legs.
With this in mind (and following Cavour's advice) I sized up to an EU50 in the Mod 2 jacket. There are rare occasions when you put a leg through a trouser or an arm into a sleeve and, before you've even had a chance to finish dressing and examine yourself in the mirror, your sartorial instincts – honed through years of trial and error – signal that it's a good fit for you.
I had that delightful but elusive sensation when throwing on the Mod 2 jacket for the first time and I would say it was the best overall fit of the brands I tried.
The shoulder line ended fractionally past my shoulders with a nicely proportioned spalla camicia sleeve. The chest had a little drape and contoured gently into a generous waist. The sleeve length (as per usual for me) was a touch long, but as the buttons are non-functioning this would be a simple alteration.
The jacket even fared better in my 'telephone test' – where I raise and crook my arm to take an imaginary phone call so I can observe how close the collar remains to my neck – than some of the MTM jackets in my wardrobe.
Cavour's gorge line does sit quite high (7cm from the shoulder seam), but I find it less (for want of a better word) claustrophobic than Natalino's (6cm). I think it's because the Cavour notch cuts deeper into the lapel (4cm vs 3cm on the Natalino) and the combined visual impact of those extra couple of centimetres permits some air between the lapel and the shoulder.
The trousers and jacket boast several hand-made elements (more than any other brand) including bar tacks, buttonholes, collar attachment, sleeve attachment, lining attachment and pick stitching. Whilst some of this handwork is an aesthetic embellishment, the hand-sewn attachment of collar and sleeve is usually a hallmark of quality construction and allows flexibility in the places where it is most needed.
Cavour are also the only brand in this guide that construct all their jackets with a full canvas.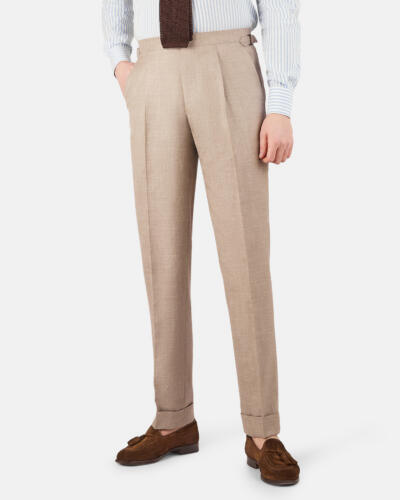 The only thing preventing me from a full-throated endorsement is the fact that the suits come with a drop-seven trouser; this might work for a young, athletic Scandinavian, but sadly this middle-aged office worker is more of a drop-four.
Cavour are one of the most generous brands on the market when it comes to seam allowances, so a good tailor can help bridge some of that 'drop-gap', but in my case, it would be a literal and figurative stretch.
I do understand that carrying the range of suits that Cavour do and offering mix-and-match has the potential to create an inventory nightmare, so it's just one of those things that must be accepted at this level of RTW.
That said, Cavour have informed me they will be offering a mix-and-match programme this coming season for two versatile suits made from high-twist navy and grey cloths. At the same time, they will also expand their range of Mod 3 trousers which are fuller-legged and higher-waisted than the Mod 2.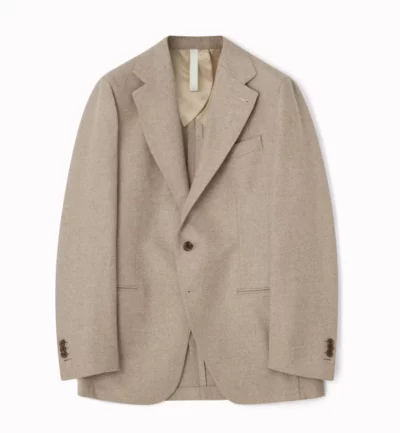 This Berg & Berg jacket (the Dan) was the most elegant and classical of the ones I tried.
It may have been a trick of the cloth – the reassuring weight of the sandy flannel sample suit (above) alerting my body to the fact it was carrying tailoring in a way that the lighter tropical wools of the other brand's sample suits didn't – but, more likely, it was the slightly broader lapel, the longer coat length, the fuller sleeve and the soft, natural shoulder that elevated it above the others.
Berg & Berg's website lists the buttoning point as lowered, but I would politely disagree with that assessment – for example, it sits 4cm closer to the shoulder seam than the Spier & Mackay. Regardless of quibbles on whether it is low or high, I found the buttoning point to be ideally balanced, midway between the gorge and the hem, permitting a generous sweep of the skirt.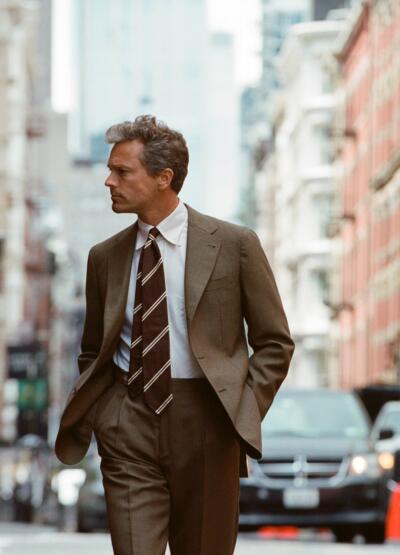 I tried jackets in my regular size of EU48 and EU50. The former was too narrow in the shoulders, tight in the waist and cut into my armpits; the former was better on all counts – there wasn't as much room in the waist as I'd anticipated having sized up, but it was fine, nonetheless.
The main issue I had was with the sleeve length. RTW jackets do tend to come up long in the arm on me, but Berg & Berg's was unusually long (I'd need it shortened by 5cm), and as the sleeves come finished with functioning cuffs any alteration would require detaching it from the shoulder (not a cheap fix).
I spoke with Andreas (Berg & Berg's Creative Director) about this and he's sympathetic. However, the feedback he's received from customers globally is that they don't always have access to reliable tailors, so the brand has taken the decision to provide finished, functional cuffs. Andreas also said the length could be shortened from the cuff by about 2cm without disturbing the visual balance of the sleeve.
Of course, for readers who typically find RTW garments short in the arm, the Berg & Berg sleeve might also be an ideal length.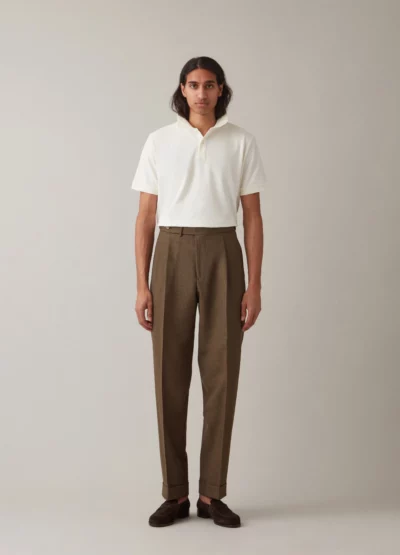 Having sized up in the jacket I'm frustrated that I didn't do the same with the trousers. Berg & Berg's Antonio model (which comes with double pleats while their Arnold model has single pleats) in my usual size of 34" was just too tight in the waist – somewhat surprising given the trousers, in keeping with the proportions of the jacket, have a higher rise and fuller leg than any other brand in this guide.
There was a decent seam allowance, but I suspect were I to let the waist out fully it still might not be enough, plus I'd have no margin for any weight fluctuation in the future. I'd certainly consider sizing up to a 36" trouser next time (which isn't a problem as trousers are sold separately) but that may require a compensating taper to the volume of the trouser leg.
Manish is @the_daily_mirror on Instagram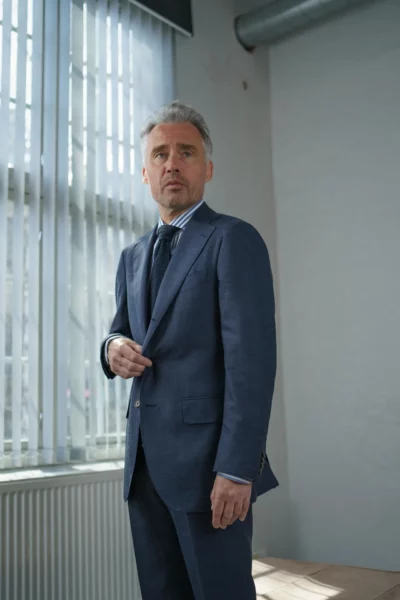 The Index
The index is designed to collect the key information of each of the suits featured. To aid comparison we've shown the chest, jacket length, and sleeve length for size UK38/EU48 jackets and the waist, rise and leg opening for 32" trousers – measurements taken from the brands.
Prices are correct as of time of writing.