A private island might just be the ultimate escape. A voluntary retreat from all the worries and the hurries of contemporary life. A reset in our daily living, in tune with the rhythms of the natural world.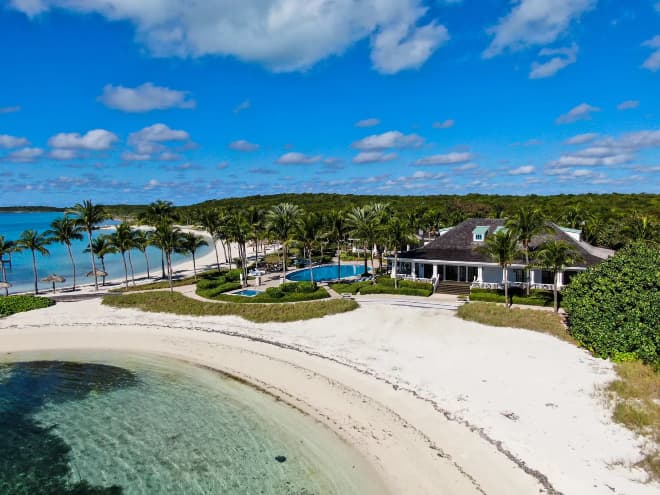 Far from the rattle and hum of modernity, the sounds of the city quietly give way to the murmur of the surf and the scent of the breeze. No clocks needed. Nowhere special to be, but simply to live in an uncomplicated, paradisal place self-sustainable and eco-friendly—where living off the grid is merely optional, never mandatory. 
Herewith, Luxury Defined journeys to five island idylls, where palm-fringed beaches and serene seas are just a part of the everyday scenery. Don't worry, you're not a castaway here. 
If the mainland calls, civilization is just a short boat ride or prop plane flight away. Hang up that sign for the workaday world: Gone … fishing.
1. Royal Island in Eleuthera, Bahamas

Royal Island is a 430-acre private island with azure waters, beautiful beaches, a large natural harbor, and an exclusive turnkey resort—all less than 20 minutes from North Eleuthera international airport.  
Adding to its appeal is its approval for the development of a marina in the natural harbor and an 18-hole golf course. The property includes five luxurious one-bedroom beachfront villas with grand wraparound decks, a guest house, a welcome center, and a restaurant/bar. 
The community-held structures overlook both the beaches and a stunning oval-shaped pool. Guests at Royal Island receive a customized experience, with a beach club, a world-class chef, a spa, a fitness center, all manner of water sports, and a catamaran.
This offering is a unique opportunity: to own a private island with an established business and approvals for future development. 
Related: Explore 10 of the World's Best Yachting Locations 
North by far of the tropics, though just as enchanting, is Myers Island. This 5.6-acre private island is in Ontario, Canada's Thousand Islands, a group of more than 1,800 islands in the St. Lawrence River.  
A wooded wonderland only five minutes from the main marina, the island has been professionally landscaped to create a unique parklike setting.  
The original homestead is a cottage, redesigned in homage to Frank Lloyd Wright's organic architecture, with long flat rooflines, expansive decks, and big windows to bring in the light and the views. 
The airy, contemporary interiors include two bedrooms, a custom-designed kitchen, and superior finishes throughout. 
Within the grounds, there's room enough to add an additional residence for extended family or guests.  
3. Ambergris Cay in the Turks and Caicos Islands 
Ambergris Cay is a jewel in the beautiful necklace of islands that is the Turks and Caicos. 
Far from it all (but not too far), Ambergris Cay entices with a serene, natural beauty, from the turquoise blue waters of the Caicos Banks to starry nights unobstructed by the glare of civilization. 
The island is easily accessible via private jet, thanks to the 5,700-foot-long runway. It's equally suited as a private, peaceful retreat to unwind and disconnect or as a recreational paradise for water sports, bone fishing, or nature walks.
Either way, the staff is on hand to pamper residents and guests with bespoke service and world-class amenities to ensure an unforgettable, one-of-a-kind, private island experience. 
Isola Delle Femmine, or Island of the Women, is a private, 34.3-acre islet just off the like-named town on the coast of Sicily near Palermo. 
This unique property has great development potential as a resort or a private compound. Among its unique features are the haunting ruins of a 16th-century watchtower and a sandy beach leading into calm, clear waters.  
The islet is clad in typical Mediterranean vegetation with lovely names: mallow, mandrake, glasswort, bird's-foot trefoil, and erba Stella, and blooms of iris and romulea flowers—inhabited by shy lizards and rare species of butterflies. 
Coconut Palm Bay on Man-O-War Cay is among the loveliest properties in the Abaco chain of the Bahamas. 
This 14-acre refuge bridging the Atlantic Ocean to the Sea of Abaco, offers beaches on both shores. Although it's not quite a private island, the property may just be the ticket for those seeking privacy and seclusion in one of the most idyllic spots on Earth.  
The 6,500-square-foot main residence offers uninterrupted vistas of the sea. A four-bedroom, three-bathroom guest house provides an additional 2,200 square feet of air-conditioned living space and 360 square feet of covered porches and balconies. Both residences lie within landscaped gardens. 
Nearby is the private marina and a boathouse, 390 linear feet of docks, and a covered boat lift with 13,000 lb. capacity. Additional amenities include a 5,000-gallon reverse-osmosis water maker. 
Still searching for an idyllic island escape? Explore our luxury collection here. 
This article first appeared on christiesrealestate.com