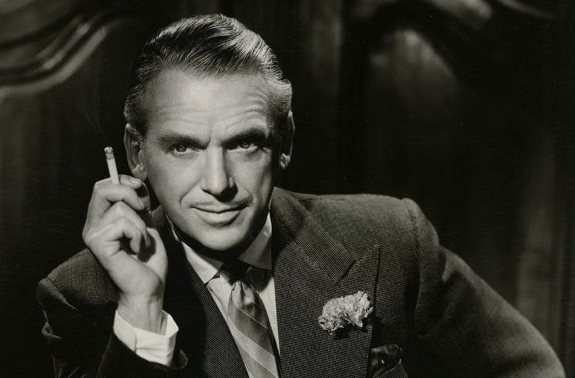 By Tom Mastronardi.
Anyone that knows me appreciates my resolute affection for being well-tailored. Even as a kid raised in a decidedly blue-collar neighbourhood on Chicago's South Side, I never required any coaxing to don a jacket and tie.
But of all the explanations for my embrace of bespoke, the best and certainly the truest has its genesis in a first date: one that marked the culmination of a teenage crush on an outstandingly lovely (of course) young girl.
Now, in my dotage, I realise my memory might be slightly porous, but still, I have the fondest recollection of an unforgettable evening spent with said lovely – and, more to the point, with the (distant) presence of Mr Douglas Fairbanks, Jr (above).
Okay, then – a boy and a girl and a Hollywood icon. But how does a tale of young romance – even one with a Hollywood version of a Fairy Godfather – lead to my enduring enthusiasm for tailoring?
Let's go back even further to 1958, when a new play entitled The Pleasure of His Company by Samuel A Taylor and Cornelia Otis Skinner premiered on Broadway. (The New York Times found it to be "thoroughly delightful.")
The plot of the play follows the return of a wayfaring bon vivant father, one Biddeford 'Pogo' Poole, who has returned to San Francisco for the wedding of his now grown (but long neglected) daughter, as well as to pursue his former lady, the mother of the bride. Charming hijinks ensue – which is why the French title is, with good reason, Mon Séducteur de Père. Racy stuff in Eisenhower-era America.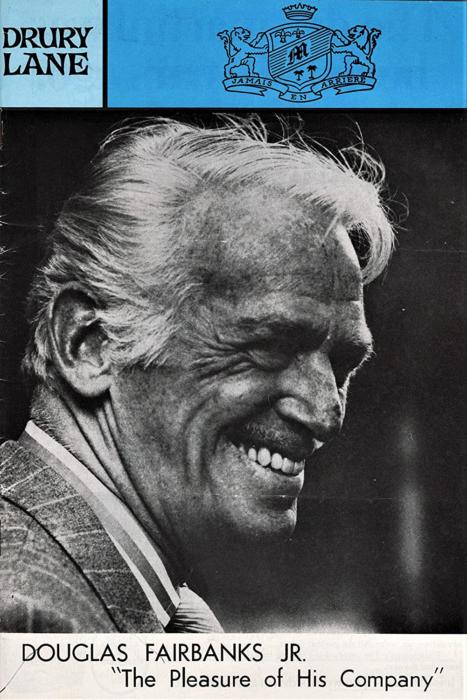 Fast forward to 1971 when, on the eve of my 16th birthday, I was in the throes of a mad crush on the aforementioned girl (whom I'll henceforth refer to as 'Olivia', owing to discretion and her overwhelming resemblance to Olivia Hussey of Zeffirelli's Romeo and Juliet, also a significant presence in my youthful aspirations).
How to win her heart (or at least get her attention)? The planets aligned when I was given a pair of tickets to a road-company revival of The Pleasure of His Company at Chicago's Drury Lane Theater, starring the still esteemed Douglas Fairbanks, Jr, who toured the play for a number of years both in the US and internationally.
(Full disclosure: back then, we had only the Late Show to provide context, so my familiarity with the actor was confined mainly to films like The Prisoner of Zenda, Gunga Din, and Sinbad the Sailor – still, it all sounded good to me).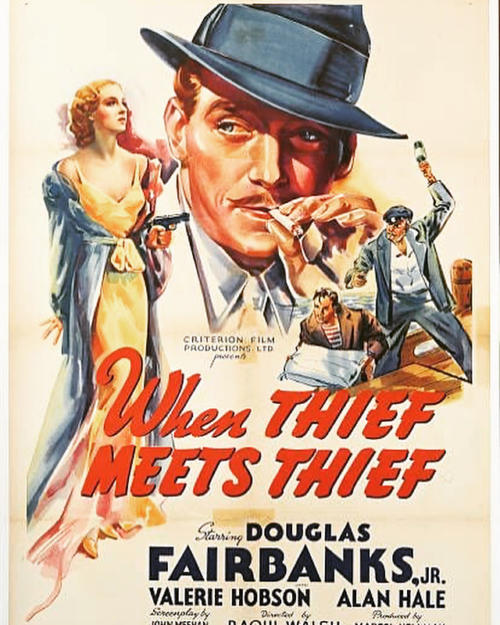 I was certain that this would tick all the boxes for a memorable first date:
Cultural uplift? Certainly.
An unchaperoned public transit journey to a glittering metropolis? Passage on the Orient Express couldn't be finer.
Two-plus hours in the dark, sharing an armrest with the leading lady of my personal romantic reveries? The sheer pleasure of the thought thrills even today.
Topped off with the pleasure of an actual movie star's company…Huzzah.
I asked, she accepted.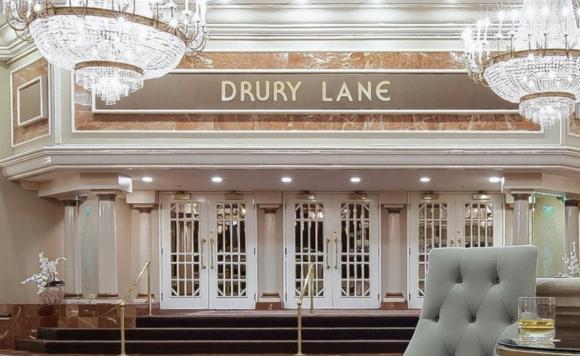 On the appointed evening, I sported my finest three-piece suit. As I recall it was the best Robert Hall had to offer, and featured a reversible vest that cunningly matched both the self and the accompanying odd trousers. Olivia wore a velvet mini-dress (no issues with recollection there) that only enhanced her lit-from-within beauty.
Off we went – by ever-so-romantic Chicago Transit Authority – from the old neighborhood up to 'Downtown' Chicago. Dinner somewhere that was optimistically, madly, elegant (read: white tablecloths) and finally, the theatre.
Curtain up.
Act 1, an interlude, Act 2, and final curtain.
Followed by tumultuous applause.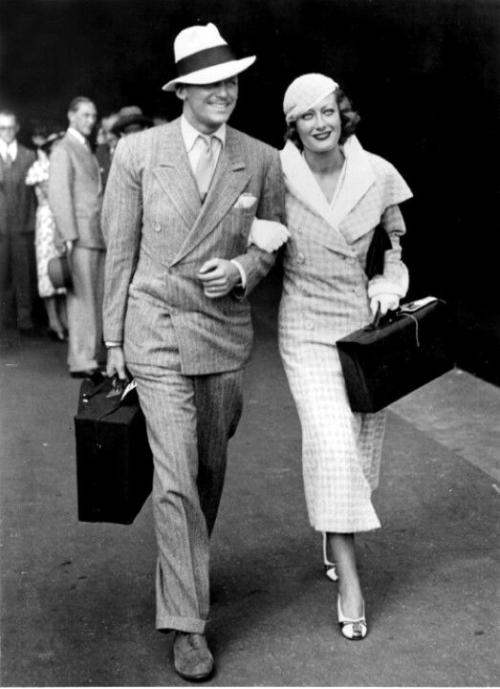 In the midst of that perfect evening, I realised that, in addition to young love, something more, something exceptional had marked me for life. I was, of course, riveted – gob-smacked – by Mr Fairbanks Jr's wardrobe.
To this day, I can't tell you exactly what he was wearing; just that it looked great (although that probably had as much to do with Himself as the aptitude of his tailor) and was largely realised in shades of grey (perfectly complementing the great man's silver mane).
What he wore was, in retrospect, clearly less important than how he wore it: with grace, with charm, dignity, pleasure, and certainly without pretense – all key elements of his exceptional style, and all attributes which, callow youth that I was, I now desperately yearned for.
And luckily, beyond Mr. Fairbanks Jr's particular sophistication, I discovered something that provided a sure and certain application – a manual, if you will – for me to achieve the singular sophistication I sought for myself.
Something that, conveniently, I held in hand. The Playbill.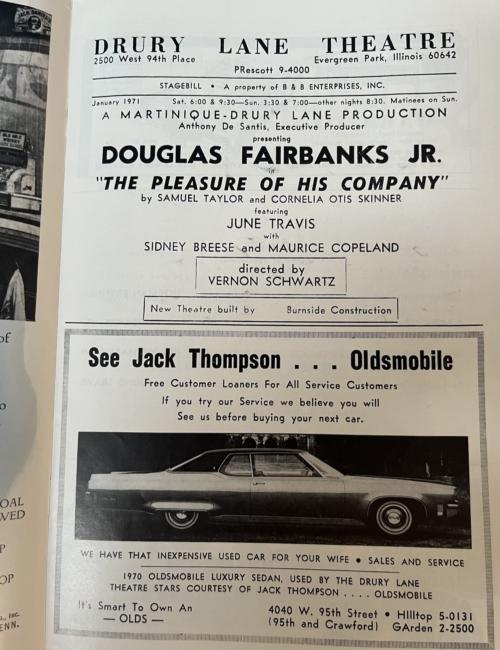 Despite all the things unfolding around me – the young lady's shoulder brushing mine (for the life of me, I still can't remember anything else about the first twenty minutes), the glow of the stage lights, the air redolent with cultural sophistication – it was the Playbill, which noted the source of each item of Fairbanks' impeccable wardrobe, which has stayed with me all of these years.
As in:
Mr Fairbanks' suits by STOVEL & MASON, London
Mr Fairbanks' hats by LOCK'S, London
Mr Fairbanks' shoes by GUCCI of Rome and by A. CLEVERLEY, of London
Mr Fairbanks shirts and ties by TURNBULL & ASSER, London and by ASCOT CHANG, Hong Kong
Mr Fairbanks top coats by HUNTSMAN, London
All this and his signature red carnation. Just like that, I was hooked. Deal with the Devil dealt — and marked delivered.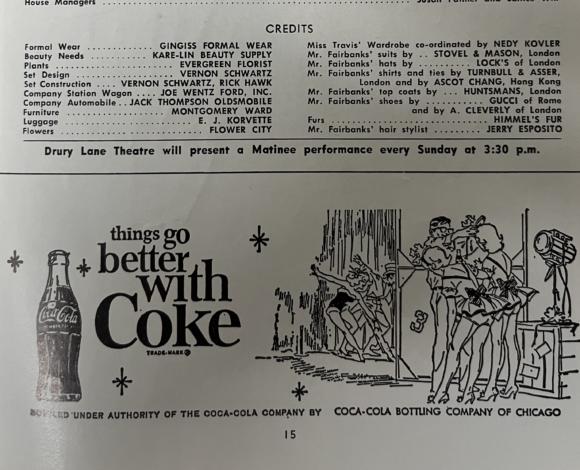 This, I concluded, was how a proper gent progressed.
All you needed to be well-dressed was the right names (as sartorial icon Adolphe Menjou's autobiography made clear in the title, It Took Nine Tailors – plus assorted shoemakers, hat makers etc) and I was henceforth prepared to join that line of worthies that stretched back at least as far as Beau Brummell.
It would be a decade and then some before I could afford my first bespoke garment – and there was a full run of designer suits in the meantime, starting with Pierre Cardin, extending through Giorgio Armani and running into a bevy of other erstwhile Italian RTW.
But his initial lesson took. There has been steady but not rash accumulation of these craftspeople since.
Fairbanks himself discussed the method of acquisition in in Salad Days, the first volume of his autobiography: "I'm rather conservative about suits…No one in public life can afford to overstep. One has a responsibility, and before I get anything new, I brood about it, try it out on my wife and daughters, and perhaps on someone in the Club."
If ever there was an attitude to emulate, it was this.  The notion of excess — or at least enthusiasm – tempered by moderation.
(Though I do wonder what Mr Fairbanks would make of Instagram— rather than the approval of the wife, or attaboys at the Club, using social media as the laboratory for proposing and analysing cut, colour and combination.)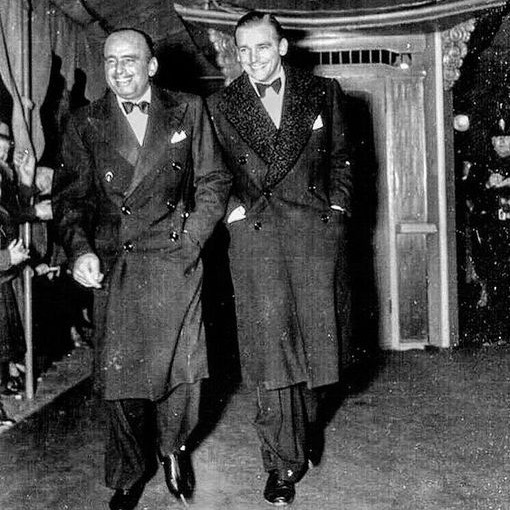 Importantly, I do believe Olivia enjoyed herself; and I did get a kiss at evening's end — which I considered a wild success. A line from the play comes back to me: "I'm still filled with the glow and romance of it".
Still, I can't help but wonder all these years later, if young Olivia realised the bullet she dodged, had things turned out differently. Possibly the best person to ask is the lady with whom I have been sharing a closet — albeit lopsidedly — these many years ("why yes; my love, but that does indeed appear to be another new suit…"), and to whom my only excuse is yet another bon mot courtesy of The Pleasure of His Company, this one delivered by Pogo:
"Oh, I know. I'm sorry. I get carried away."