On Permanent Style we've always talked about dressing with subtle elegance – clothing that makes the wearer appear simply well dressed.
This is still the style I get most pleasure from. It's a matter of good fit, quality materials, and tasteful combinations. It's the way I dress the most, and the one most people I know aspire to. 
But part of my journey with Permanent Style has always been about experimenting with other styles, and exploring how they relate to this central, elegant core. 
Some, such as today's outfit, push away from the safer end of the subtle/showy spectrum: they're consciously more of a 'look', deliberately standing out. Playing with styles like this is a sign of being open-minded, I think, but is also something a lot of style niches struggle with, perhaps particularly classic menswear with its rules and traditions.
As far as Permanent Style is concerned, these outfits are a sign of expanding what we cover, rather than shifting in any particular direction. The circle grows; the centre is unmoved.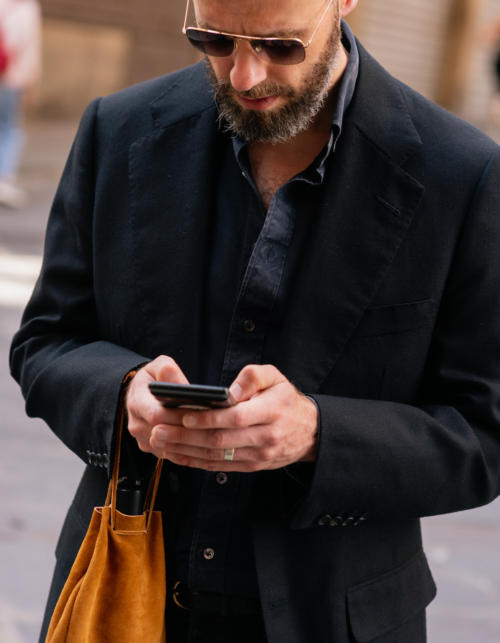 Expanding on that theme, I wore this all-black outfit to Pitti Uomo because it's a nice opportunity to try things out. Everyone's aware of this, everyone's interested in what others are wearing, and you're often interested in the opinions of your peers. 
That's very different, to my mind, from the garish clothes some still wear to get as much attention as possible. For me and those I know, it's about quality, not quantity; seeking the thoughts of those you respect rather than being the centre of attention. 
The other issue with more unusual outfits like this, is there are fewer places you can wear them, and perhaps a smaller number of people who would. They're not as universal as some of what PS covers. 
But I would wear this all-black outfit to some evening events and indeed have done so recently. Not fashion events either: a friend's dinner party, a celebratory evening out. 
It's a little showy for a dinner party – you might have someone comment that you look like a rock star (or more likely, like you're trying to look like a rock star). Something similar in navy would always be easier. But again, it depends how subtle or showy you are as a person, and want to appear.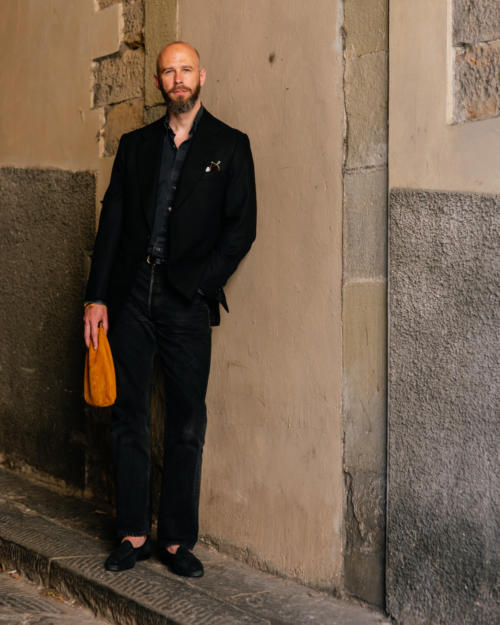 One more angle on this, before we talk about the clothes. This feels like me, in this place and time; it feels appropriate. 
At this point in my career, in this place (Pitti) it feels natural for me to dress in this manner. It wouldn't have done 10 years ago; it wouldn't do now if I was having a birthday lunch with my family. But there, now, it fits. It's not too much of a reach. 
This doesn't mean that a much younger person, with a very different standing, couldn't rock the look. But I wouldn't have done. Me, myself: the person I am, with this personality. 
As big a mistake as any other when you're first getting into clothes, is trying to look like someone else. Everyone should explore, everyone should push themselves, and often it takes a while before something feels natural. But some things just aren't you, at least today.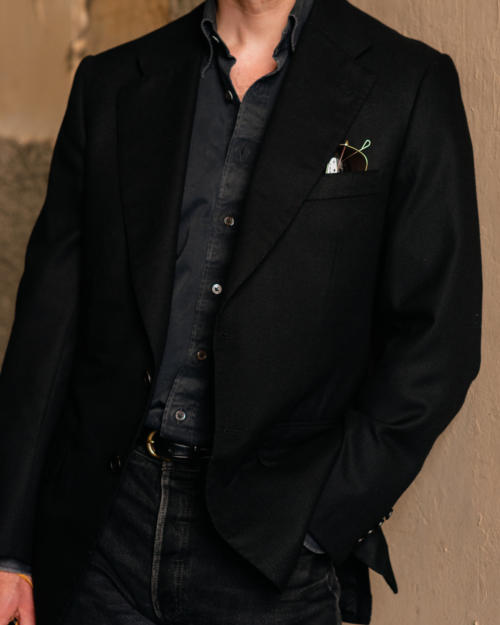 OK, so now the clothes. Hopefully some of that chin scratching was interesting. 
The jacket is my black hopsack from Paolo Martorano, worn with washed black Levi's. The jacket is not a natural one, not the easiest, to wear with jeans because it's quite sharp. 
But that matters far less when you're wearing one colour like this – monochrome. There's less contrast – everything recedes into silhouette and texture. And it also matters less because we're aware this is a showy look anyway – not the subtle jacket-and-jeans discussed previously on PS and which most readers will aspire to. 
It's also worth noting that I would rarely button the jacket here, which makes that sharpness less relevant. It would seem odd to, in a look which while clearly considered, is also so laid back.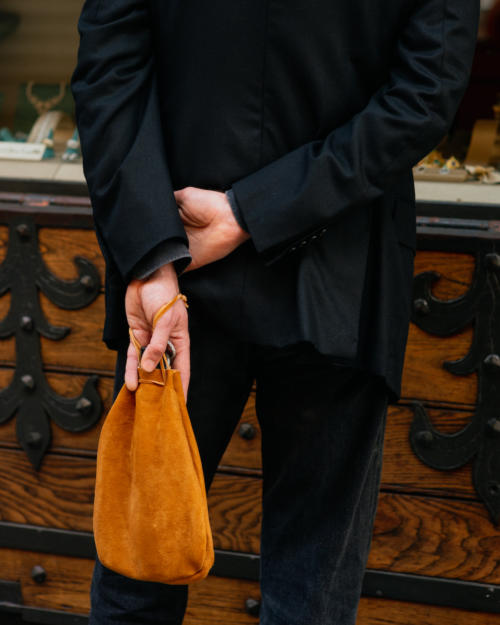 The shirt is a washed denim from 100 Hands (a prototype we're working on). The shoes are classic Sagans from Baudoin & Lange. The belt is alligator from Rubato and the sunglasses are vintage gold-rolled Caravans. 
The unusual piece is the bag, which is actually the packaging I received belts in from Japanese maker Ludens recently. I've been exploring small day bags like this – as with the vintage cartridge bag – and this pouch with its drawstrings works pretty well. 
The only issue was that the suede initially shed a little, leaving little bits on my jeans. But it settled down during the day and wasn't a problem by the end – so clearly something on the surface, that perhaps I could have brushed off before use. 
It's the same suede that Ludens has used for cross-body bags at Bryceland's, which gave me the idea. Those are only available made to order in the Hong Kong and Tokyo stores, in this sand colour and black, and my bag is not available separately. But I know Ben in London is hoping to get some in at some point.