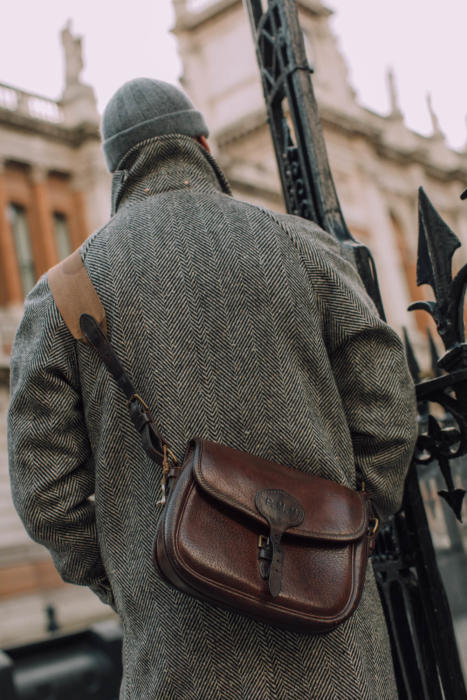 Over the past few months, I've been enjoying wearing this vintage cartridge bag as an occasional day bag – for when I don't need to carry a computer or other bulky things. 
It started when a reader asked about a crossbody bag he could carry to work. My initial reaction was to suggest that he shouldn't – that it wouldn't look that smart (he was dressing smartly) and would damage whatever clothes sat underneath the strap, being rubbed at constantly. 
I stand by that advice – I think men tend to revert to a backpack or similar out of functionality and even laziness, and once they have the freedom of both hands, find it hard to go back. 
We should guard against prioritising functionality too highly. It can be a slippery slope that leads to the abandonment of much that is pleasurable in clothing, certainly elegant clothing. We end up with a short, lifeless, plastic coat rather than a long, stylish woollen one. 
However, this doesn't mean that a bag worn on the shoulder can't be good or look good. It's just a lot better if it's lightweight – so not shortening the life of the coat underneath – and fits with the required formality.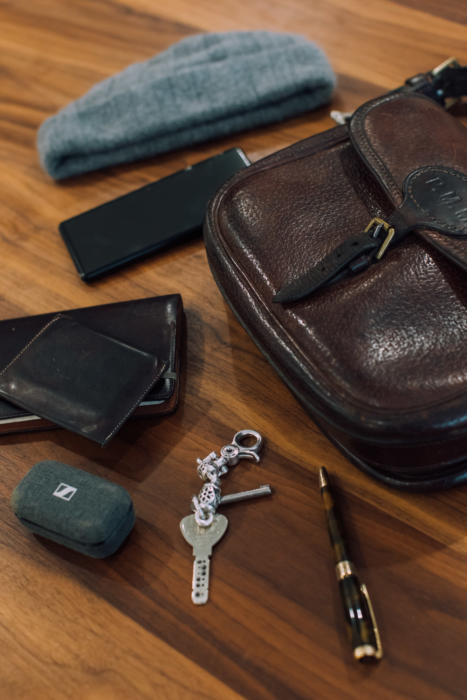 I wear this old cartridge bag mostly with my raglan coats. Worn with the grey-herringbone donegal above, it seems to have a similar level of casualness, and be sympathetic in terms of craft and texture. 
In the bag I carry an assortment of small items: phone, wallet, keys, headphones, hat, notebook, pen. Perhaps a little snack. Most could go in the pockets of a coat, but it would struggle to contain them all, and it's nice not to have all those pockets all filled. 
The only thing that occasionally makes it back into the coat is my phone, just because these days it is out so frequently: to pay for the train, to buy a coffee, to check the train times, to send a message, to check the calendar etc. 
The cartridge bag can actually swing round very easily, and be accessed on the chest. The flap is designed for that – when used for shooting, it would sit open under the arm to give ready access to the cartridges. 
But the frequency with which I need my phone makes even this a little too fussy. And I'm not about to adopt the street-style look of wearing a bum bag (for the American audience, fanny pack) across my chest the whole time.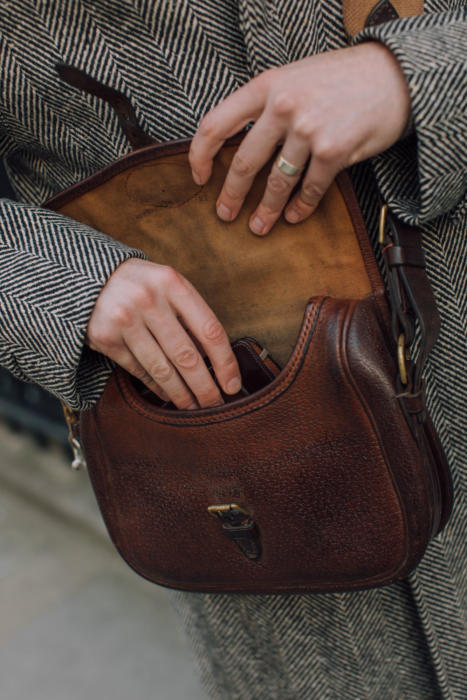 I have worn the bag with a tailored coat, like my Ciardi ulster below. That works OK, though only with the collar up and I wouldn't do so with a smarter coat, like a navy or charcoal. 
With more rural outerwear like the Wax Walker, the bag is almost too on the nose, and it doesn't work with something more rugged like a horsehide jacket. 
So it's not proving that versatile; not something for that reader that wanted an everyday workhorse. But as an accessory, an interesting alternative in an age when casualisation has robbed us of so many accessories, I think it's nice, and certainly practical.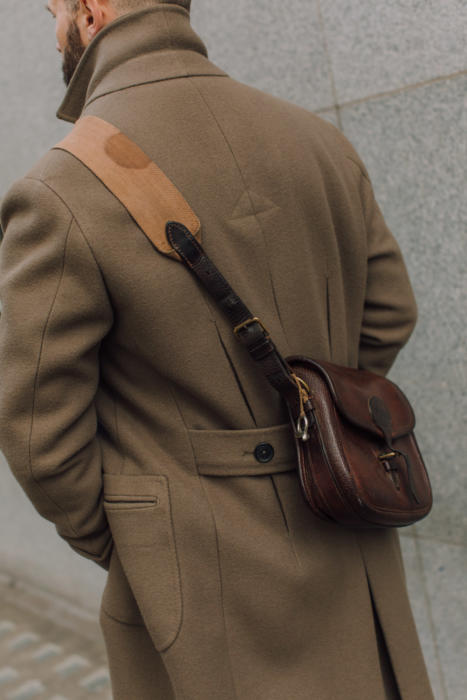 There's no shortage of old and new cartridge bags out there. Most hunting-related companies make one, and they differ in terms of materials rather than design. 
Vintage ones can be picked up on eBay for £40 or £50, though the cheap ones are often in split, coated leathers that look very plasticky. Watch for one that has attractive signs of age, without actually falling apart. Linings are often the first things to go. 
Being the leather nerd that I am, I wanted one in traditional pigskin and solid brass, at the perfect point of having a beautiful patina but still all its stitching. I also wasn't prepared to wait months for the right one to come up on eBay.
For all these things I know I have to pay, and Bentley's had the perfect one. It cost me over £400, but I knew I'd value everything I was paying for, and I could find a good home for it if the style didn't work out.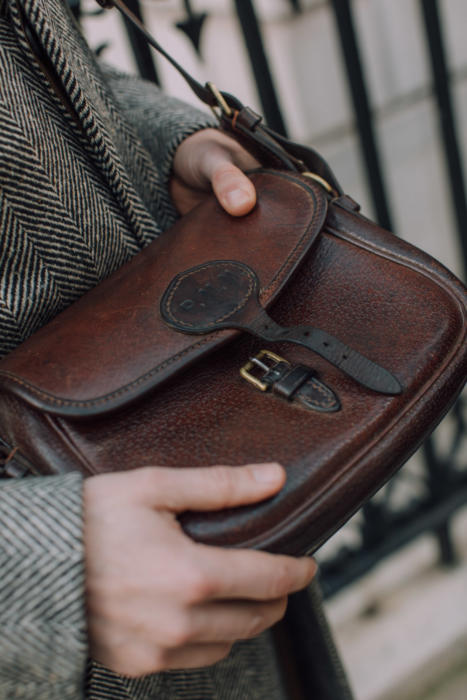 This model was not just beautiful in its patina, with subtle variety of texture and colour on every side, but it also had an unusually wide strap – which to my eye looks more masculine. The strap does have an oil stain, but I've since spoken makers that could remake it at some point if I wished. 
On the subject of masculinity, I find it interesting how much more rugged this bag feels than the handbags offered by many women's brands, despite them being a similar shape. It can only be a matter of the materials and their evident use – tough things used in a rough manner – yet it feels so different.
The other association is of course shooting, which I have no interest in and don't especially like. But a casual survey so far has found that people only have that association if they are familiar with country pursuits, and others just assume it is related to some kind of outdoors activity, as likely fishing as hunting.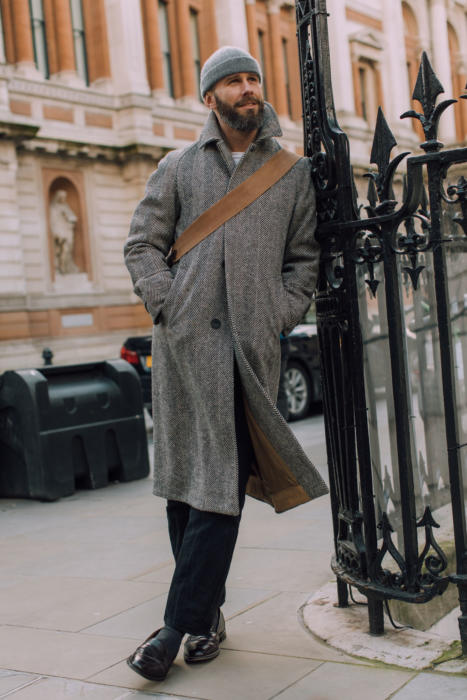 It may well be that in years to come, I look back at this little experiment and shake my head indulgently. 
I've been doing this long enough now to know such things can be exciting in the moment – because they're new, because they're different – but for those very same reasons don't last. I'd put things like my Baudin glasses, my Corthay Wilfrids and an Hermes Twilly into that category. 
But so far so good. The bag is beautiful (try taking something like this into a leather atelier and see how they pore over it). It doesn't have the weight of responsibility of being a daily item, more an occasional one. And it's not big or bright or showy, unlike those Wilfrids. Just a little eccentric.