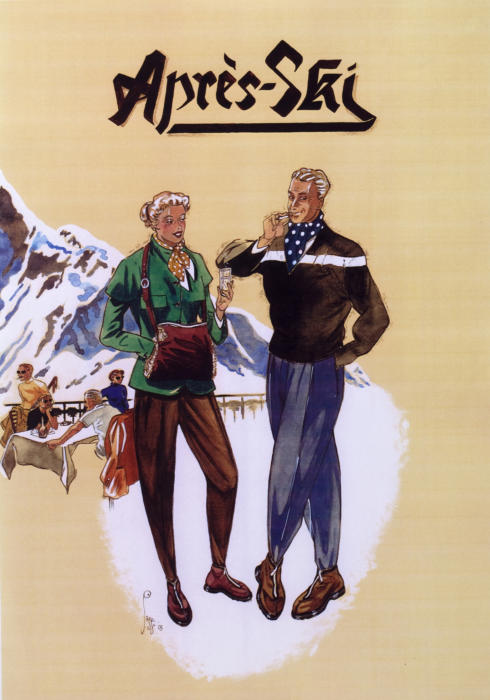 By Tony Sylvester.
I used to travel to Oslo regularly for a decade or so. A beautiful city, but not one abundant with window shopping options for those interested in menswear. One of the exceptions was Cavour; slap bang in the well-heeled part of town, offering an outpost of Neapolitan style to the more cosmopolitan Norwegian gentleman. 
Whenever I was trotting past, I'd pop in for a coffee, a chat with the chaps and a peruse of their stock; a mix of very Permanent Style brands – Orazio Luciano, Ambrosi, Saint Crispin's, Tie Your Tie et al – alongside some simpatico creations under their own banner. 
Now and again, an item of very specific geographic use would stick out among the more general gear; perhaps none did so more than the Apres-Ski boot, by Austrian shoemakers Ludwig Reiter.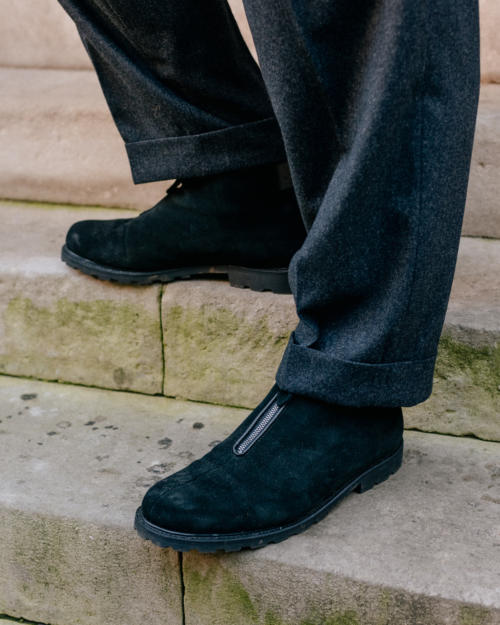 I had found to my chagrin that Oslo can be a treacherous town in winter. My first cold season there, I'd invested in a pair of Diemme hiking boots, albeit ones with the kind of Vibram wedge sole typically found on Red Wings. 
A huge error on my part, as their smooth rippled soles were transformed into skates on the treacherous pavements of muddy ice and compacted snow. They went onto eBay soon after. 
But here, among the cashmere slips and challis ties, was something better: a simple boot of shearling-lined black suede sitting on a Goodyear-welted rubber commando-style lug sole. In place of laces or straps there was a zip running up the front, topped off with a suede puller. 
For such a plain boot, the zip gave them a louder, even slightly frivolous look, and I couldn't help but smile at them. The immediate image that came to mind was of the French actor Jean Gabin.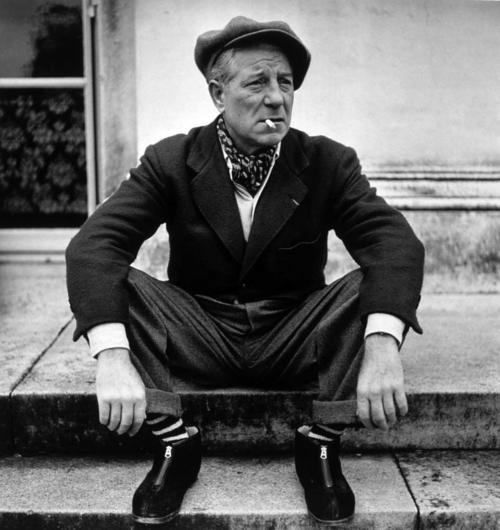 Gabin was a titan of French cinema, though rather less known outside his native land. He was also an inveterate clothes horse, and an icon to me as an appreciator of the sturdier, well-dressed fellow. 
His film costumes and personal wardrobe often overlapped, and his bespoke suits and sportcoats, from defunct Parisian maker Opelka, were often worn with polo shirts and roll necks and his trademark baker-boy caps – a style he stuck with throughout his career.
The photo in question is from 1949, and the actor, then a somewhat haggard looking 45 years old, sits on a step, cigarette in mouth. Cap tilted back, he stares off out of frame. 
His unbuttoned shirt strains to contain a voluminous cravat, filling the lapels of his sports coat. Knees parted, the cuffs of his flannel trousers are flipped up to reveal striped socks and, rather incongruously, similar zipped shearling boots.
I've loved this shot since stumbling across it years ago on Pinterest, or Tumblr. It looks less like a portrait of a film star at the height of his fame than the street style frames of ordinary Parisiens snapped by Robert Doisneau around the same time. 
And those boots. They seem so out of step with the rest of his look, it would be jarring on someone without the "nuclear levels of presence" that he processed, in the words of London Lounge's Michael Alden.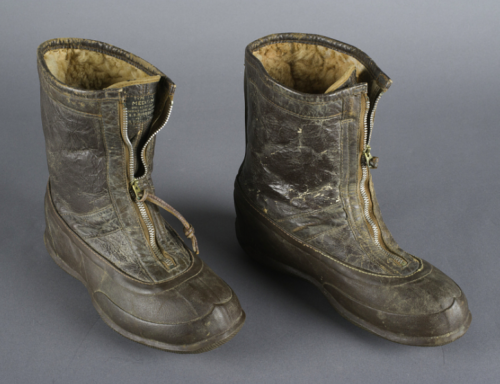 The zipped shearling boot, like so many articles of clothing, has a military heritage. In the early days of aviation, pioneers would don knee- or thigh-high 'fug' boots of sheepskin to alleviate the altitudinal freeze. 
When Louis Bleriot completed his cross channel flight in 1909, he did so in a boiler suit, tweed jacket and fleece-lined boots, and even before WWI, Burberry's, Dunhill and other high-end outfitters were offering leather flying suits, gauntlets and the self same fur-lined or sheepskin boots to cash in on the new sport. 
It was on a pair of boots that BF Goodrich's new fangled 'zipper' made its debut in 1923, long before it appeared on clothing, and the innovation proved a boon for the military pilot quickly needing to scramble into his kit. This 1937 pair of USAAF flying boots typifies this useful, if a little bulky, development perfectly.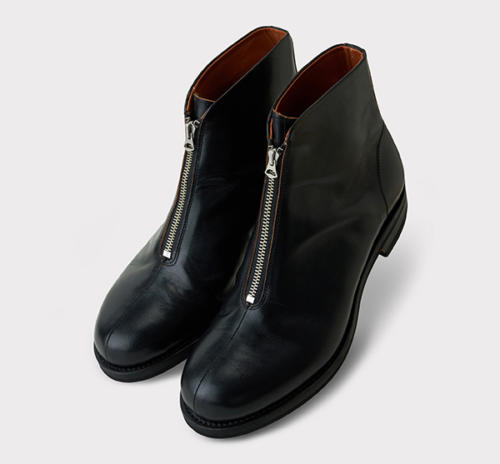 Post WWII, the zips navigated to the side or back of the boot, for what I can only imagine were orthopaedic reasons. Shoemaker Sebastian Tarek talked to me in particularly negative tones when I enquired about making a pair of unlined boots with front zips similar to the style offered by Japanese makers Phigvel in the picture above. 
It was his contention that they would play havoc with the tarsal bones of one's instep, and being a man who cut his teeth at James Taylor & Sons in Marylebone, the orthotic specialists, I took his advice to heart. 
The Ludwig Reiter boot, as the name suggests, takes its cues from a more leisurely source: that of the postwar Alpine resorts and the lifestyle that went with them. 
As Nick Foulkes puts it in the Financial Times, the boot "recalls the glamour of St Moritz in the 1950s and 1960s. It is exactly the sort of thing I can imagine wearing to lunch at the Corviglia Club after a morning spent not skiing, before not doing the Cresta later in the afternoon."
Well, quite. He even contended that as they're black, you could "wear these miraculous shoes with a dinner jacket if circumstances required." A piece of juxtaposition akin to Agnelli's donning of hiking boots with a grey flannel suit (below) – another iconic menswear image of rule breaking that works thanks to the individual themselves.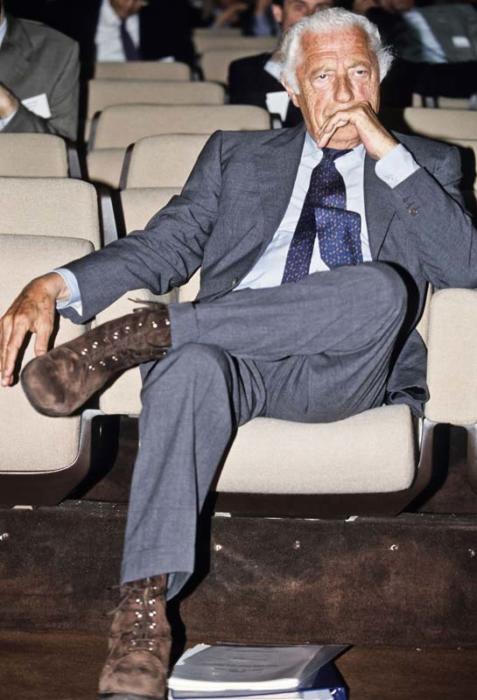 On arrival of my own boots, and spurred on by Gabin's personal idiosyncrasies, I decided to pay hommage to his portrait, donning a similarly dissonant ensemble from my own wardrobe. 
My zip boots were paired with my own AWMS striped sports socks, charcoal flannels and heavy black fresco DB (both bespoke by Fred Nieddu at Taillour), faded denim shirt from Drake's and a Margaret Howell neckerchief. 
And perched on my bonce, a City Sport eight-panel cap in tweed from John Simons. I find this style of cap incredibly difficult to wear thanks to the current associations with the riseable chaps from Peaky Blinders. The City Sport's shaped band gives a little more definition to the cap, however, giving it a slightly different and in my mind, more elevated look.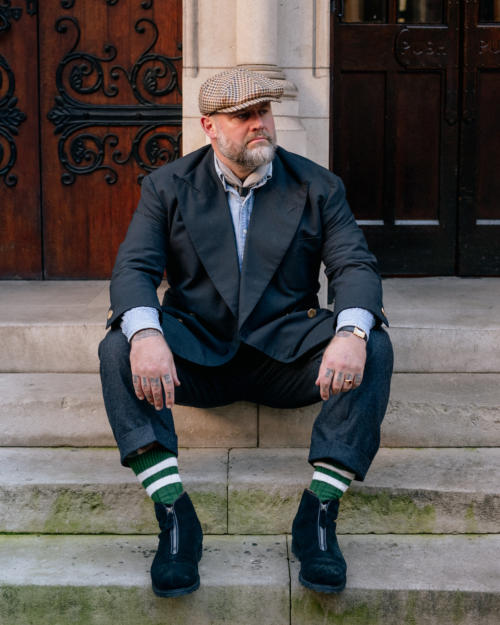 Was the outfit a 'success'? I have to concede that personally, it was not. A little too costumey. In aping someone else's look, I lost too much of my own personality in the final result. 
The boots however, are a firm favourite, their arrival coinciding perfectly with the drop in temperature here on the English coast. 
They are the ideal companion for breezy walks along the cliffs to take the sea air and feed the local crows, sporting a look more akin to the one below – a vintage Polo duffle coat, natural wool watch cap from Worne Clothing and corduroy easy trousers from Uniqlo.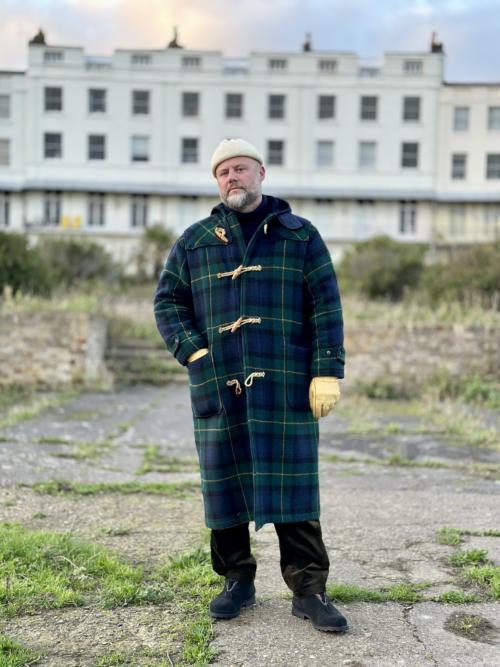 The fit is close, probably due to the thick lining, and like all pull-on boots, took some effort to zip up the first couple of wears (Sebastian's concern for the bones of my instep ringing in my ears); but once on, they're incredibly comfortable. 
Their price point is on the rich side, a cool £555 from Cavour. While akin to welted boots with similar materials from similar makers, I admit it causes pause given the very specific nature of their look and usage. 
Personally, I can't put a price on staying warm and staying upright, and they are already in heavy rotation with my winter footwear. But the more economically minded amongst us might also want to check out the Reproduction Of Found zipped trainer boot (below) currently on offer from Beige Habilleur in Paris.